Lviv marks Andrii Bokotei's birthday with a special exposition
5 April, 2018 - 11:08
Professor Andrii BOKOTEI, People's Painter of Ukraine, member of Ukraine's National Academy of Arts, ex-Rector of the Lviv Academy of Arts, is celebrating his 80th birthday. Festivities were held at the National Andrei Sheptytsky Museum, to which a huge number of people came to wish the master a happy birthday and watch the exposition staged in five exhibition halls.
Ihor Vozniak, Archbishop and Metropolitan of Lviv (Ukrainian Greek Catholic Church); Mieczyslaw Mokrzycki, Archbishop of the Roman Catholic Church; oblast and city councilors, rectors of Lviv's all higher educational institutions, directors of theaters, Bokotei's colleagues from the Lviv Academy of Arts, as well as artists, writers, musicians, museum employees, Lviv National Academy of Arts students, and ordinary appreciators of the ornamental glass master's oeuvre came to grace the celebrity with their presence. A huge crowd gathered in the National Museum hall, with people forming a very long line to personally greet and present flowers and gifts to Mr. Bokotei.
A greeting also came from President Petro Poroshenko of Ukraine on March 21. "I sincerely wish you, an outstanding artist and pedagogue, a happy 80th birthday. I appreciate your artistic achievements, never-ending search for new ways in art, and a notable contribution to the popularization of Ukrainian art in the European cultural space. I express gratitude for your fruitful research and teaching activities and uncovering the talents of young people who continue the traditions of their teacher and glorify their native land," the greeting says.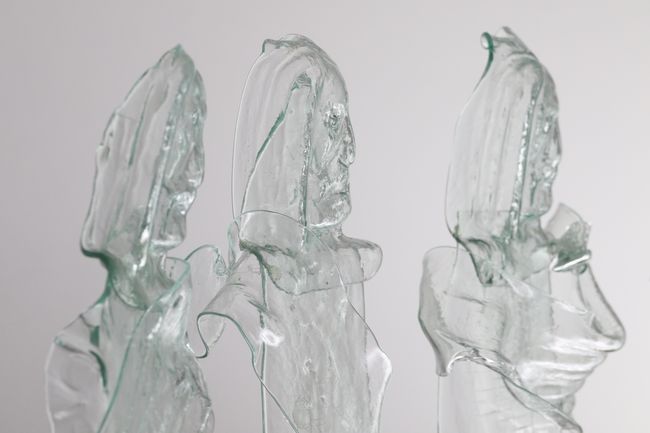 "One must be a God-protected and good son of his people in order to be so gifted," said, among other things, Oleh SYNIUTKA, chairman of the Lviv Oblast State Administration. "Your talent flared up from the divine spark and was cared for by your industriousness. We are happy to live with you at the same time and place."
"Whenever you ask art people who Bokotei is, they will tell you he is a person whom God loves very much and kissed on the forehead," Lviv Mayor Andrii SADOVYI said, adding that all the people who came to the National Museum to greet Bokotei sincerely love the master and are trying to relish at least a moment of communicating with this wise, educated, well-mannered, and talented person. The mayor awarded the artist a Golden Emblem of Lviv.
Andrii CHEBYKIN, President of the National Academy of Arts, Rector of the National Academy of Fine Arts and Architecture, also came to Lviv to greet Bokotei. "I am not surprised with such a large number of Andrii Bokotei's admirers, including those from abroad, for Bokotei has made a tremendous contribution not only to the development of national, Ukrainian, art of glass, but also to the development of this art throughout the world, from Japan to America, or vice versa, and I could speak much more about this," Chebykin said, noting, among other things, that Bokotei is called a fiery rector and a transparent rector – like the glass he processes so masterly. He also mentioned the sunny weather that was set at last in Lviv – no doubt, in honor of Bokotei's birthday.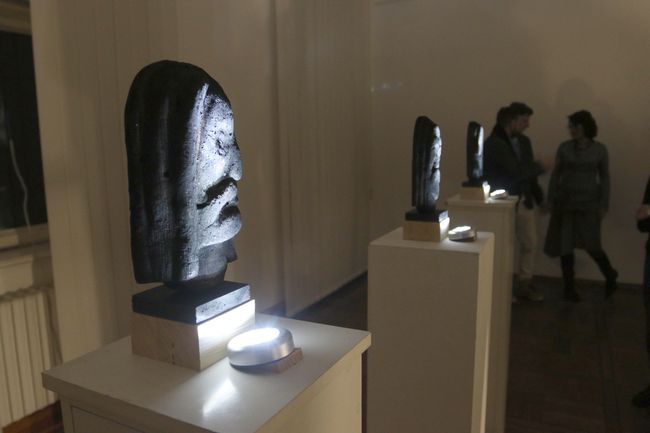 The male choir "Dudaryk" sang the solemn "Mnohaya Lita" ("Many Years") to the Master. It was a real pleasure to hear all the present sing with choristers.
As for the Master's festive "Exhibit of One Composition," it is rather complicated. In the first hall, near a symbolic bowl, a divine service rings out – it is a 1991 audio recording of the service conducted by the priest who is Bokotei's father.
The exposition in the second hall also causes one to reflect – it displays a video installation about violence.
The third and fourth halls are designed as a road to "The Last Supper." The composition consists of almost one-and-a-half-meter-high figures – these are largest figures Bokotei has ever made in his artistic life. In Bokotei's concept, the exhibit colors are only white and black because, as the Masters says, "all our lifetime consists of good-evil, plus-minus, and white and black."