Ambassador Marius JANUKONIS:"We have to show to the world the European roots of Ukraine"
3 August, 2017 - 11:09
Ukraine and Lithuania are linked by ancient historical roots, as both countries were for a long time part of the Grand Duchy of Lithuania, and then of the Polish-Lithuanian Commonwealth. Before the restoration of Lithuania's independence in 1990 and Ukraine gaining its independence in 1991, both nations were part of the Soviet Union as well. Den/The Day has paid a lot of attention to shared pages of the history of the Ukrainian and Lithuanian nations. Therefore, it was no coincidence that Den invited Ambassador of Lithuania Marius Janukonis to become a lecturer at the Summer School of Journalism. In his opening remarks, the diplomat thanked for the invitation and said: "It is very good that Den organizes such courses, because freedom of speech is one of the most important pillars of a modern democratic state." In his opinion, Ukraine enjoys wide-ranging freedom of speech, has many different media and this is a great achievement for Ukraine.
In addition, the ambassador noted: "I am pleased to hear that there are representatives of the Ostroh Academy here, which is very important and symbolic for us, because the story of the city of Ostroh is connected with the Ostrozky family. I am equally pleased to see representatives from Odesa here. I myself returned a few days ago from that city, where I participated in the visit of NATO ships that entered the port of Odesa. It also shows the solidarity with and assistance to Ukraine which is provided on the part of the Western community, in particular NATO."
"MINDAUGAS IS A FOUNDING FIGURE OF OUR HISTORY"
 Liubov RYBALKO, Mechnikov National University of Odesa: "There is an interesting and controversial page in the history of Lithuania concerning the coronation of Mindaugas which happened as a result of his conversion to Christianity and submission to the papal curia as a vassal. Mindaugas was a good strategist and statesman who united the Lithuanian tribes and established a state. Was it easy to reach consensus among your people that the history of Lithuania's statehood began with King Mindaugas?"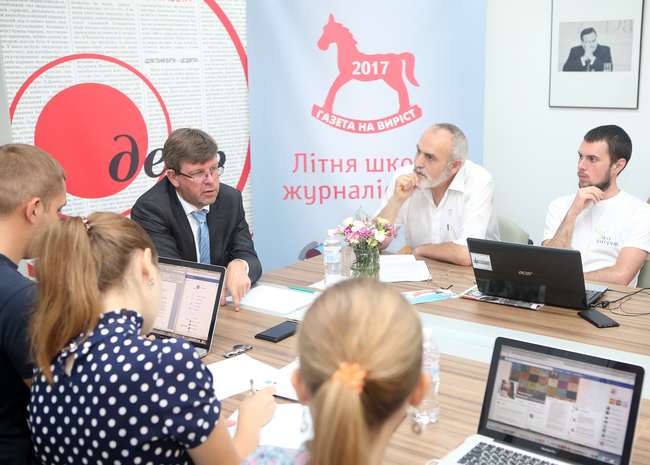 Photo by Mykola TYMCHENKO, The Day
Marius JANUKONIS: "I thank you for knowing Lithuanian history so well. We link the beginning of our statehood precisely to the actions of King Mindaugas. He was the first and last king of Lithuania, because the crowned monarchy did not exist afterwards, replaced by the rule of the grand princes of Lithuania. Another important period is that of the Grand Duchy of Lithuania, which lasted until 1569, when the Union of Lublin united us with Poland into a single state, which was called the Polish-Lithuanian Commonwealth or the Commonwealth of Two Nations. It is that period that is very closely connected with Ukraine, because a great part of the Ukrainian territories were part of that state.
"In my opinion, such friendly relations as we have and traditional historical cooperation between Lithuania and Ukraine have their roots precisely in that period. We consider that period very important for the establishment of a European foundation in Ukraine as well. This was probably the highest achievement of that period, because the Grand Duchy was a European state that had relations with the whole Western world. Even at the beginning of the 15th century, there was another attempt to crown Vytautas the King of Lithuania in Lutsk. We call this the first European summit of 1429. But it was an unsuccessful attempt, and the coronation did not take place. As an embassy, we pay a lot of attention to our historical ties and work on several projects, one of which I have already mentioned. This is our historical heritage associated with the Ostrozky princes. Prince Kostiantyn Ivanovych Ostrozky was a military leader of Lithuania. He won a few very important battles, one of them at Orsha where a more powerful Muscovite army was defeated. We know that Prince Ostrozky was Orthodox, he paid much attention to improving the state of the Church. He was also a patron of culture and built churches in Vilnius and Ukraine. There is a single Ukrainian Greek Catholic church in Vilnius now which was built after the Battle of Orsha. There is a church and a Ukrainian monastery in that location.
"Prince Ostrozky was buried in the Kyiv Monastery of the Caves, in Assumption Cathedral, which was destroyed during the Second World War. There was a huge Renaissance-styled tombstone there, a very unique monument. Similar examples are now extant only in Italy and Poland. We intend to rebuild that monument. This is a huge and very expensive project, but we are moving forward with its implementation. We have attracted Poland to this project and we will be very glad if we can do it as a joint project of Poland, Lithuania and Ukraine. This will be a vivid example of how we work to highlight and preserve our heritage.
"Other projects relate to many castles in Ukraine, which are associated with the period of the Grand Duchy of Lithuania. I mean the Kamianets-Podilskyi Castle, the Mukacheve Castle, and the Vyshnevetsky Palace. We have presented a collection of paintings for this palace. This is an important part of our diplomatic cooperation, because this is not only history, but also the European roots of Ukraine, which we have to show to the world. The world knows very little about it. Even in Lithuania, we discover new facts and new pages of our shared history all the time, because not everything is known to the public. We have to promote it in Lithuania, and in Ukraine, and above all in the West.
"Returning to your question about consensus, I want to note that the Lithuanians have always understood that Mindaugas is a founding figure of our history. Even during the Soviet period, this consensus existed and was recognized by all Lithuanian historians. Historical research was restrained under the Soviets, but we kept it in the textbooks as a period of Lithuanian history, and this was known. Perhaps Mindaugas was not well known at that time, but Vytautas definitely was. I would even say that the period from Mindaugas to the Union of Lublin was known well, while the period after the union was somewhat erased from the consciousness of the Lithuanians, because we shared a state with Poland then, and some of our patriots believed that we should only honor our independent history and not one shared with Poland, therefore, after the union, our history formally began only in the 19th century."
"WE NEED TO PERCEIVE HISTORY AS IT HAPPENED"
 Mykola SIRUK: "It is known that the Poles still call Vilnius 'Wilno,' thus emphasizing that it is a Polish city. How do you solve this issue?"
 M.J.: "Ukraine and Lithuania are neighbors of Poland, and we have a lot of history in common. We do not conceal our sincere belief that Poland illegally occupied the Vilnius Land in the 1920s. This is a fact. We should continue to study history and our experts should talk about it. Of course, some Poles are romantic and nostalgic about it. This applies not only to Vilnius, but also to Lviv. The Poles call it Lwow. These were important cities in Polish history, but now it needs to be used not for stoking any political controversy, but rather to show a common heritage and attract tourists. My words apply to Lviv and Vilnius alike. It only enriches us. When I was at school, we were taught that Vilnius is a Lithuanian city, but if you look at Vilnius from a high point, you can see an interesting fact. I once began to count the churches in Vilnius. It turned out that half of the churches were Roman Catholic, and this is our main religion, and the other half were Orthodox. From this, we can conclude that the history of Vilnius was multicultural. It enriches us. There have been major Polish, Jewish and Orthodox cultural influences. We need to perceive history as it happened.
"Cooperation between guerrilla movements in Lithuania and Ukraine is another memory that unites us. Overall, western Ukraine and Lithuania are united by one particular person, I mean Yevhen Konovalets, who even held a Lithuanian passport. Therefore, the cooperation between the Lithuanian and Ukrainian Forest Brothers was very close. I must say, partly because they also fought Poland. The Polish element was very important in that story. It started before the Second World War, but this guerrilla movement continued after it was over as well. We see these people as heroes. This is a very important part of the history and the whole historical narrative of western Ukraine. It is very close to our hearts. My family also had some its members joining the guerrillas, and my mother was deported to Siberia and lived there for 12 years. She was three years old when she was exiled from Lithuania with her family. This is not an unusual story, because such stories involved every other Lithuanian family."
"THE PATH TO THE EU AND NATO WAS NOT EASY, OF COURSE"
 Oleksandr SAVCHENKO, 1st Lieutenant of the Ukrainian Armed Forces: "Ukraine is now moving down a path that Lithuania has already completed. How did your path to NATO and the EU look like? How did you overcome the difficulties? Is it true that some Lithuanians were afraid that NATO would not activate Article 5 in the event of Russia's attack on the Baltic States? Are there any such fears now?"
 M.J.: "With regard to Article 5 of the NATO Treaty, we have never had any doubts. If we signed this agreement, then all the provisions are valid and they are in force. We have never had any doubts about this. God forbid that the need to activate this article ever arises, but the Alliance is discussing it now. There is Article 5, therefore, it must be complied with.
"The path to the EU and NATO was not easy, of course. We have filed an official application for NATO membership back in 1994. Our then-President Algirdas Brazauskas wrote a letter to NATO secretary general asking him to admit Lithuania to the Alliance. Ukraine has not done so and has been using a somewhat different tactical approach. The Ukrainian leadership says that the current goal is to achieve NATO standards, while the membership is to be discussed a little later when Ukraine is ready.
"In 1994, NATO countries did not even want to discuss the issue. It was too problematic for the West, because everyone said that there was no need to exacerbate the confrontation with Russia. It was said that the Baltic region was in a difficult situation, so there was no need to hurry with NATO membership. Politically, this was an awkward topic for the West. The alliance's member nations, especially the Scandinavian countries, such as Denmark and Sweden, which is not a NATO member but applies their standards, helped us to build up our defense system and armed forces.
"After 2000, the situation had changed and the conditions had emerged in which we became a NATO member state in 2004. Terrorist attacks against the US on September 11, 2001 had become an important factor. It had slightly changed the global situation. Then everyone had seen the threat of terrorism, and even Russia showed its good intentions of cooperating with NATO against terrorism. The general political atmosphere had then improved. These were the years when NATO and Russia sought rapprochement. NATO offered Russia various forms of cooperation, and Russia, for its part, wanted to cooperate.
"In my opinion, this general improvement in the political situation was what led to the consensus reached on the accession of the Baltic States to NATO. I have to admit as well that Poland, which entered the Alliance in 1999, helped us a lot. The Poles politically supported us. President Aleksander Kwasniewski personally lobbied for the Baltic States' NATO membership. We created a joint LITPOLBAT battalion with Poland. Now we have a joint Lithuanian-Polish-Ukrainian brigade.
"Integration with the EU is a slightly different story. In the EU, everything is very specific. Of course, there are common guidelines, for example, democracy, market economy, respect for human rights, etc. But integration into the EU demands very specific, clear, everyday work on the harmonization of the entire legal framework. It involves the EU laws and regulations alike. We have done this in every sector, for example, in transport and agriculture. If a country fulfills all the conditions, then it is taking a step towards EU membership. If it fails to do, we continue the negotiations. This is happening with Ukraine too."
"MANY OF OUR LEADERS WERE EDUCATED IN THE WEST"
 Mykola SIRUK: "Ambassador, how would you comment on the fact that President Petro Poroshenko recently declared that NATO needed to grant Ukraine a Membership Action (MAP). What is Lithuania's position on this matter?"
 M.J.: "This is a legitimate demand on the part of Ukraine. Of course, we must take into account the real situation that exists now in the world, but Ukraine has this right. If all the criteria are met, then you can talk about the implementation of the MAP. The Bucharest Summit decisions remain in force. In 2008, it was said that Ukraine and Georgia would become members of NATO one day. It speaks for itself."
 Maria HORSHKOVA, Khmelnytskyi National University: "We know that Aivaras Abromavicius graduated from Concordia International University, Valdas Adamkus from the University of Munich, and Dalia Grybauskaite from Georgetown University in Washington. What role did this elite play in the state-building process, and why is it important to rely on such figures? During a meeting with guests of Den's Summer School of Journalism, Ihor Kabanenko, Ihor Smeshko, and Yevhen Marchuk noted that 'a state should rely on professionals to build up its strength.'"
 M.J.: "I think that you have answered your own question. It happened so that many of our leaders were educated in the West. This helped us to become a truly European country and to adopt all the standards and norms of the EU. Of course, our entire elite has tried to get educated in the West since the 1990s. This is especially true of our armed forces. We were forced to create from the ground two ministries: defense and foreign affairs. These hired absolutely new officials, new people who were aiming to get Western education. All our soldiers, including those who had Soviet experience, all went through retraining in the West. I emphasize – all officers without exception."
"UKRAINE MUST BE PART OF THE THREE SEAS INITIATIVE"
 Anton SESTRITSYN, Carleton University, Ottawa: "Recently, the leaders of 20 countries in Central and Eastern Europe, in particular Lithuania, participated in the Three Seas Initiative Summit, which took place in Warsaw. US President Donald Trump joined them. Why, in your opinion, was Ukraine left out from this format?"
 M.J.: "I cannot answer why Ukraine was not invited because it is difficult for me to say. The Poles were the organizers and it may have happened by accident, but, in my opinion, Ukraine should be part of this initiative. If we are talking about cooperation in the intermarium format, it is impossible to exclude Ukraine from this process, because Ukraine is a natural part of this process geographically, politically, and practically. Of course, now this is a very popular topic that is debated in Ukraine too, and people are debating, in particular, how to create such a space of cooperation. There are even proposals to create a kind of political alliance between these countries, and summits are held at the level of speakers of parliaments. But we think that first of all, there should be a simple practical cooperation. I do not think that we are ready for a political alliance now, because highly different countries are part of this political space, which people are now trying to expand to the Adriatic Sea. As a space of practical cooperation, it is very promising for the economy, transport, energy, and other issues. Also, the historical heritage plays a very important role."
"POLITICAL RELATIONS BETWEEN LITHUANIA AND RUSSIA CAN BE DESCRIBED AS FROZEN"
 Marina LIBERT, Free University of Brussels: "How are relations between Lithuania and Russia developing at the moment?"
 M.J.: "Russia, above all, is our neighbor, and we cannot ignore it. Practical cooperation with Russia continues. It covers trade, transport links, human and cultural contacts. Our political stance is very clear. We understand today's Russian policy, the intentions of the Kremlin. Unfortunately, this policy and trends are generally very pessimistic. And moreover, this is happening not only with the government, but also with the public. The cult of Stalin is back, even among young people, which is paradoxical to us.
"Political relations between Lithuania and Russia can be described as frozen. There are no high-level visits. There is a dialog, but as they say in English, it is a critical dialog. We are very concerned about the militarization of the Kaliningrad Oblast, which lies less than 300 kilometers from Vilnius. The developments there mirror Crimea. They are creating a major military staging area there. There are long-range missiles installed there and so on."