Both citizenry and winners of the election have reached a new level of political maturity, featuring consolidation and rationality
27 May, 2014 - 11:24
Over the past decades, Ukraine chose its head of state (with possible exception of Leonid Kravchuk) based on some strange reasons. Voters preferred likeable over unlikable, "our own boy" over a politician from another region, alleged messiah over one without such claims, one promising to improve the people's lives even sooner than they are elected over one not making such promises, and so on. It looks like the Ukrainians have chosen their fifth president using more rational thinking than with all his predecessors. Indeed, a politician is neither a lover nor a mistress. They should be a tool in the hands of the nation, a figure required to operate effectively in the name of national interest, a character who should improve, not worsen their country's position. We already had politicians with "Ukrainian heart" and "Ukraine at heart," but unfortunately, were always short of politicians with Ukraine in their mind, able to think and act rationally, based on a strategic perspective. Petro Poroshenko, all his shortcomings notwithstanding, has been elected as a leader "with Ukraine in his mind," as an effective manager, able to operate on the basis of calculations rather than emotions, even most patriotic ones. He will also be our first head of state who is fluent in English, which is the norm for leaders of modern states (should not we have this requirement put on the books?). Therefore, Ukrainian society has demonstrated its pragmatism and maturity, at least compared to previous occasions.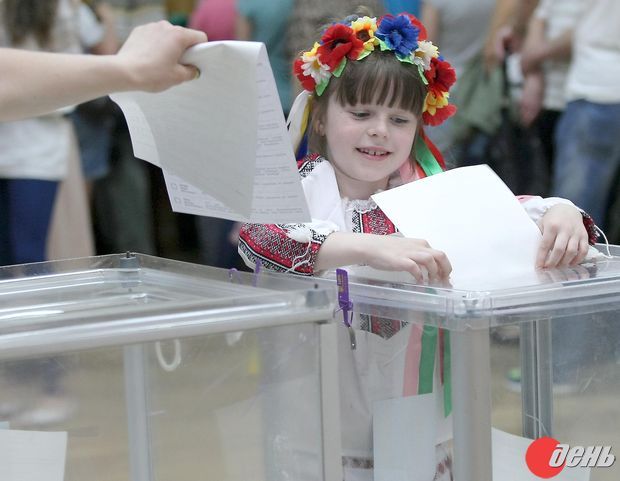 Photo by Ruslan KANIUKA, The Day
The second round of the election would have meant Ukraine living without fully-empowered president and commander-in-chief, still stuck with an acting one, until June 18-20, that is the time after the second round would have ended, vote count completed, all the formalities done and the inauguration prepared... Until that date, the electoral campaign would have made it impossible to introduce a state of emergency in several most troubled regions to quickly and effectively put an end to the actions of terrorists. The anti-terrorist operation will not be completed until a state of emergency is introduced. One can even calculate how many people would likely die by the time (and the terrorists would certainly try to step up their activities and capture completely certain regions in the interval between the first and second rounds, it would be their last chance) – it would be hundreds if not thousands of people. Voters understood it and did not allow the terrorists that chance.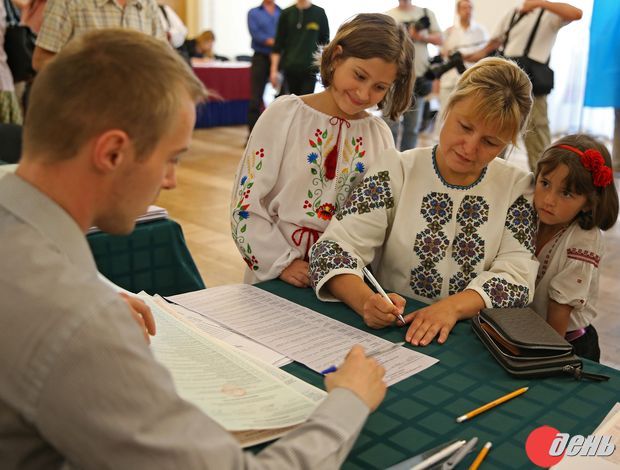 Photo by Mykola TYMCHENKO, The Day
Another proof of our society's maturity is the "truth-lovers" failure with their call to disregard rational factors and vote out of deep convictions, obeying the call of the soul. However, the "truth-lovers," who actually were a reincarnation of the notorious "none of the above voters," failed in their job, as the vast majority of voters were well aware that defeating Vladimir Putin's plans to dismember and subjugate Ukraine had to take precedence over the colorful parade of public opinions.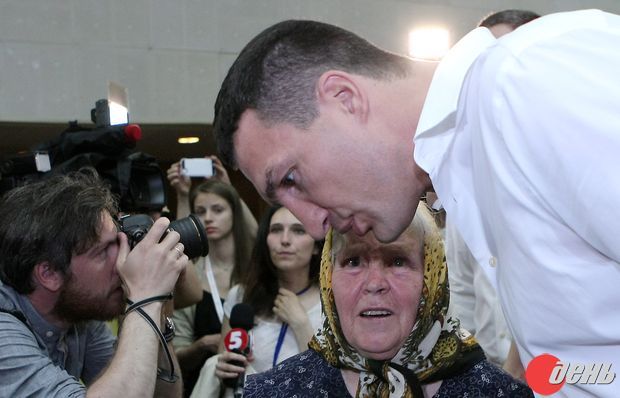 GUIDELINES FOR A BROTHER / Photo by Ruslan KANIUKA, The Day
Such a mood of the electorate was particularly evidenced by the fact that the four most-supported candidates were all determined to fight the "fifth column" of the Kremlin, including both imported and home-grown terrorists. Male voters took into account also the fact one should be certain in a wartime (and we are living through one) that one's candidate is able to become a truly effective commander-in-chief, well-received by the army (of course, not the chair-bound staff generals and admirals, but enlisted men and sergeants, lieutenants and majors). I am sure that news published in the last week before the election and stating that savings from not holding the second round would be enough to buy two or even three McDonnell Douglas AH-64 Apache helicopters affected the voters' decisions, too, as this aircraft's latest versions allow one to destroy terrorists without even coming within the range of their Russian-made man-portable air-defense systems. It would save the lives of dozens of Ukrainian soldiers, bring closer the liberation of cities and districts from the terrorists...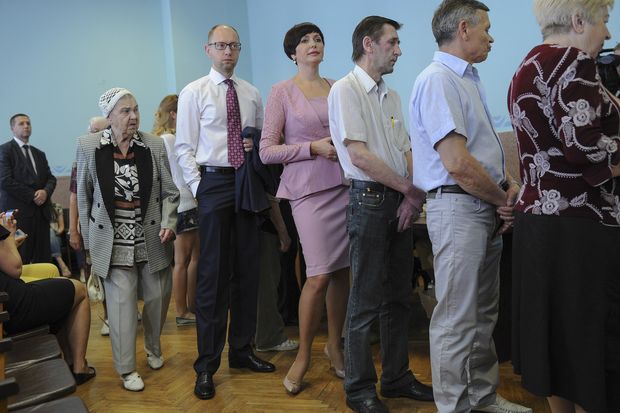 HIGHEST GOVERNMENT DIGNITARIES AND PRESIDENTIAL CANDIDATES WERE HONESTLY QUEUING UP TO THE POLLS ON THE ELECTION DAY. THEY MAY BE UNABLE TO RESOLVE ALL THE NATION'S PROBLEMS AT ONCE, BUT THIS KIND OF BEHAVIOR ON THEIR PART IS A GOOD SIGN FOR OUR SOCIETY / REUTERS photo
Should Poroshenko begin to botch his job, there are many means to correct him, ranging from an early parliamentary elections, which he himself favors but which will give the majority in the parliament to potential critics of the president, coming mostly from the democratic and patriotic camp, in the case of his failure in his first 100 days in office, and up to mass actions by the civil society forces. Ukraine has been changed by the Euromaidan. However, Poroshenko has been, too...