The founder of competitions for veterans met Ukrainian servicemen
28 September, 2017 - 10:27
Prince Harry of Wales, a grandson of UK Queen Elizabeth II, a British Afghan war veteran who liquidated, flying an Apache helicopter, one of the Taliban terrorist organization leaders in October 2012, has met Ukrainian servicemen at a sitting volleyball training session. The photo of them drew a wave of positive responses in social websites. "Prince Harry of the Windsors and the Invictus of the Monomakhs," Den's editor-in-chief Larysa IVSHYNA wrote in Facebook.
Prince Harry is fifth in the line of succession to the British throne after his father, elder brother, and two nephews. He founded the Invictus Games in 2014. Ukraine is taking part in them for the first time and already has a medal – National Police officer Serhii Torchynskyi, 29, from Volyn won the bronze in the shot-put. The participants in this international tournament are armed forces personnel and veterans who were injured or wounded in the line of duty. This year the competitions are being held in Toronto on September 24 to 30, with about 550 participants from 17 countries competing in 12 adaptive sport disciplines. Let us support our servicemen!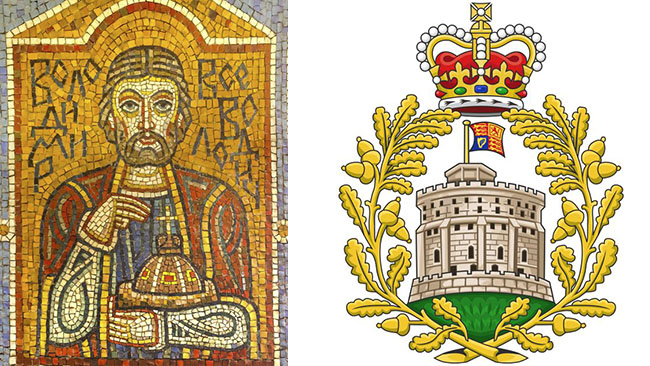 The Day's FACT FILE
Naturally, the Invictus of the Monomakhs is a generalized and symbolic character. Yet this comprises a major historical subtext and meaning, for the "galaxies" of the ruling dynasties of Ancient Rus'-Ukraine and England met one another as far back as 1074 (!), when Gytha, the daughter of the last legitimate Anglo-Saxon King Harold II, married the young Volodymyr Vsevolodovych, later the Grand Prince of Kyiv Volodymyr Monomakh. Among the descendants of this marriage were, incidentally, the Volodymyrids, a powerful branch of the Rurikids: Gytha's son Grand Prince Mstyslav, and, in the 13th century, the Ruthenian autocrat Roman and King Danylo. So the two "galaxies" once met and merged. And now they met again, even though another dynasty, the House of Windsor, is on the British throne. But our Ukrainian guys are descendants of Monomakh, Gytha, and Danylo in spirit, which is really symbolic.