The Kremlin's new scenario involves forcing Ukraine into infamy
24 June, 2014 - 11:09
June 22 marked the second day after the start of implementation of Ukraine's Peace Plan for the Donbas, which provides for a ceasefire. The first conclusions can be made, and they are not flattering. Ukrainian troops continue to suffer attacks by terrorist militants, and Russia does not want to de-escalate situa­tion in eastern Ukraine, still speaking the language of ultimatums.
The press secretary of the Russian president Dmitry Peskov said on June 21 that Putin welcomed the news of Viktor Medvedchuk starting negotiations in Donetsk and Luhansk. He said that the leader of the Ukrainian Choice supported the idea of federalization of Ukraine and "is respected in Kyiv and well-known in the West"(?!) Indeed, he is well-known, as the US and Australia have introduced sanctions against him.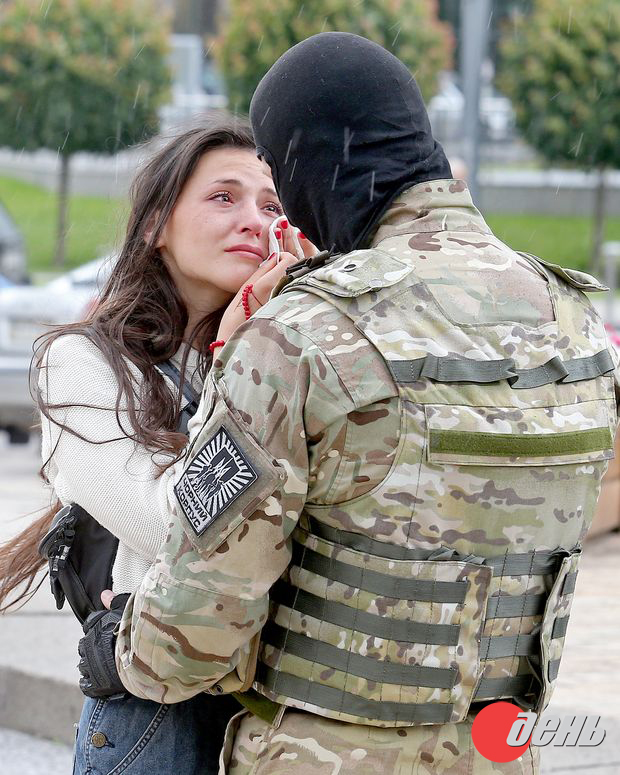 KYIV, JUNE 23, 2014. VOLUNTEERS OF THE AZOV BATTALION SWORE THEIR OATHS OF ENLISTMENT IN SOFIISKA SQUARE OF THE CAPITAL AND DEPARTED FOR THE ANTI-TERRORIST OPERATION AREA / Photo by Mykola TYMCHENKO, The Day
Just as this issue was going to the press, we learned that Leonid Kuchma would lead the Ukrainian part of the trilateral Russian-Ukrainian-OSCE group tasked with bringing peace to the Donbas. Vesti newspaper reports citing sources in the presidential administration that the former president will replace in this position Pavlo Klimkin, who recently got the foreign minister's portfolio. Kuchma is understandably interested in this mission as a way to clear his name, but can Europe take this appointment seriously?
COMMENTARIES
Andrzej SZEPTYCKI, an analyst at the Institute of International Relations, University of Warsaw:
"What is happening in eastern Ukraine is Russia's doing. Under international law, it is aggression, pure and simple. While we do not see the Russian army there, these militants, terrorists, armed gangs have come with Russian weapons from Russia. They have the support of the Russian propaganda and the media and slip into Ukraine to fight against the Ukrainian government. This aggression is aimed at destabilizing the new government of Ukraine, forcing it to change the political system, to introduce federalization. De facto objective is confederalization, strengthening the eastern regions and paralyzing Ukraine's foreign policy, especially towards European integration. All this is done in order to keep Ukraine in Russia's sphere of influence.
"Over these three months, several hundred people were killed in the Donbas. Still, all peace initiatives intending to resolve the conflict must be assessed positively. They need to be looked into in the detail later on and assessed whether they meet the realities and interests of Ukraine. This raises some questions as separatists and terrorists do not really agree to a peaceful settlement of the conflict. This is not the first such initiative, as Putin proposed a peaceful path before. I can see two possibilities here. First, Poroshenko may have proposed a cessation of hostilities for a week to prove that Ukraine, unlike the terrorists, is willing to have a peaceful settlement. The second possibility is that Ukraine, both before and after the elections, cannot effectively settle the conflict by military means, so it is back to diplomacy for it.
"I think that besides Medvedchuk, there are other candidates for the role of mediator between the so-called people's republics and Ukraine: Konstantin Zatulin, Vadym Kolesnichenko and a long list of Ukraine's 'friends' in Russia.
"If you look at Medvedchuk's public activities and position on the Ukrainian-Russian relations, bringing him as a mediator is a ridiculous proposal.
"The Ukrainian authorities have to look for alternatives. This offer cannot be refused right away, because it can be perceived as a lack of will to have a peaceful settlement of the conflict on the Ukrainian side. So, this [statement of Putin's press secretary Peskov. – Ed.] should be seen as a political proposal, because Medvedchuk will bring no good for Ukraine."
By Ihor SAMOKYSH, The Day
Yuri SHCHERBAK, diplomat, journalist
What indications do you see in Putin's press secretary Dmitry Pes­kov's statement of the Russian president's support for "Medvedchuk establishing preliminary contacts in Donetsk and Luhansk"?
"This is absurd, and imposed negotiations with him are the same as negotiating with Strelkov or Bes [pro-Russian militant commanders in the Donbas. – Ed.], because Medvedchuk is a political Bes in Ukraine, who has already shown that he is a servant of Russia and does not care for the national interests of Ukraine, and nobody at all asked him to negotiate. I do not think that the leadership of Ukraine empowered him to mediate. It is his own public relations initiative and I think it is absurd, because, after all, the Donbas has people well-qualified to mediate. For example, there are members of legitimately elected local councils, mayors. There are enough people who could be mediators, but Medvedchuk is not one of them. His mediation is limited to the destruction of Ukraine and the Ukrainian state.
"As for those people who, for example, believe in the ideas of federalism and Donetsk separatism, but at the same time understand that they have to stay within a united Ukraine, then, of course, we need to negotiate with them.
"Moreover, I am convinced that after the destruction of the active top leadership of Russian terrorists, we will find ready negotiation partners there. The insurgents are beginning to experience disappointment. There are some signals already that the locals are unhappy because they see what life the so-called people's republics have actually brought about. So, of course, the Ukrainian authorities should understand with whom they can sit down at the negotiating table, and with whom it is impossible.
"The main objective of Russia is to destroy the Ukrainian state, split it and create so-called negotiators that would communicate with the central authorities in Ukraine on equal terms. In this case, Russia will require the participation of these people in negotiations at all international conferences. We can never agree to it. Negotiations can be conducted only with those who want to bring better order to Ukraine, who want a peaceful and united Ukraine. Meanwhile, variety of internal nuances, differences of opinion can be ignored and, of course, they should not prevent us from negotiating with these people."
By Yulia LUCHYK, The Day