The Investment and Entrepreneurship Stimulation Council at the Ministry for Taxes and Revenues discussed the ways out of the crisis
18 February, 2014 - 11:00
The Investment and Entrepreneurship Stimulation Council at the Ministry for Taxes and Revenues held its second session on February 13. Unlike the first time, only medium-scale businesspeople and managers of business associations and international investment institutions (EBRD, EBA, American Chamber of Commerce, Federation of Ukrainian Employers, Ukrainian League of Industrialists and Entrepreneurs) came to speak to Oleksandr Klymenko, the acting Minister for Taxes and Revenues. There were no business giants, although the participants list also included Motor Sich honorary president Viacheslav Bohuslaiev, Nibulon General Manager Oleksandr Vadatursky; UkrAvto honorary president Tariel Vasadze, MKhP Board of Directors Chairman Yurii Kosiuk, and others.
They spoke about a concept of effective post-audit inspection and a simplified procedure of customs value control, as well as about reducing the number of taxes. The topic is important but, frankly speaking, not the most urgent for business today. This was evident in the first set of questions. Dmytro Oliinyk, Deputy Chairman of the Federation of Ukrainian Employers, reported to Klymenko: "As of February 1, 2014, 20.1 billion hryvnias was paid as profit tax (this amount rose by 5 billion hryvnias in 2013), the VAT refund debt was 14.5 billion hryvnias, and the Ukrainian budget's consolidated business credit reached 64 billion hryvnias." He asked the minister what was to be done with this and whether there was an open dialog on this matter.
"I am prepared for an open talk – but without political subtexts and doctored statistics," Minister Klymenko replied in his turn and tried to prove that all the named figures were fictitious.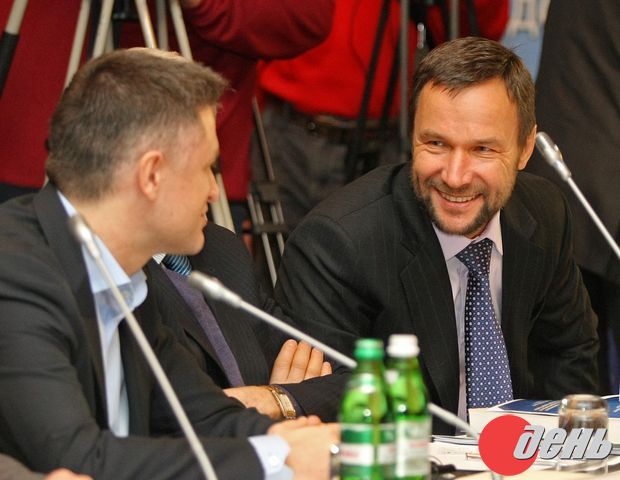 DMYTRO SHYMKIV (LEFT), A EUROMAIDAN ACTIVIST, GENERAL MANAGER OF MICROSOFT UKRAINE, WAS DISCUSSING SOMETHING LIVELY WITH VITALII ANTONOVYCH (RIGHT), PRESIDENT OF HALNAFTOHAZ CONCERN
But it was seen from the reaction of investors and businesspeople that they supported the first speaker, and his remark almost drew thunderous applause. "This did not happen because everybody knew that excessive emotionality might trigger a corresponding reaction on the part of the fiscals," a session participant anonymously admitted later.
An hour and a half long discussion looked like an imitation rather than a dialog.
"What do you think is the way out of the current economic situation?" The Day asked Halnaftohaz Concern President Vitalii Antonov after the council session. "Politics is a concentrated expression of economics. And its temperature is far too high in this country. I think economic problems will be solved when political issues are settled," the millionaire said curtly.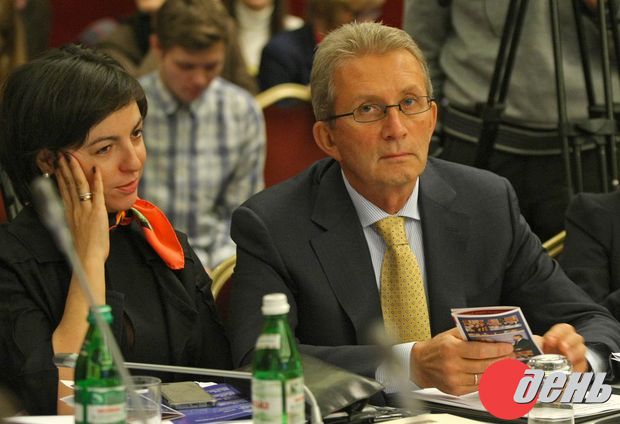 THE ALWAYS TALKATIVE ANNA DEREVIANKO, EXECUTIVE MANAGER OF THE EUROPEAN BUSINESS ASSOCIATION, KEPT SILENT THIS TIME. THE BANKER BORYS TYMONKIN, DEPUTY CHAIRMAN OF THE SUPERVISORY BOARD OF THE VETEK COMPANY GROUP, ALSO HAS SOMETHING TO PONDER ON – FOR EXAMPLE, HOW TO WARD OFF THE FALL OF BROKBIZNESBANK, ONE OF THE SHAREHOLDERS OF WHICH IS HIS EMPLOYER SERHII KURCHENKO
Ihor Yeremeiev, an independent MP and one of the owners of the Continium group of companies, was more talkative. "You kept silent throughout the session. Everything is OK in your business or you just have no questions to this government?" I asked the MP-cum-businessman. "I have a lot of questions. I just think it is a wrong format to discuss them," he answered. Yeremeiev says that, against the backdrop of the current deep crisis and economic slump, many entrepreneurs expect the acting minister for taxes and revenues at least to arrange a "question-answer meeting" so that he could see and hear a firsthand account of the real problems of business, not just an official report. "Look: we seem to be carrying out reforms, simplifying customs formalities, but goods still remain stranded at the customs office for days and weeks. So the problem lies somewhere else. I am sure this kind of a meeting is badly needed," Yeremeiev says.
Meanwhile, our interviewees name one more scourge that hinders normal work, which is the national bank's domain, though – it is hard-currency operation restrictions. For example, Yeremeiev notes that the company he controls is already suffering losses due to this, while the continuing political crisis may lead to a still greater economic stagnation. In the MP's view, there already are the first signs of this. "Firstly, the exchange rate is on the rise. Secondly, six days of non-payment in hard currency means partial abrogation of contracts. This may result in the shortage of fuel. It is February today, and I would like officials to remember this, for the spring and the sowing campaign will come suddenly again and we will be saying again that somebody else is to blame," Yeremeiev points out.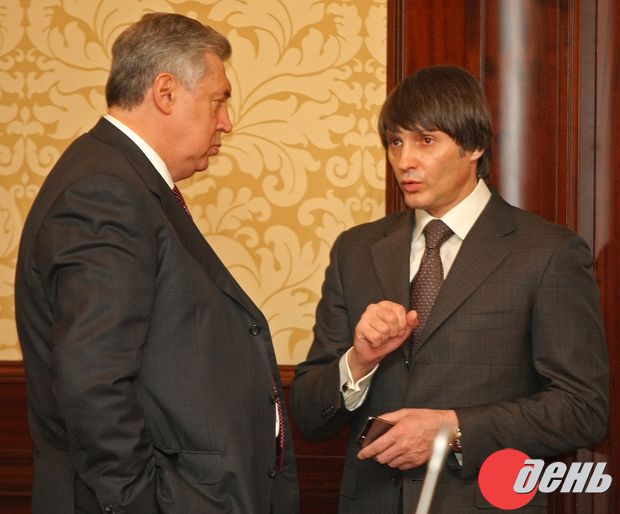 IHOR YEREMEIEV (RIGHT), AN INDEPENDENT MEMBER OF PARLIAMENT, ONE OF THE OWNERS OF THE CONTINIUM GROUP OF COMPANIES, THINKS THAT BUSINESS IS EXPECTING THE GOVERNMENT TO MEET IT IN THE "QUESTION-ANSWER" FORMAT
Meanwhile, The Day also saw Borys Tymonkin, member of the Supervisory Board of Serhii Kurchenko-managed company VETEK, among the session participants. His chief message is that his business is not and cannot be in dire straits. "How come, all are feeling bad, but you are saying it's OK?" I ask in surprise. "Who wants to buy dollars? The one who has stolen money and needs to quickly exchange, hide, and carry it away. But if you have normal money and contracts, the sixth day will spoil nothing," Tymonkin parries in reply.
Does business see any way out of the current situation? How long will it be possible to hold out in a situation of uncertainty?
"I do not think that any preventive methods the NBU is applying today will solve the problem. There will be no stable exchange rate unless the political problem is solved. And the disease is appendicitis. The problem will stay on until we excise the appendix,' Yeremeiev forecasts. In his view, business still hopes that the government will draw conclusions from the Maidan events and the existing gap between the authorities and society will narrow. "The authorities must address the needs of people," he says.
And this should be done as soon as possible, an interviewee who chose not to disclose his name says to The Day. "My colleagues and I argued today about how long we can hold out. We came to a conclusion that it is two weeks to two months. The next stage will be a default. This must not be allowed," he says.
"We are precipitously falling down, and the way out of this situation is to reach a political compromise as soon as possible," says in conclusion the manager of an international company that works in Ukraine.
A source in the entrepreneurial milieu has told The Day that it is planned to hold the All-Ukrainian Business Congress within the next two weeks, which will discuss all the questions that the government has failed so far to answer.