26 February, 2014 - 18:08
The "pilgrimage" to Viktor Yanukovych's country retreat in Mezhyhiria is in full swing. People stroll over a huge territory for hours, marveling at the level of luxury. What triggered a no less violent reaction in social networking sites are photos of the palace of former Prosecutor General Viktor Pshonka. People are stunned not only by the amounts of money spent on these palaces, but also by the overall tastelessness of what surrounded our "elite." The Day has asked experts why the powers that be feel such a strong inclination for "invaluable tastelessness" and to what extent we are all disposed to this "disease."
"IF THEY WERE THE PRESIDENT, THEY WOULD BE VERY LIKELY TO BEHAVE IN THE SAME WAY"
Oleh POKALCHUK, social psychologist:
"This is a question of the general cultural level. We should pay attention to what is going on in mass awareness. We are carefully disengaging the authorities and their hirelings from our beloved and beautiful selves. We are doing so to draw a line between the signs of criminal behavior that we can see, particularly in Mezhyhiria, and our own esthetic, ethical, and financial preferences. But I must say bitterly that they are very similar. The level of culture, morality, and ethics has been gradually and steadily falling in the 22 years of the existence of sovereign Ukraine. As this was occurring gradually, without abrupt leaps and bounds, we did not or pretended not to notice it. There is a well-known zoological experiment: a live frog is being boiled in the gradually heated water. The frog does not jump out, for it does not feel changes. We behave almost like the test frog does. We have been boiled over in this dirty post-Soviet, post-colonial boiling water. And, accordingly, we all hold a very primitive and vulgarized view on wealth and modesty. All the authorities we have had done a terrible thing to human morality and culture. They forced us not just to despise some ways of behavior which our ancestors considered as exclusive signs of a decent person. They forced us, showing their own example, to behave the other way round. And this disengagement derives from the fear of people to look in the mirror. For it really scares to see a little Yanukovych in your own self. We are ill with Yanukovych, Pshonka, and Zakharchenko syndromes. It is a very serious but, I hope, not a fatal disease. Yet most of us must be aware of having contracted it. Therefore, people are horrified at this luxury also because if they were the president, they would in all probability behave in the same way.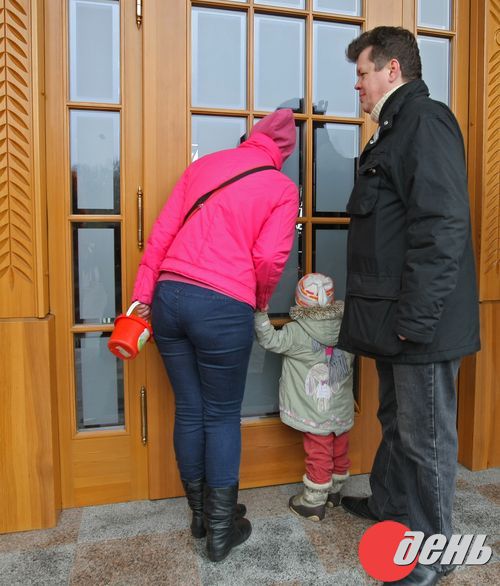 PEOPLE ARE READY TO STAND IN A LINE FOR SEVERAL HOURS TO PEEK THROUGH THE WINDOWS INTO THE WORLD THAT SURROUNDED THE PRESIDENT EVERY DAY
"This terrible tastelessness, this warehouse of unneeded things shows a complete lack of any cultural reference frame. It is a case of 'valuable worthlessness,' if I may say so. In my view, this shows the signs of behavioral, if not psychical, derangements.
"What can be done so that the generations to come do not build such palaces? We can use the experience of denazification in postwar Germany, when it became clear that the Nuremberg Trials did not produce the results the winners had hoped for. May 11, 1951, saw the beginning of a years-long process of denazification, which embraced all the spheres of political, economic, social, and cultural life, where lustration was just one of the elements of this process. This took a lot of years, for it was necessary to change the system of power in that country, which we also need to do now. We do need to change the characters and substitute the winners for the losers, for they will reverse the roles after some time. So we need to wipe off the post-communist and post-imperial marks that have been accumulated over 22, not three, years. We failed to do so in the very beginning, for we were vainglorious, naive, and haughty enough and thought that God would bless us anyway. Other countries did this and are ahead of us now.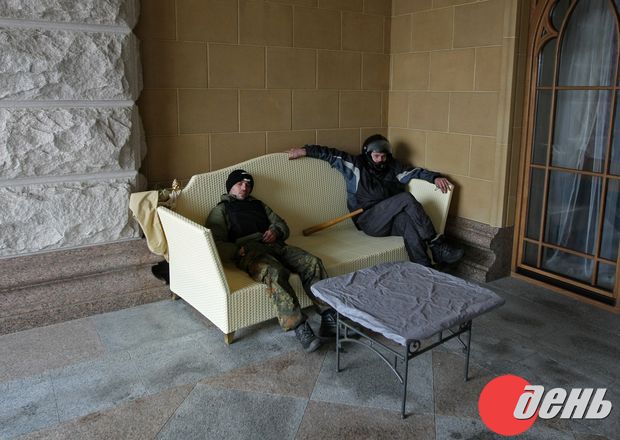 "THE SMOLNY EFFECT": MAIDAN SELF-DEFENSE GUYS ARE SO FAR SUCCESSFULLY PROTECTING VIKTOR YANUKOVYCH'S RESIDENCE FROM LOOTING AND VANDALISM. IT IS STILL IMPORTANT THAT THE MEZHYHIRIA PALACE SHOULD NOT REPEAT THE DESTINY OF THE SMOLNY CATHEDRAL IN SAINT PETERSBURG
"I think the photos of these palaces must be published, shown on television, and spread out. I mean not only the manors of Yanukovych, but also those of all the moneybags who have amassed wealth. We must show how they used this. This will be a White Paper of crimes against morality. This is deeply immoral, and one must know that not only Yanukovych is like this. All his henchmen were forced to behave and live in the same style in order to allay the suspicions of disloyalty. It is of paramount importance to show them all and say that this system of government must be changed."
"WE CAN SEE A LACK OF ANY TRADITION HERE"
Vadym SKURATIVSKY, Ukrainian art critic, historian, literature expert, political writer:
"It is only natural for people to show interest in palaces and Mezhyhiria – we want to know about the life of the Ukrainian elite that has ordered us about for many years. This is normal. The question is what is to be done with these palaces. I do not think that only the state should take possession of Mezhyhiria. The Ukrainian Orthodox Church, Kyiv Patriarchate, should also step in – taking into account the history of this place, when the Muscovite Orthodox Church totally subjugated the Ukrainian Church well before the end of the 17th century, it will sacralize at least a part of Mezhyhiria. There was a monastery that had existed since the 10th century. I saw all kinds of destiny and intrigue. And the intrigue continued in the last occupier of this residency which a leading Ukrainian film director, Serhii Masloboishchykov, called 'plebeian Versailles' or 'hick Versailles.' And let people look at it.
"The owners of such 'palaces' can be characterized as uneducated people who lack elementary culture. We can see a lack of any tradition here."