Liberated from terrorists, the city is slowly recovering, but residents still do not understand what was the reason behind their experience, and what is just a consequence of it
13 August, 2014 - 16:43
"Miss, there is no working link to Avdiivka, there is ongoing fighting there!" an employee of Druzhkivka railway station shouted at me [Avdiivka is a suburb of Donetsk, partly liberated by the Ukrainian army on July 29. – Ed.].
"Look up, please, when the suburban train from Krasnoarmiisk transits this station on the way to Avdiivka. We know that it does run, we only want to specify the time," we urged her.
"No trains are running on the Donetsk route," the employee repeated implacably. "They have all stopped running long ago, see this note here," and she slipped forward a penciled note stating that no trains were running on the route we wanted to take.
We were in Avdiivka the next day, having found out that railway employees can be liars, too. A suburban train runs twice a day from Avdiivka towards Chaplino. The city's railway station is in fact the only place where there is power, because power lines reach to it from Krasnoarmiisk, so people come there to charge their phones and laptops.
The greater part of Avdiivka has no power, water or gas supply. Some food supplies       arrive there by truck, but the shelves become empty by the evening. People complain about the lack of bread and other food. In fact, stores are almost empty. The first things to catch our eyes there were a          few bottles of wine, including Artemivske and Krym varieties, a few loaves of bread, canned food, and cigarettes.
The city's residents beg the government to fix at least some services, preferably starting with the power supply. Living in darkness is becoming unendurable. People prepare food over open fires near entrances of apartment blocks. Washing water is supplied by trucks every morning, but drinking water is scarce. The locals complain about wages and pensions arrears. A lot of people have left the city.
Its principal enterprise, the Avdiivka Coke Plant, has had to restart operations nine times already, with the restoration of power taking up to 15 hours every time. The plant is running, if not at full capacity. People say they previously walked to work, but are now again able to         catch the bus from Khimik neighborhood to the plant.
The situation in Avdiivka remains among the most difficult.
MAKARENKA STREET
"Here, people abandoned almost all apartments and many houses. People were leaving in a hurry, many could not or did not want to take all their belongings, and someone even forgot a purebred tomcat. Wish it luck and enough fat to survive until the owners return, because the cat is still shocked and refuses to eat anything," a soldier called Artem told us; he was only a few days in the city. In fact, we did meet a lot of cats.
"I live with my grandfather. He is non-ambulant. When the shockwaves came, I  covered him with a pillow, to protect him from flying glass, and lay on the floor myself. For a few days, we have been living to the tune of shells whistling overhead," a resident of this new neighborhood told us.
Approximately a half of new panel apartment blocks have been hit by shells. Broken glass is lying around. Women and men are constantly repeating that "we did not have it like this under the Donetsk People's Republic's regime."
On approaching another apartment block, located in Makarenka Street, we saw that a shell hit the fifth entrance, having bounced from a tree. The street is still partly inhabited, with three families staying in apartments of the block's first and second entrances. "We lived in peace for 23 years, and suddenly found ourselves in somebody's way. Why?" they asked us. They have a lot of unanswered "whys," but nobody has come up with a response so far. We felt that these people needed to communicate and get explanations as much as they needed water. They do not need any complicated reasoning, they need explanations on how benefits are to be paid, why there are delays to this process, why truckers are often afraid to go and bring food there, and so on. They need complete answers, they are willing to listen and wait, but only if they get answers to at least some of their questions first.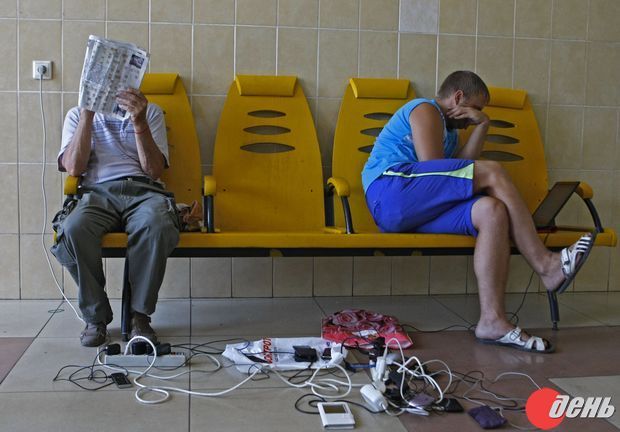 CONNECTING TO THE WORLD: RESIDENTS OF AVDIIVKA CHARGE THEIR MOBILES AND LAPTOPS AT THE RAILWAY STATION. IN FACT, IT IS THE ONLY PLACE IN THE CITY THAT STILL GETS POWER
"We had a case where a man came home drunk and was so tired that he fell asleep in the hallway. That night, a shell hit his apartment and destroyed everything, but the man survived. He had his luck, you see," a passerby told us, pointing to the ruined apartment block. The lucky man's apartment had held a few shelves of books and had been generally well maintained. There was nothing left, of course, after the shell hit.
LOOTERS
The residents told us about casualties. No one can say for sure how many have died there. People just say that they saw for themselves the dead bodies which they helped to evacuate via entrance doors.
It is said that some bodies are still inside a burned-down store, but they are covered with rubble. It is too hard to make sure, for there are no rescue operations underway. However, acid smell confirms the words of the locals and soldiers alike. Even so, the store is a great target for looters.
"Guys, would you tell us, please, what was there, and how the building has burned down?" we asked two young men who were sifting through the rubble.
"It was a grocery store here. It has burned down. They say it was hit by a shell, but we do not know. Do you think we are looters? I have two children to feed. I collect copper scrap, for I am getting no wages now, but I still have to somehow sustain my family," the thin older man said apologetically. The younger one kept silent. Was he the first man's son?
We did not blame the guys for their actions, just asked them to point out a landmine-free route on the map for our car. We were advised to turn left. However, as it turned out later, the left turn was decidedly unsafe, leading to places full of landmines and worse things.
OLEKSII
"You know what my dream is? I want to throw this gun into the water, and let it rot there, knowing that we have peace at last and no one will use my gun," our soldier guard told us.
Oleksii forbade us to take pictures of him. He is a regular gasman from Dnipropetrovsk who was called up in May. He has been at the      front ever since. He does not know when he was officially listed as a participant of the anti-terrorist operation.
He carries his gun in the arms, not on the shoulder. He said that when he came home for a few days, his wife stared at his shoulders, looking for a recoil bruise from an assault rifle.
Having served on Karachun Mountain, he told us: "The Russian media are alleging that we have bombed the whole city to pieces, but I     was there, and everything is still in place. The destruction we brought was fairly limited. We never shoot at civilians. I remember seeing a column of terrorists on the move preceded by a woman with a small child. I thought: 'What are you doing, you fool?' and lowered my assault rifle. In this way, the bastards broke out."
Oleksii has a son waiting for him at home and constantly calling on his father to come back. "I had to choose between going to prison for dodging the call-up and joining the army, I    chose the latter. I        swore my oath of service and knew where I was going," he said, and added: "We just feel like we ought to get rotated long ago. We have become really tired."
Fatigue can be seen on Oleksii's face as well. His hands and face are blackened, and teeth dirty. Still, some extraordinary, quiet beauty emanates from him. It is a pity that he forbade us to photograph him, even for personal use only. Despite it all, he keeps wearily telling people about the scale of destruction, the trajectory of shells, and the gas pipe which cannot be repaired in two days.
Water is Oleksii's another desire. He told us that there were two wells near their checkpoint, but owner of one of them locked his well to keep it all for himself. As for food, he said that the locals often brought them meals. One woman often prepared hot meals for them. She brought dumplings on that day.
"After all, we have gone through many trials, I have seen so much – different people, different places. I can only say that I have never seen or eaten so many delicious apples before," the soldier said.
POSTSCRIPT
On our way back from Avdiivka, we saw these fields, covered with wheat and yellow grain stacks. One cannot help but like it. Another soldier from Ivano-Frankivsk said: "I never thought that we have such a magnificent nature." And all this   beauty exists just 1.5  kilometers from the firing line.