Paralympic athletes came to support injured soldiers at a military hospital
20 August, 2014 - 17:25
There is unusual atmosphere in the courtyard of the Red-Star Main Military Medicine Clinical Center. A large group of people in wheelchairs with happy faces is in the alleys. Alongside are men who limp slightly. As it turns out later, they have prostheses instead of one, and in one case, even two legs. A boy with a bunch of medals stands out between men, he was born without a part of an arm. These are paralympic athletes who came to visit wounded soldiers from the ATO area, who are now treated in Kyiv.
President of the National Committee of Paralympic Sports in Ukraine Valerii SUSHKEVYCH gathered and brought guests here. He briefly introduces all those who are present. Approaching the improvised stage is Svitlana Tryfonova, champion of Europe in powerlifting, first participant of the wheelchair marathon Kryvy Rih – Moscow, who came to the hospital with her two children. "I do not even know who came to help whom here," she jokes. "When we came to the hospital and talked to the boys, I saw they were in such a positive mood. Optimists to the bone. Future life of such warriors just has to be successful." Here, multiple winner of wheelchair dancing European championships and world cups Ivan Zamiha approaches, making elegant pirouettes. Champion of the world in bodybuilding Oleksandr Holub stands out among the present thanks to his figure. He lost ability to walk twice, but he is determined and intends to keep fighting for his future. "Hardships are a springboard for success," Oleksandr addresses the soldiers. "Everything comes down to how you push off of it. It is crucial that a patient family is near you. In the beginning everything seems to be extremely hard, but it becomes better with time. Believe, make friends, talk to positive people. You are heroes of Ukraine, do not ever give up." Masters of sports of international class Mykola Ovcharenko, Petro Ostrynsky, Yevhen Bohodaiko, Mykhailo Tkachenko; leader and active rehabilitation instructor Volodymyr Azin; Afghan war veteran Volodymyr Kravchenko also came to support soldiers. During the meeting the sportsmen shared their post-trauma life experiences. They talked a lot about faith and strength of spirit, about the importance of fighting for life. They discussed the issues of social protection and prosthetics.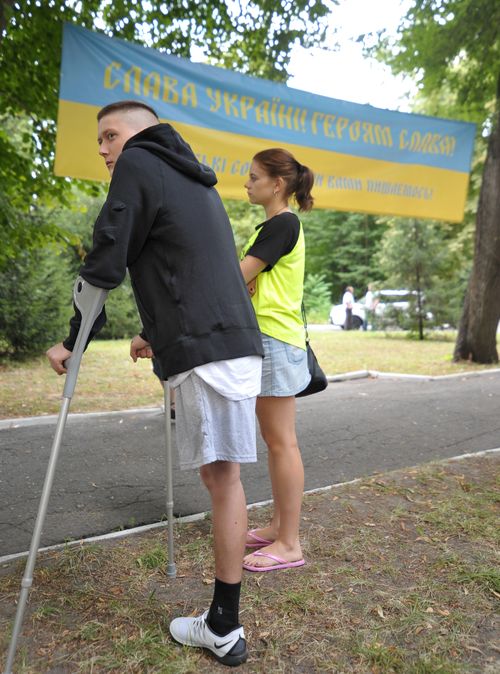 19-YEAR-OLD PARATROOPER SERHII ILNYTSKY CAME BACK FROM THE ATO AREA WITHOUT A LEG. THE BOY WHO USED TO GO IN FOR RUNNING BEFORE, NOW DREAMS OF A PARALYMPIC CAREER
Unfortunately, very few wounded soldiers could or wished to be present at the meeting. But those who came in wheelchairs, smiled and joked. Serhii Ilnytsky is 19. He was a contract servicemen from the 79th brigade. He has been in a hospital for a month, he has lost a leg. At the moment, his mother is in Kyiv with him. Serhii is her only son. "I am much better now, just as my son. He did not want to talk to anyone before. But he understands that life goes on, he must keep moving forward," says Valentyna Ilnytska, Serhii's mother. "He still does not tell me about what happened there. I only know that one of his friends died and another one was wounded, he is in Mykolaiv now. He did not even tell me he was in Luhansk. I called him, and he assured me he was in Donetsk oblast at the border, and that everything was calm there." Before, Serhii used to go in for sports, running. He also wanted to study law. The boy was almost the only one who wished to talk to the guests after the meeting. He studied the prosthesis booklets for a long time and listened to people saying that life does not end at this stage at all.
Others watched from afar behind the improvised stage. Two men in wheelchairs stopped behind the last rows of benches on the asphalt alley. One of them is Andrii from the 72nd brigade. He takes time to think about what to say and then "shoots" rapidly: "Was injured on July 12, it is a long story," "whether the meeting was useful or not, it was nice to have a breath of fresh air and see people," "I wish everyone comes back from there alive." "I am not too talkative," says Andrii and falls into silence.
"I wish someone beat some sense in Putin's head so this can be over soon," Mykola from the 51st brigade carries on with the conversation. "It is time for him to understand we are not bandar-logs. It will never be like 'Do you hear me, bandar-logs?' 'Yes, we hear you, oh Pu!' [There is a monkey tribe called bandar-logs in Rudyard Kipling's The Jungle Book. They constantly chatter, but do not listen to each other and cannot make decisions. That is why they are looking for a king who would settle things for them. And Pu is an allusion both to Kaa the python and Putin. – Author] We are a normal conscious nation. Ukrainians. We are all patriots here. I do not understand conversations about why these men, and not some others, were drafted. It just happened that some will serve in the first turn, some – in the second, third, fourth, and some did not move out of there and have been fighting for their land from the very beginning. I do not blame anyone. It is easy to blame, but we must look at all circumstances, objective and subjective reasons. If you were born a man, it is your duty to defend your homeland. So, I just followed Article 17 of the Constitution of Ukraine on defense of the integrity and sovereignty of the country I have been born and baptized in, the country I swore an oath to. And now I am in a fighting mood."