The 21-year-old paratrooper Andrii Shulha from the Kherson region saved his comrades at the cost of his own life
18 August, 2014 - 18:32
The anti-terrorism operation in eastern Ukraine has already claimed 568 lives of the Ukrainian military, Andrii Lysenko, spokesman of the National Security and Defense Council's information and analysis center, announced last Monday. This means we have lost 568 unique worlds due to Russia's aggression. This is a tragedy for thousands of relatives and friends, an irreparable loss that we must share with them. We continue to publish stories of the fallen heroes: this time it is Captain Dmytro Heorhiiev, a military man by vocation, whose widow will now have to raise two sons by herself, and a young paratrooper Andrii Shulha who died to ward off death from his comrades-in-arms.
---
The Kherson region could not escape a grief either. Residents of the village Daryivka, not far from the oblast center, recently held a ceremonial funeral of Andrii Shulha, a young soldier of the 79th Detached Airmobile Brigade. Among the hundreds of people who paid their last respects to the 21-year-old youth were not only villagers, but also relatives and friends who had come from other regions. The boy was buried on Airborne Troops Day. Andrii's friends still cannot believe that he is dead. Those who knew him say he was the heart and soul of any company. The proof of this is dozens of mournful entries on his social networking site page. He never complained of anything, always tried to turn things into a joke and find an   easy way out of any difficult situation. And it was his dream to serve in the army.
It was hard to speak to Andrii's mother. Ms. Oksana cannot hold back tears. She has lost a beloved son and a reliable helper. She will continue to bring up Andrii's kid sister Dasha. But "I will hold out, I will manage to do things, for I am the mother of a paratrooper," Ms. Oksana says.
"I have two children. While daughter is sometimes disobedient and may do things in a wrong way, I never had this problem with Andrii. When he used to come back from school, he would put everything in a proper place, tidy up the room, wash the dishes, and look after his kid sister. I remember teaching him not to litter when he was a little boy. Then I once carelessly dropped a piece of paper on the stairs. We went up to the apartment, and he said: 'If I were you, I'd come back and pick it up.' He was about four at the time," Andrii's mum says. "We had never seen him in a bad mood. Friends reached out to and were glad to mingle with him. The same thing was in the army. When I met his army mates, they said Andrii was the company's heart and soul. He would always say: 'Mum, there's no war. If one breaks out, I'll take you with me.' I hadn't known until the last day that he was there. He would call every day and say he got tired on detail duty or something else. I heard on TV that their brigade was being shelled, but he said it was another brigade and they were far from it. Then I came to know it was their brigade that was shelled. It's so hard to recall this… He had never asked me for money, for he wanted to live on his own. He began to moonlight at 14 to earn a penny of his own. He spent his first wages on me. He loved his sister very much and would buy her presents, such as a cell phone and encyclopedias. He also promised her a tablet. He didn't smoke. He went in for sports. He won some prizes in aikido and also liked Thai boxing. He was eager to go to the army because his elder cousin was a paratrooper. Andrii wanted to look like him. So, he began to prepare for the army after school. Doctors found problems first in the kidneys, then in the thorax. But when he was examined by other doctors, everything was OK. Then he went to have birthmarks on the neck and the small of the back removed – surprisingly, they were also an obstacle to military service. He wanted to serve in the airborne troops only. When we came to see him take the oath, the company commander thanked us for a son like this. Every time Andrii was coming home on leave, he was saying he liked service, parachute jumping, and wanted to make the army his life's work. And now, as I was told, he saved his mates at the cost of his life. Half an hour before this, he phoned his father and said joyfully that everything was all right."
Daryivka's concerned residents gathered the other day to discuss how to honor the memory of their hero. They decided to name the village school after Andrii Shulha. "War has come to our village. We have buried a soldier who defended our homes. His fellow countrymen wish Andrii to be always remembered. He was a very good person – almost every villager will say this. The community rally decided to name the school in his honor," says Valerii Surzhuk, an initiator of honoring Andrii's memory. "We will submit this decision to the village and district councils. I think the final decision will be positive, for we have duly substantiated this proposal."
The Daryivka assembly was also visited by Lieutenant-Colonel Ivan Savka, deputy commander of the military unit A0224 in which Andrii Shulha served. He expressed his heartfelt condolences to and deep respect for the community for bringing up a courageous soldier and thanked them for their initiative. "I cannot say this boy is no longer around. He is in our hearts and will eternally remain in our memory. He is one of the heroes of today, who were committing exploits to accomplish their missions and defend our state," Lieutenant-Colonel Savka comments to The Day. "Andrii died heroically, for he saved his comrades from death and injuries. He served in a combat engineer company. Once they were looking for a ford on which the personnel and the equipment could pass. Everything was mined. The blood-thirsty monsters laid sinister trip-wire mines which even bomb-disposal people find it difficult to deactivate. They cleared a number of dangerous mines. But on his way back Andrii noticed one more. When it became clear that the explosion was inevitable, he urged his mates to lie down and covered the mine with himself. He is a true hero. We must take such people as role models. Therefore, what his fellow villagers are doing is quite right. He has sacrificed his life for the future of our Ukraine so that we could live in a strong and peaceful country."
By Ivan ANTYPENKO, The Day, Kherson
---
The army was the cause of his life
Captain Dmytro Heorhiiev was killed on the night of July 26 at the roadblock he was visiting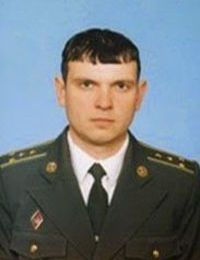 Halyna Yartseva, an Uzhhorod-based TV journalist, who has been performing in the past few months the mission of what may be called "non-governmental information bureau" about the situation in the units where soldiers drafted from Transcarpathia serve, announced a tragic piece of news on the night of July 26: Dmytro Heorhiiev, a 37-year-old officer from Uzhhorod, has died heroically near the Luhansk airport.
In the several months of being stationed in the ATO area, the captain more than once phoned and SMSed Ms. Yartseva to tell her the words of thanks to the Transcarpathians for their never-ending moral and material support for the Ukrainian military who are fighting for Ukraine now. And, all of a sudden, this news of death…
Before his unit had been deployed in the battle area, Dmytro Heorhiiev served as deputy chief of staff at an Uzhhorod-based mountain infantry battalion known as military unit A1778.
Heorhiiev was born on August 17, 1977, in Mykolaiv and spent his childhood in the Cherkasy region. He was drafted to the Armed Forces of Ukraine from here in 1994. It became clear to him very soon that the army was the cause of his life. After doing the mandatory service, he entered the Odesa Land Forces College to study combat employment of mechanized infantry units. On being commissioned as lieutenant, the young officer was sent to a military unit stationed in Uzhhorod, where he commanded a platoon, a company, and was then appointed deputy chief of staff of a battalion.
Thanks to his talent, he was making a successful career and earned respect among soldiers and officers. His colleagues remember him as a high-class specialist, an excellent leader, and, at the same time, a kindhearted and responsive person. Major Oleksandr Bovkunenko, the unit's deputy commander for educational work, says that Dmytro was a military man by vocation – he was always taking a serious and conscientious approach to his duties, showed ample self-control and tremendous respect for the rank-and-file, and highly valued every person in his charge.
Captain Heorhiiev was in the ATO area from the very first days of the hostilities. On that terrible night, about an hour and a half before the tragedy, he came to visit a roadblock near the village of Vesela Tarasivka, not far from Luhansk. A comrade of his, who witnessed the tragedy, says the captain was going to spend the night here and go to visit soldiers elsewhere in the morning. The relative calmness, if this word is applicable to a war situation, was suddenly broken by the loud roar of car that was rushing at a breakneck speed towards the roadblock. With the car a few dozen meters away, the terrorists began to fire automatic rifles, and one of the loosed bullets pierced through the officer.
The heroic death of Captain Heorhiiev made a widow out of his young wife Maryna, and his two sons, born in 2001 and 2007, will have to grow without father's care. From now on, taking care of them is a point of honor for Uzhhorod's community which, together with the captain's comrades-in-arms, paid him their last respects on July 29 at the Hill of Glory, where he found eternal rest. Captain Heorhiiev was buried on the Alley of Heroes next to the soldiers S. Martyn and O. Popadynets who were killed near Shchastia, Luhansk oblast.
By Vasyl ILNYTSKY, Uzhhorod