Larysa IVSHYNA: "Winners of James Mace Prize are practically restoring the country and its historical memory, and generating new meanings"
26 November, 2013 - 11:27
Traditional awarding ceremony of James Mace "Civic Stand" Prize took place on the eve of the 80th anniversary of the Holodomor in The Day's editorial office. This year, according to the founder of the prize, The Day's Editor-in-Chief Larysa IVSHYNA, "we named not only the fifth, but also the sixth laureate." "This is a demonstration of democracy in the civic council," Ivshyna noted, while she was announcing the names of the winners. "The nominees are equally strong, so it was impossible to tell which of them won. These are modern intellectuals, well known to readers of The Day, opinion journalists Petro KRALIUK and Volodymyr BOIKO."
Following a good tradition, the awarding ceremony of the James Mace Prize is a good reason for an open discussion of partisan friends, the best publicists of the country. So, members of the civic council on awarding the prize, such as Stanislav KULCHYTSKY, Yurii SHCHERBAK, Natalka DZIUBENKO-MACE, Oleh NALYVAIKO, as well as the prize winners Ihor SIUNDIUKOV, Oleksandr PALII, Serhii HRABOVSKY, journalists of The Day and their colleagues from other media talked in The Day's editorial office for over two hours about the real reasons and consequences of the Holodomor, the need to reconsider this tragedy for present-day Ukrainians, as well as the priceless contribution James Mace made to exposing of the genocide.
Larysa IVSHYNA: "Five years ago we decided to establish this prize. Our main motive was to support quality intellectual opinion journalism; this is a level Ukrainian authors must reach, and James Mace embodied this level by his activity. For our newspaper it was a great honor to work with him, a great school, and a great heritage. Another special feature of the idea to establish the prize was in preserving the memory of James, so that this memory was active – not only an inscription on a monument and in books, which is also important, without doubt; so that this memory got new adherents and revealed to people the depth of James's thinking. He was a journalist who left a standard which will remain up-to-date for a long while."
Yurii SHCHERBAK: "The sad and at the same time a joyful November day, when we commemorate James Mace, has come again. I got lost on my way to the editorial office, and as I was walking, I recalled how James and I wandered about Venice. I have remembered him forever as a lively and active person, although he underwent difficult surgeries. This prize is a symbol of our respect and our memory of this great American, who told us the very important truth, which is not perceived by everyone. Like Mace, the winners of the prize named after him, in my opinion, represent the summit of Ukrainian opinion journalism. Let's take at least the recent articles by Losiev and Hrabovsky about Ukrainian identity. Everyone must read and analyze them. I always read with great interest historical articles by Siundiukov. I must admit that it was a great joy for me to sign the diplomas of the new winners and I am sure that they are not worse and in some ways even better than their predecessors. This is a golden heritage of present day opinion journalism. I think in the future the book series of The Day should gather the winners' best articles and publish them as a separate book."
L.I.: "Oleksandr Palii is last year's laureate of the prize. It seems to me our civic council acts very wisely and always very carefully assesses which of our opinion journalists has made something significant during the year. Above all, I am speaking about their work in the newspaper, but we also look beyond it to find a significant person to award. Over these years neither the intellectual richness of our winners, nor their public activity has decreased. This is a great honor for us, too. It means that our choice was well-weighed. Speaking of Petro Kraliuk, I could list a huge number of texts of special intellectual importance, published in The Day only in 2013. Those are wise and deep thoughts of a citizen. Eighty years of hard history, catastrophic period of our people have not been vain. We have come to the point when something has been done, much has been written, in particular, by The Day's journalists, much has been achieved by James Mace, Stanislav Kulchytsky and other historians, and Natalia Dziubenko-Mace. But the volume which needs to be done will depend on many factors: how talented the publication will be, how journalists will perceive it. Volodymyr Boiko is involved in the cause which is crucial for understanding the problems Mace took care of, because Volodymyr has been a state official for many years. The Holodomor topic in Mace's work as well refers to state officials, activists, everyone. This combination of Volodymyr Boiko's opinion journalism and his active civic stand in the newspaper and beyond it was what preconditioned our choice."
The speeches of the new prize laureates were especially emotional and interesting.
Petro KRALIUK: "For me it is indeed a great pleasure to understand that I have become a winner of such a prestigious prize. James Mace is a magnificent man for me. Not only because he broached the topic of the Holodomor in the US, where far from everyone welcomed consideration of this problem and he met a very harsh opposition – Mace told about this. But he stood against this opposition and did a lot for America and entire world to learn about this tragic event. In 1993, a very complicated time, when millions of Ukrainians were trying to find ways to escape from Ukraine and were looking for the ways to earn money abroad, Mace moved to Ukraine and looked at it with optimism. He believed in this country. James Mace for me is above all a deep thinker. He's a person who understood Ukrainian problems very well, who probably understood these problems better than some Ukrainians in high echelons of power. Mace's actuality is not high words, it is the reality. I will dare quote some of his thoughts. At the moment we talk much about the Vilnius Summit. Some people think its result will be positive, others don't. But here are James Mace's words: 'Ukraine continues to balance between the European and Eurasian spaces. Everyone who wishes good to Ukraine cannot look at this without discontent.' It seems that these words were said today. Or another phrase: 'Today Ukraine is fundamentally different from a typical European state which rose from the national spirit.' He understood pretty well why Ukraine balances between European and Eurasian choice, he understood that Ukraine is not Poland, the Czech Republic, Hungary, or even Romania and Bulgaria, who have had a statehood, although decorative. Ukraine's independence has been formal. Mace says that in 1991 'a dependent state became independent.' And this dependence and post-genocide society he mentioned, unfortunately, continues. Mace always emphasized that 20 percent of Ukrainians are Soviet-minded people, 20-25 percent are nationally aware Ukrainians, and there is a good share of people who have some notion of their Ukrainian citizenship, but they don't connect themselves with Ukrainian national culture. In his view, such country is not full-fledged: 'Without Ukrainians there is no one to build Ukraine.' If we today had at least 50 percent of nationally aware Ukrainians, we would not hesitate between the Eurasian space and Europe. Finally, another quote: 'Ukrainian people have been and will be a European nation, not inclined to despotism or tyranny. There has never been any totalitarianism virus present in Ukrainians' mentality.' Of course, this is an extremely high assessment of true Ukrainians, which unfortunately are a minority in Ukraine. James Mace died almost 10 years ago, but his words and thoughts continue to be topical. I miss this person very much. Hopefully, the winners of James Mace Prize, and not only they, will continue this cause. It is wonderful that such prize exists and that The Day has published the book series 'Subversive Literature,' which includes a booklet with Mace's publications. After all, we need to look into the future with optimism, like Mace did."
L.I.: "James was ahead of his time, and together with him we were ahead, too, in many ways. Every year we republish in the newspaper Mace's article 'A Candle in the Window,' he wrote on his return from the terrible, brutal session of the Verkhovna Rada, where he was given literally five minutes to tell about the American Commission on the Holodomor, and, actually, the consequences of this tragedy. But the Candle in the Window action is alive and annually wins more and more spiritual adherents. This small symbolical gesture spreads light in the country. The more candles we have, the less the darkness is. Volodymyr Boiko, who wrote the preface to James Mace's book in the series 'Subversive Literature,' also recalled James's 19 points, which he called a kind of a testament."
Volodymyr BOIKO: "As for me, there is a historical injustice concerning Mace in Ukraine. A person from another world, in terms of culture, traditions, and perception, in 1990, when there was so far Soviet Ukraine with all corresponding consequences. Clearly, what he said was very strange and daring, and it was perceived with suspicion. Time passed and what seemed unusual gradually became a norm. Speaking about the perception of the Holodomor of 1932-33, according to polls, namely this year the highest percentage of Ukrainian citizens consider the Holodomor as genocide. This is not only a result of Mace's work, but he was among those who did a lot for this perception to strike root. Unfortunately, when he did everything to develop this topic, he passed away. When the famous action 'Candle in the Window' was implemented on a governmental level, we all know with whom people started to associate it. But this is gross injustice. Incidentally, this year for the first time social advertisement was shown in Chernihiv which mentioned Mace's authorship of the idea. 'Candle in the Window' is well-seen, it unites and draws people to each other as an act of national unity. I also view the James Mace Prize as one of the steps needed to remove the gross injustice which exists in Ukraine regarding this name. Such initiative is extremely useful and binding in a sense that you need to keep this standard."
COMMENTARIES
Natalka DZIUBENKO-MACE, writer, James Mace's widow:
"The historical clock in Ukraine is broken. It seems that everything is following the right course, scientific conferences take place, and important materials are published about the true history of the Holodomor in Ukraine; we have speeches of bright publicists, in particular, on Den's pages. And then there is serious backpedaling. The state policy of national memory is sick. And only owing to intellectual centers, such as the newspaper Den, we have hope that with time, in the long run, Ukraine can hope for enlightenment of our intellectual progress. I will never forget Larysa Ivshyna's interview, when the survey among the students of Kyiv's higher educational establishments was mentioned. When the youth was asked, what they knew about the USSR, most of them replied it was a good time, that they had better clothes and food, and everything was cheaper. I was thinking: where was I living that I saw nothing of this? And what teachers are teaching our students? I can only envy Petro Kraliuk's students who have such a talented teacher. Every publication by Kraliuk is an event of great intellectual importance. I don't simply read them, I study them. These are real gems of our research and intellectual thought. It is especially gratifying that Volodymyr Boiko is among the winners. He and James were not just fellow scholars, but also friends. James never had any free time: he wrote for Den, prepared for lectures – he always had some work to do. So he did not like it very much when somebody came to visit us. But he always received Boiko with warmth. James went to Chernihiv at Boiko's invitation in the time when it was hard to drag him somewhere. Boiko had sonny feelings for Mace.
"I am proud of all the winners of James Mace Prize. This year I have read with pleasure the articles by Hrabovsky, Siundiukov, Palii, and Losiev. This is a constellation of modern opinion journalism. I will tell you more: not only do these people determine the intellectual image of Den, but they also determine the intellectual image of entire country."
Serhii HRABOVSKY, publicist, James Mace Prize laureate:
"Unfortunately, there are still many people in Ukraine who are openly working for Russian FSB, continuing to expose so-called 'Ukrainian bourgeois nationalists.' There are many people who work against us. Mace in the then Ukrainian situation was, vice versa, helping us, he told us about ourselves. At that time we did not have enough instruments for self-analysis and research. There were some humanistic instructions, developed by philosophers of 'Kyiv school,' and the traditions of dissidents. But we needed to move from romanticism to pragmatism. In this sense Mace played an important, but at first glance unnoticeable role: he raised the intellectual standard. Today it has been recalled that he was The Day's contributor. But before the newspaper he was deputy head of Politychna dumka (Political Thought) magazine. This magazine, like The Day today, set a certain standard in stylistics and methods of studying ourselves. And Mace's role was not public, but crucial. He was attentive to concrete facts. Neo-Stalinism is raging today on the so-called Ukrainian television, where Chekists are glorified, and a sentimental film about the chief and his son is shown in the context that it is our history and we cannot get rid of it. And in spite of this rage and negative state policy, the number of aware people is increasing."
---
"A Candle in the Window"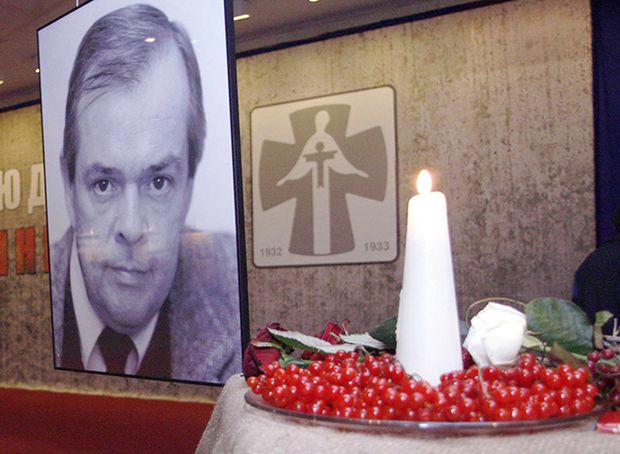 Photo by Mykola TYMCHENKO, The Day
The front-page article with the above headline was published on February 18, 2003. Every year since then our newspaper has appealed to both readers and our fellow Ukrainians to place a lighted candle in their windows to commemorate the tragic anniversary of the Holodomor. Several years passed before the light-the-candle action started being supported on an official level. Today we pay tribute to the person who first expressed the following words. It is always difficult being the first.
"The five minutes that I was allotted to describe the work of the American commission on the Ukraine Famine did not suffice for even a fraction of what I should have said, other than that we did the best we could with what we had. Ukraine, with a few exceptions like the leader of the communists Petro Symonenko, has now come to basically the same conclusion that we did in 1990: that Ukrainians were the victims of genocide in the 1930s and were crippled to such an extent that many of the shortcomings of the state today are a direct result of it.
"As a citizen of a foreign state, I am not very comfortable making policy recommendations even in the face of catcalls from some communists that I should go back to my American Indians. Yet, the years I have spent researching this tragedy compelled me to try to give one piece of advice that I am not certain was understood. As one who unsuccessfully sought to establish an institute for the study of genocide a decade ago, I can only welcome the current initiative by various political figures to establish an institute to study the famine. The call by the communist Borys Oliinyk to reveal the names of all the guilty parties and all their victims, while far easier said than done, is also commendable, as is the belated movement to erect a monument to the victims. I attempted only to counsel an act of national memory that would be accessible to everyone: that on the national day to commemorate the victims of 1933 (the fourth Saturday of November) a time be designated when every member of this nation, where almost every family lost loved ones, will be invited to place a lighted candle in their windows in memory of those who suffered. This would be a fitting response to the words of Father Oleksander Bykovets, who became a priest in the US:
"Everybody was prepared for sacrifices, and they knew that if not today they would be destroyed tomorrow, but they were troubled by this: would the world know about this? Would the world say something? And there was another problem, of a more intimate character: would there be somebody to pray for those who would perish?
"Even after seven decades, lighting a candle in the window seems to me a fitting answer."
By Prof. James MACE
The late Dr. James MACE was a consultant to The Day