Den has been honored with an award for coverage of international topics
16 January, 2018 - 11:28
On January 10, this newspaper received a certificate from the Ukrainian Prism Foreign Policy Council for covering the field of international relations and foreign policy in our publication. When presenting the award, chairman of the Ukrainian Prism Foreign Policy Council Hennadii MAKSAK said: "We sum up annually what happens in foreign policy. This year, since we marked the centennial of Ukrainian diplomacy in it, we decided to conduct an expert survey and ask not only which diplomats were doing better in their jobs, but also which journalists were more professional in the field of external relations. It is important to keep making such assessments, because we must understand who are doing their jobs professionally, and in which fields."
"It is obvious that the newspaper Den, and, in particular, our international affairs editor Mykola Siruk, is what holds the 'roof' over international journalism," Den's editor-in-chief Larysa Ivshyna said during the event. "I do not like when people say sometimes that there is no international journalism in Ukraine. Perhaps it is not good enough for such a great country as ours. But it did and does exist. It comes with uneven quality and quantity, but it does exist due to the fact that there are true authorities who learn themselves and teach others," she said. According to the editor-in-chief, the publication of Den's Library books – Two Rus'es; Wars and Peace, or Ukrainians and Poles: Brothers/Enemies, Neighbors; The Power of the Soft Sign; Return to Tsarhorod; My Sister Sofia... – "all hold the perimeter of our international relations." "Instead of the state and the 'grant society,' it is us who do something that then comes to define a new cultural policy in 20 years," Ivshyna emphasized.
"Creative and professional atmosphere prevalent in the newspaper Den is an incentive for high-quality international journalism," Mykola Siruk noted in turn.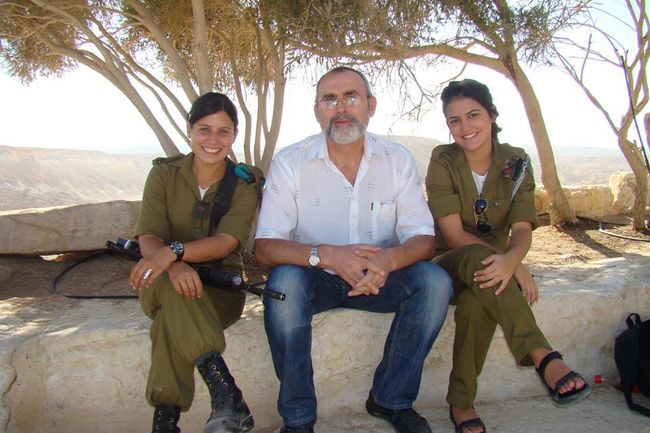 INTERNATIONAL AFFAIRS EDITOR OF THE NEWSPAPER DEN MYKOLA SIRUK DURING A TRIP TO ISRAEL IN OCTOBER 2009, SURROUNDED BY ISRAELI FEMALE SOLDIERS IN THE NEGEV VALLEY, NEAR THE GRAVE AND HOUSE MUSEUM OF THE FOUNDER OF THE ISRAELI STATE DAVID BEN-GURION
The Ukrainian Prism Foreign Policy Council is a network of non-governmental think-tanks whose purpose is to participate in the establishment of democratic foundations for the development and implementation of foreign and security policies by state authorities of Ukraine, implementation of international and national projects and programs aimed at improving foreign policy analysis and expertise, and strengthening the participation of the expert community in the decision-making process in the fields of foreign policy, international relations, and public diplomacy.