Matvei Vaisberg's exhibit "Wall. 28.01-8.03.2014," a cycle of pictures based on the events in Maidan, opens in Kyiv Museum "Spiritual Treasures of Ukraine"
1 April, 2014 - 10:44
First and foremost, color speaks in Vaisberg's works. The color plastic of the world stiffens when it's needed and is depicted as a separate drama on canvas.
Flowing purple-black flashes. Chalky twilight and black-coal clouds of smoke. Ochroid lanterns above the battlefield. Fire dotted lines, which cut the heaven that has descended. The vague contours of people and buildings in the turbulence of attack, fires, running or falling figures, threatening or triumphant gestures. But this is only my description. Everyone in this war had a barricade of his own. How to express what was happening to all of us during these three months? How to convey without falsehood and self-admiration the crazy mixture of disturbance, insomnia, fear, helplessness, hatred, fury, exaltation, hope, and grief? Where to stop in this endlessly changing landscape of a tectonic shift?
Vaisberg looks for an answer in every picture and in every color chord of the new cycle. He does not follow the accurate chronology and avoids lineal plots. On the canvases there are recognizable images – a trumpeter who played signals in the counterattack in Instytutska Street, the pillaring of the Dynamo Stadium, or the walking bridge above the Maidan. But the recognition in the "Wall" is deeper, it goes beyond reason. We recognize here ourselves – those who survived the events which seemed unthinkable in all senses. We recognize life and death on this wall of canvases. We recognize the colors of our dignity. The true colors of heroes.
MATVEI VAISBERG: "I FINISHED THE LAST PICTURE, CAME HOME, AND CRIED"
 How did this series emerge?
"It is a result of my two months' staying in the Maidan. At first I did not have any desire to paint, I felt ashamed even at the thought of it. Later, when everything dragged on, it became clear that I had to paint before the acuteness of impression faded away. The protest lasted for many days, the impressions accumulated fragmentarily, and finally they created a whole thing, which in fact is not a sum of separate elements. This can be interpreted in many ways."
 How did you come up with creating this form, 28 small pictures?
"It was not momentary decision either. I was thinking about big works, but then the previous 'Wall,' dedicated to Old Testament made see the similarity of the range of events – tectonic shocks in time and space, therefore I found it appropriate to create the series namely in this way. Of course, even many pictures won't be enough to cover the topic. But I did what I could."
 Was it hard to paint this?
"It was easy in terms of technology. I am good enough at this way of rhetoric. Psychologically, it was harder."
 Why?
"Because it was a war for me. For painting is like getting splinters from your heart. On the one hand, it is bleeding, on the other hand, you feel better. There were days when I felt that if I don't do anything like this, I will simply explode from inside. I had to bear it. Yes, it was hard. On the whole, creation of the first works became a real personal battle for me. We don't know how we will act under certain critical circumstances; we could not even imagine these circumstances. We have read how people behaved at such moments, but it was hard to imagine ourselves in their shoes. The final result is this sequence, and there is little triumph in it. I painted the last picture, came home, and cried. I am not ashamed of telling this. I was not lamenting about something. I simply overcame something and left something in the past."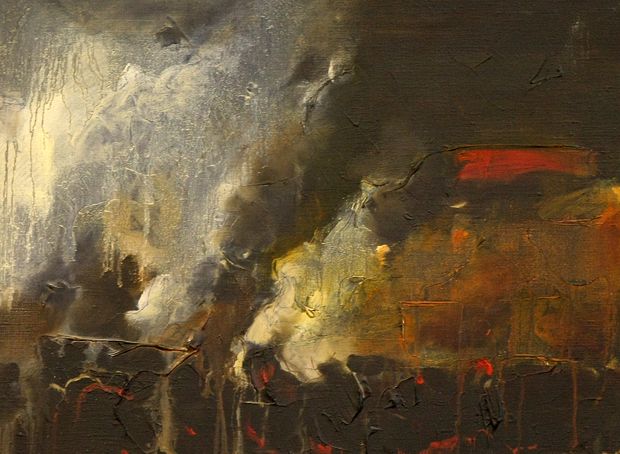 How have you changed?
"I don't think I have changed drastically. I have gone through some stage, like all of us. This is a short period in calendar, yet it was a very long time: during these months we have grown older. I will repeat myself, nobody knows what he can expect of himself under these circumstances, when you have limits of accepted things. Last summer I was in Spain, in Prado, and I became fond of "black" Goya ['Black Paintings' is a series of 14 frescoes by Francisco Goya, which are rich in dark and bloody images. – Author]. He shadowed everything for me. And suddenly it turns out that I see it, experience it, and can imagine, maybe approximately, what he felt when he was painting his 'Black Paintings.'"
 Continuing the question: has our art changed?
"I don't use such notions as 'our art.' I know that I have made a certain step. As for the artistic world, time will tell. Exhibits dedicated to burning issues are taking place one after another, which is quite explainable: everyone is in a hurry, maybe I am in a hurry too, but there are times when you need to hurry. And we will be able to understand how art changed only when years pass and we look at it through prism of time, banally speaking."
 But you already have a certain distance. How would you characterize now what you created, looking at it from afar?
"Later I called the 'Wall' an art of direct action. I can see that it has an absolutely direct effect on people who were on Maidan. I want to hope that it still possesses the rest of elements art is supposed to have, that it will live in time and get filled with new senses. But to make it short I will repeat someone's words: it's a series of sadness, disturbance, and hope. And grief, probably, as well. But hope for sure."
 What are you going to do next?
"I have started to paint sparrows (laughing). They are hopping over there. I was trying to sketch them, arranged a hunt. I have a sparrow bush near the dormitory house. They are sitting on it all the time and chirping. I attack it from time to time. I try not to scare them off. I have a winter sparrow bush, now I want to paint a spring one. I am following the situation though. Unfortunately, the time does not let us relax."
The Day's FACT FILE
Matvei Vaisberg is one of the most prominent Ukrainian painters of today. He was born in 1958 in Kyiv. He graduated from the Shevchenko State School of Arts and Kyiv Printing Institute, department of book graphics. He has held over 15 solo exhibits since 1990. The artist's works are stored in many museum collections of Ukraine, as well as in private collections in many countries of the world.