The life of St. Michael's Golden-Domed Monastery, which turned into a field hospital
27 February, 2014 - 10:29
Last week it worked in an emergency mode: doctors had been helping the injured for several days. The bodies of the killed were also brought there. Today protesters keep on getting medical care at the monastery. The Day talked to people one can meet at the cathedral today.
"THESE PEOPLE ARE UNBELIEVABLE"
The married couple, Iryna and Ruslan from Kyiv, carries huge shopping bags with essentials. Before this, they had brought medicines. "People were shot at, but they did not retreat. This proves once more that a dialog with society must be carried out, that the government must make its opinion known to the people, instead of driving everyone into stalls and saying things are going to happen this way, but not the other," Ruslan says.
Karyna, a student from Kyiv, was a volunteer at Maidan since the very beginning. She is working in the kitchen at the monastery, she makes sandwiches and cuts fruit. It is hard for the girl to talk about the dispersal of Maidan, she has to choke back tears. "These are incredible people. You feel safe and secure with them, you realize that everything will be alright," the girl says. TV presenter Serhii Dorofeiev is also volunteering at the monastery. "I have been carrying boxes and pallets for these few days. Basically, I do whatever job I am told to do," he says.
"SOMETIMES THE POLICE IN UKRAINE ACT NOT IN THE WAY THEY ARE SUPPOSED TO"
There were a lot of policemen in the city on Friday. They came from Lviv oblast to support Maidan. Major Oleh Kormeliuk from Radekhiv says that he saw the genuine Ukrainian nation there. Investigating officer Nazar Bohun from Sokal has similar impressions. He wishes the police had started supporting Maidan earlier. He says the number of victims could have been smaller in that case. The policeman condemns Berkut's actions and does not believe them to be Ukrainians because of their brutality. The investigator also understands people who are aggressive towards him and his colleagues: "Sometimes the police in Ukraine act not in the way they are supposed to. Nevertheless, there are honest and humane people among us."
"IT IS THE HARDEST FOR THOSE WHO SURVIVED THE SHOOTING"
Resuscitator Oleksandr from Vinnytsia works at the hospital located in the cathedral's refectory. On February 19, a man with a penetrating gunshot chest wound died in his arms. Oleksandr says it would be impossible to save him even in a real hospital, let alone a field one.
Doctors had plenty of work on February 18 and 19 as well. They provided necessary medical care for protesters and sent the ones with grave wounds to hospitals. Those who had less serious wounds were sent home, or Kyivites took them in. Poland and Hungary offered their help, too.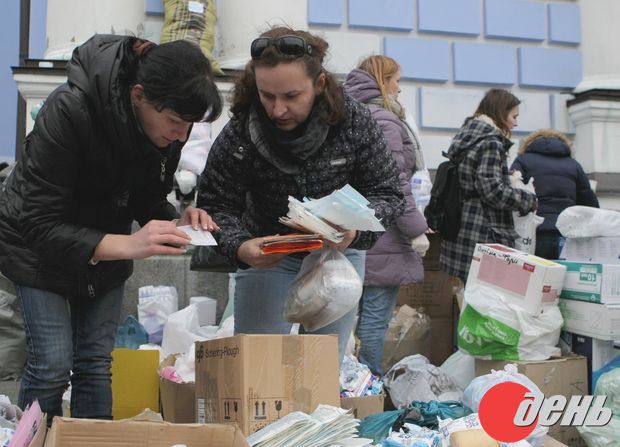 KYIVITES IMMEDIATELY ANSWERED THE CALL OF A FIELD HOSPITAL AT ST. MICHAEL'S CATHEDRAL TO FURNISH INDISPENSABLE MEDICINES. IN A MATTER OF A FEW HOURS, THE MEDICINES BROUGHT EXCEEDED SEVERAL TIMES THE FIRST-PRIORITY REQUIREMENT
Andrii, a neurosurgeon from Kyiv, has been on Maidan since the end of November. He became a volunteering surgeon at the Trade Union Center almost immediately. When the building was set on fire, their department was evacuated to St. Michael's Cathedral. There Andrii performed surgeries of all sorts: treated wounds, stopped bleedings, brought people out of the state of shock, helped to "sort" the injured and send them to hospitals. He says that now patients require psychological help rather than therapeutic one. "It is the hardest for those who survived the shooting, those who saw their friends or relatives die, those who witnessed people being killed. One young man saw his father being shot. His reaction was terrible," Andrii says. According to him, after Maidan is over, its participants will require psychological rehabilitation that might last for years.
"HE WAS A VERY NICE MAN"
Valerii, a former trooper from Yalta, came to the hospital to get an injection. On February 18, the man was wounded with metal bullets in the head and back. Also, ten people from his squad were killed in the massacre. Among them was his closest revolutionary friend Zurab [Khurtsia, 54, a citizen of Georgia. – Ed.]. "He was a very nice man," Valerii says as tears run down his face.
Kyivite Oksana brought her husband Yaroslav, who has eye injury, to the first aid station. While his bandage is being changed, she says that a grenade exploded right at Yaroslav's feet. The man's height (he is almost two meters tall) saved his eyes. Yaroslav had a surgery at the Trade Union Center. He will be able to see after the recovery.
"PEOPLE ASKED FOR THE GOOD NOT FOR THEMSELVES"
A priest who would remain anonymous told The Day that the events of the past three months have changed the people, increased the priority of love for their neighbors above selfishness. "People prayed not for themselves, they asked for the good not for themselves. They prayed for Maidan and asked God to protect it and the protesters. A person only grows spiritually when they see not only themselves, but the others too," says the priest.