Artist Mykola Telizhenko from Cherkasy is creating a cycle of works devoted to the latest events in Ukraine
25 February, 2014 - 10:27
Mykola Telizhenko, a famous master of vytynanky art, has already created six works devoted to the Euromaidan and ongoing revolution. The Cherkasy artist intends to create about 20 vytynanky on this subject. He shared his latest works with The Day, showed sketches of future vytynanky of the Euromaidan series and spoke about the soul of his creations.
The completed works include Christmas in Independence Square; Pіeta in Hrushevsky Street; Mykhailo the Cossack, Riot Police and Other Devilry; Worse than the Poles, or Any Other, the Children Crucify Their Mother [quote from Taras Shevchenko's My Friendly Epistle about Ukraine. – Ed.], Birds of Prey and Flames in Independence Square. Telizhenko said that Flames were the series' first, inspired by Ruslana Lyzhychko, a prominent singer. The artist said that given occasion, he would present this work to the singer. Among the works which are to appear soon, as the master has already outlined them, is Wedding on the Barricades.
"This is a historical event. Ukrainians will soon write the history of their revolutions, starting with the Granite Revolution of 1990. It is shame that the government that promised to hear everyone does not want to hear anyone, in particular millions of people united by the Euromaidan," the artist said. He recalled that he had created a series of works called "Letters from Independence Square" and devoted to the Orange Revolution.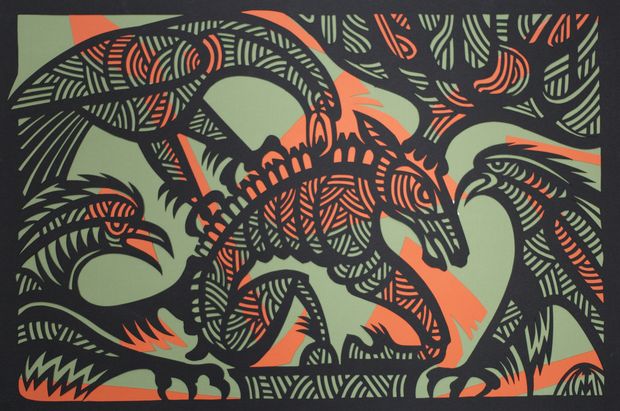 BIRDS OF PREY PIECE FEATURES A GOLDEN EAGLE PECKING TO DEATH A BEAST. TELIZHENKO SAID THAT THE ALLEGORICAL BEAST PICTURED WAS MOOSE, "THE ONLY NOBLE ANIMAL OF OUR FORESTS"
As for the Euromaidan cycle, Telizhenko said its first work had been inspired by highly touching performance of the national anthem by Ruslana and hundreds of thousands strong crowd. "Ruslana's clear voice and people singing. It is very inspiring. It is the anthem feast, when all the people are singing it. I joined my family, including four grandchildren, on New Year Day as we went to the balcony and sang the anthem," the artist shared his memories with us.
Flames are centered on Independence Monument in Independence Square, from which radial rings emanate, like in a tree stump, and they are filled with people. This tree grows similarly to a revolution, moving from person to person, from Kyiv to a small town or village.
Telizhenko told us that Christmas in Independence Square had been born very quickly in outline, but it had required a lot of technical work, given the number of scenes and images it involved. It shows bells announcing Christmas and revolution, Ukraine's symbol trident in saturated orange, singing angels, and folk puppet theater featuring King, Devil, Death, and Goat... Riot police, dancing with shields and batons, is pictured next to them. The birth of Jesus Christ is in the center of the composition. Joseph and Mary are shown leaning down to care for baby. Christmas tree is above them. Two horse figures, symbolizing East-West unity, stand for the Year of the Horse in this work. The piece also pictures people eating kutia, kobzar playing, and protesters erecting tents and raising flags. The horses' manes feature stars braided into them as a symbol of the EU.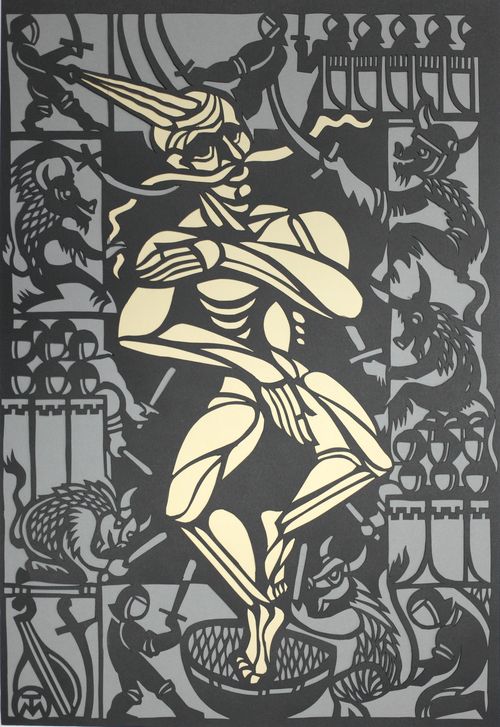 MYKHAILO THE COSSACK, RIOT POLICE AND OTHER DEVILRY IS DEVOTED TO MYKHAILO HAVRYLIUK, WHOM TELIZHENKO SEES AS SYMBOLIZING UKRAINIAN INVINCIBILITY
Mykhailo the Cossack, Riot Police and Other Devilry is devoted to Mykhailo Havryliuk, whom Telizhenko sees as symbolizing Ukrainian invincibility.
"When working on this topic, I have found that my works can be aptly described by lines from Shevchenko's poetry; he is so timely in the year of his 200th birth anniversary. No wonder he has found his place at the Euromaidan, too, similarly to yet another of our great compatriots Vasyl Symonenko, whose lines many protesters quote now," the master said.
When talking about his completed work, Telizhenko was simultaneously drawing a sketch for the next piece of the revolutionary series. It features Cossack heads and golden eagles trampling them [Golden Eagle is the symbol of Ukraine's riot police. – Ed.]. "We are short on frames and paper, but still work because this event will become part of the history of modern Ukraine. This history is no longer created by us, but rather by our children, grandchildren, and great-grandchildren. They are fighting for their future," the famous vytynanky master said.