Oleksii Koval displays his enamels in Lviv
21 June, 2017 - 16:21
Oleksii Koval, a Kyiv-based enamellist, is holding a large-scale exposition "History. Ukraine. World" of about two dozen works of various years and series, at the Andrei Sheptytsky National Museum.
The artist has been applying for several years the "hot enamel" technique which is considered an elitist filigree art because it requires a long learning period and a high skill. Art critics say this incomparable technique (painting and jewelry at the same time) produces astonishing results, but very few can master it because enamel… carefully chooses an author. Only one who is patient enough to overcome all the unexpected difficulties that occur in this intricate and painstaking technique will be able to achieve a major success.
Koval's enamels comprise portraits of Ukrainian hetmans and Cossacks, Ukrainian landscapes, still lifes, and pictures that reflect various cultures of the world. The artist combines colorings and ornaments, uses incrustations and elements of small-scale plastique in his works. He fills antique frames with flowers, adorns old photographs with enamel settings, as if playing with the objects' functional and decorative properties. He also executes works of different sizes – from miniatures to meters-long murals.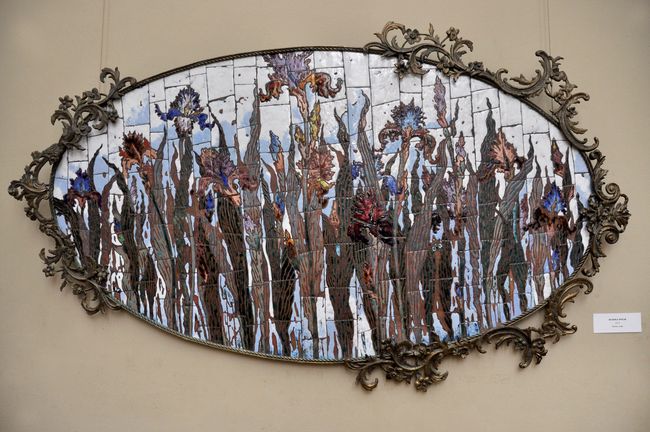 "Some of Koval's works reach almost two meters," project curator Nina Burnevych says. "Very few in the world create this kind of monumental enamels. Why? Because it is difficult, for it requires endurance and a great desire… Besides, we should also take into account the high price of materials (enamel costs a dollar a gram) – not all can afford this. But Oleksii is interested in it."
In general, enameling is a very ancient art. It took Koval about ten years to learn this technique. He studied history and the experience of Chinese, Italian, and Indian masters. To improve his knowledge, he has traveled a lot.
"I belong to the category of people who are interested in everything," the artist says, "especially when it is about learning and, moreover, comprehending some higher, uncommon and extraordinary things. I have tried myself out before in mosaics, frescoes, and paintings. But I understood that hot enamel is the most interesting thing, for it expresses my thoughts and feelings most precisely. What attracts me very much in the process of work is an always unexpected result, for the impression is that you are guided not by yourself but by the power of fire."
The name of Oleksii Koval is well known both in Ukraine and abroad – in the Middle East, Croatia, India, and Bulgaria.
As for Lviv, this is not the first time the artist exhibits here – he displayed his oeuvre at the Zelena Kanapa ("Green Sofa") gallery in March 2015 and January 2017.
The exposition at the Andrei Sheptytsky National Museum will remain open until July 21.