Art Donbass has launched a project that shows creative reflections of contemporary artists on significant events for an individual, a nation, or a country
23 January, 2014 - 10:48
About 80 masters of painting, graphics, sculpture, ceramics, photography, and contemporary avant-garde have displayed their creative reflection on the events, feelings, and deeds that leave a deep imprint on the heart of an individual, nation, or country, at the Art Donbass exhibition center.
Lviv, Drohobych, Ivano-Frankivsk, Kyiv, Odesa, Luhansk, Poltava, Makiivka, Kramatorsk, Mariupol, Donetsk – the geography of the "Slidy" (Imprints) project is as variegated as are the presented styles: from traditional painting to contemporary art. Among the masters are such meritorious artists as Oleksandr Shakalo, Larysa Dzharty, as well as amateurs and professionals of visual culture.
There are also a few works by foreign artists, particularly the photo of a well-known street drawing, "All that We Are Doing in Life Will Respond in Eternity," made by the underground artist Bansky, who has "shaken" New York with his street art pieces, as well as works by the Georgian muralist Avtandil Gurgenidze whose pictures adorn subway stations, weather and downhill skiing stations, streets, squares, and street objects in Georgia and Europe.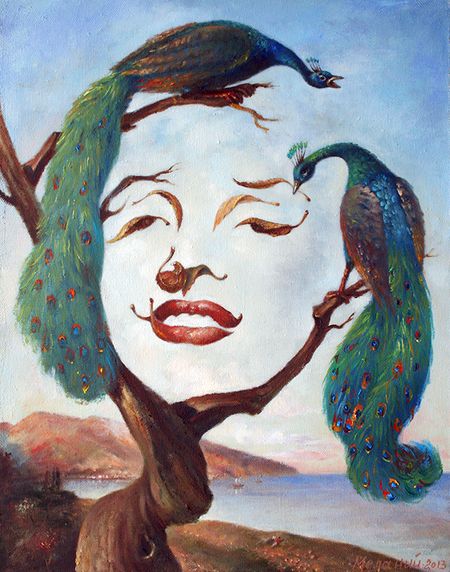 MELANII'S THE CRY OF A SURPRISED PEACOCK, NOT FAR FROM YALTA, WHO SAW A GOD-MADE IMAGE OF RAPTUROUS MARILYN MONROE IN THE CHAOS OF A LEAF FALL
"The 'Slidy' art project is a reflection on the exhibition 'Masks: the Facets of Reality' staged in Donetsk, Mariupol, and Kramatorsk in 2013. The subject of an "imprint" caused masters to hit upon absolutely different ideas and fantasies. This applies to both historical events and fleeting human emotions. What is displayed here includes pictures, sculptures, installations, photographs, objets d'art, and even poetry and audio – all that has left an imprint on the heart of exhibit participants," says Kateryna Kalinichenko, art director of the exhibition center.
Ms. Kalinichenko also noted that the galley would also see the unveiling of a picture, Grunwald, by the Donetsk-based art group Ivanovychi. The 5.80x3.30 m picture depicts a moment in the main battle between the Polish-Lithuanian army and the Teutonic Order in 1410.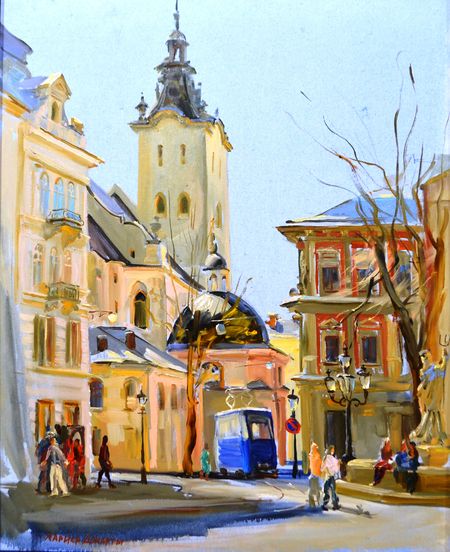 LARYSA DZHARTY'S A MARKETPLACE. LVIV INTERNATIONAL
Visitors like to watch Olha Bezrukova's bionic graphics, Anatolii Spytsia's photo works, and Oleksandr Hrebeniuk's "scandalous" painting Pi Generation. What has drawn a lot of attention is the sculpture Man-Chair by the art group They and the picture The Cry of a Surprised Peacock… by the Donetsk-based artist Melanii, which depicts an unconventional portrait of Marilyn Monroe. The sculpture Puzzles of Day by Iryna Huskova seemed to be jumping out of the wall and looking with its eyes at the spectators, and holding a jigsaw puzzle that composes life itself. The Euromaidan topic was not avoided either: Oleksandra Yeskova depicted on the canvas a 5th Channel live program in the "Ukrainian Television" series. Oleksandr Shpak amazed the audience with a cycle of pictures titled Heirs to Sin. He said to The Day: "This is my view on the purely human qualities that I condemn. Many people do not show themselves as personalities – they are 'somebody.' So each of the pictures depicts the abstract 'somebody' – one, a coward, hushes up things; another blesses somebody but hides his face – he is a hypocrite; someone else draws a sword; and somebody washes his hands."
The Art Donbass exhibit will remain open until mid-February and then move to Mariupol, Kramatorsk, Kharkiv, Chernihiv, Severodonetsk, and Luhansk. And, so far, the Slidy project will be accompanied every Saturday by visual, poetical, and musical events.