A charity event on origami, calligraphy, and furoshiki has taken place in Kyiv Polytechnic Institute
27 May, 2014 - 10:36
On May 21 a charity event "Day of Japan" was held in the building of the National Technical University "Kyiv Polytechnic Institute." Its purpose was not only popularization of Japanese culture, but also spreading of knowledge about healthy lifestyle among children and youth. The event was organized by Ukrainian-Japanese Center of the KPI, UNICEF, and Japan's Embassy in Ukraine. It is not the first time that the Day of Japan is held in KPI, but it is the first project, organized jointly by the university, the embassy, and the fund. KPI Rector Mykhailo Zgurovsky expressed hope that trilateral cooperation will continue, because this year the Day of Japan has covered more topics.
"We are holding a charity fair of Japan masters. There you can buy traditional pieces of Japanese art, dolls, toys, which have been kindly provided by representatives of Japanese companies in Ukraine, as well as the Japanese who reside here. The sum received from selling this things will go to UNICEF and Women's International Club," Extraordinary and Plenipotentiary Ambassador of Japan to Ukraine Toichi Sakata said.
Except for the charity fair, the guests of the event had an opportunity to watch a taiko show program (Japanese drums) accompanied by traditional Japanese dances Bon Odori and take part in master classes on origami and calligraphy.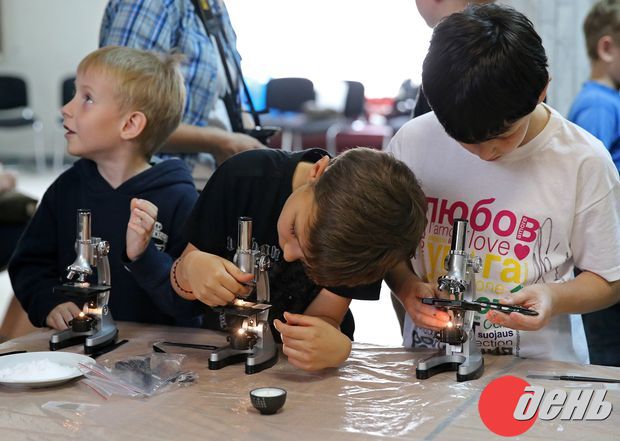 AN IQ LAB WAS FUNCTIONING FOR YOUNG VISITORS, WHERE CHILDREN COULD LEARN THE QUALITIES OF IODATED SALT WHILE PLAYING. FOR EXAMPLE, BY EXAMINING IT THROUGH A MICROSCOPE
One of the guests, Olha, has practiced calligraphy and could even write her name in Japanese. "It's unusual, it does not resemble at our technique of writing letters. Calligraphy is a very beautiful art. I am glad that I succeeded. I will practice more at home. I work at a Japanese company, that is why I decided to visit this event, to learn more about the Japanese culture," Olha says.
The master class on an art with a mysterious name, furoshiki, evoked the greatest interest.
"Furoshiki is a traditional Japanese art of wrapping presents and goods in fabric," says representative of Ukraine-Japanese Center Anna Nazarenko. "On the whole, furoshiki was used at first for wrapping clothes when people went to sauna. That was how the fabric got its title, because 'furo' is Japanese for sauna. For example, geishas wear furoshiki with traditional kimono."
Furoshiki can be made of silk or cotton. The more expensive silk furoshiki are used for especially precious gifts. And cotton furoshiki are for everyday use. They are easily washed and it is convenient to carry them. The Japanese carry them like we used to carry string "avoska" bags. Although Japan is a country of new technologies, the Japanese highly appreciate and keep their traditions, and over recent years traditional arts, in particular, furoshiki, have become very widespread.
An IQ lab was functioning for young visitors, where children could learn the qualities of iodated salt while playing.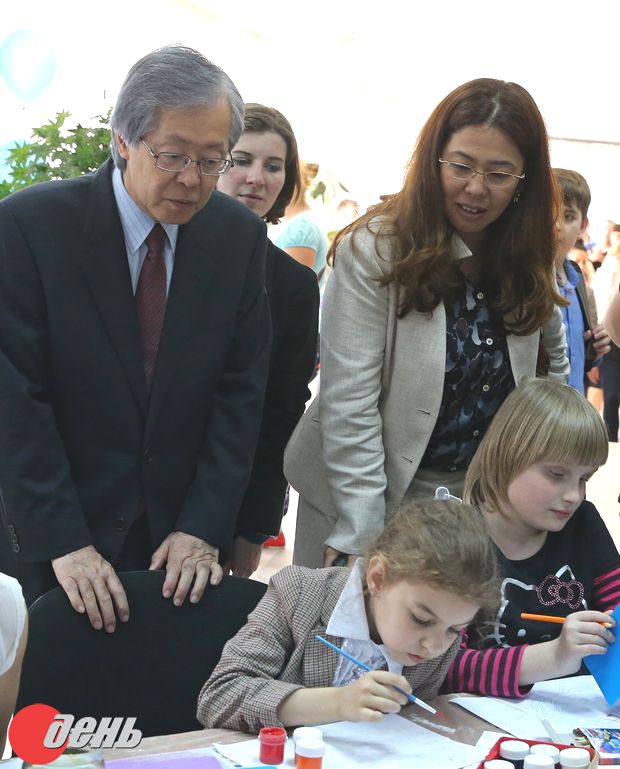 EXTRAORDINARY AND PLENIPOTENTIARY AMBASSADOR OF JAPAN TO UKRAINE TOICHI SAKATA AND YUKIE MOKUO, UNICEF REPRESENTATIVE IN UKRAINE
"This research lab for children is called "Chumak Way." Like Ukrainian carters Chumaks used to look for salt, we will be looking for the ways to work with it. There are three ways: research, drawing, and sculpture. We will mould sculptures of dough and salt. We will also use salt to draw: either by powdering the drawings, or by using colorants. As for the lab, we will hold simple experiments here, which will show the qualities of salt. In particular, the experiment with an egg which does not sink in salted water and 'invisible ink' (people draw with citric acid on sheets of paper, then put them into salt brine, and the drawings come out).
"Thus, in a way of a game we show to children the possibilities of salt, as well engrain the understanding that it is important to use iodated salt," expert on art therapy Yulia Vinnytska says.
Mila, 12, has held two experiments. "I especially liked the 'egg that does not sink' experiment. I had known before that it is impossible to drown in the Red Sea, because it is very salty, but I was very surprised to see in practice how salty water started to push out things," Mila says.
The event finished with screening of a film, which is an Oscar nominee in 2014, The Wind Rises by Hayao Miyazaki. It tells about an aircraft designer who wanted to create beautiful planes, but not weapons.