Japanese Culture Days were held in Lviv
15 April, 2014 - 10:36
The festival was called the Japanese Spring and lasted for three days. The event was organized by the Ukrainian-Japanese Center of the National Technical University of Ukraine (Kyiv Polytechnic Institute)    with the support of the Embassy of Japan in Ukraine and Lviv City Council. Incidentally, The Day learned at the city hall that Lviv was the first city where the Ukrainian-Japanese Center held a variety of workshops, lectures and interesting cultural attractions. Entrance to all events was free.
The festival started with a concert called "Japanese Drums," involving the Tsunagari Taiko band from France, whose name translates as "drums that unite." Undoubtedly, visitors to the Japanese Spring were also united by a tea ceremony demonstration        and workshop on manufacturing and, of course, eating mochitsuki rice balls. Residents and guests of Lviv also had a chance to learn how to make origami, furoshiki and ikebana as well as draw hieroglyphs.
The organizers offered a large number of educational activities, too. In particular, they held a photo exhibition at the Dzyga Artistic Association's gallery, which presented photos illustrating the great Japanese earthquake of March 11, 2011 that struck off the coast of Honshu. The Franko University invited everyone to listen to Japanese poetry being recited at the same time in Japanese and Ukrainian. Moreover, the festival's program involved lectures "Competitive Model Management: Japanese Philosophy of Kaizen [continuous improvement. – Ed.]" and "Tourist Attractions of Japan."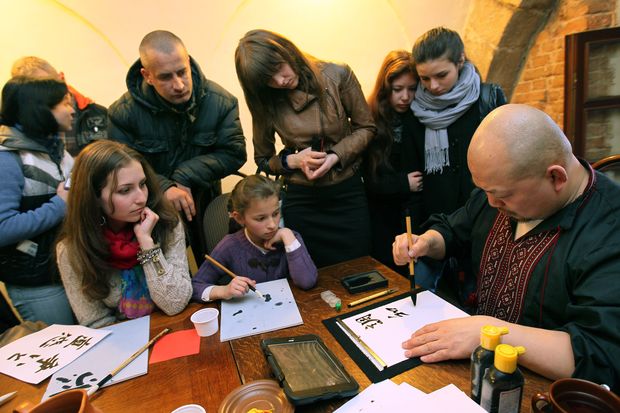 JAPANESE MASTER HITOSHI NAKAMURA HELD A WORKSHOP IN CALLIGRAPHY
According to the organizers of the Japanese Spring on both sides, the main goal of the festival, which was to better understand the multifaceted Japanese culture and to demonstrate the beauty of Ukrainian culture at the same time as well as find a common vision of the artistic vector followed now by a lot of countries, was reached, as this encounter of so different and so similar at the same time Japanese and Ukrainian creative traditions undoubtedly brought our peoples together.