Ukraine rightly counts the genius of avant-garde Kazimir Malevich (Malevych) among our own artists. He was born in Kyiv in 1878, and spent his childhood in Podillia (Yampil), Kharkiv (Parkhomivka, Bilopillia), and Chernihiv (Vovchok, Konotop) governorates. The artist began to paint in Kootop, inspired by folk embroidery and decorative paintings. He studied under Mykola Pymonenko at Kyiv Art School (1895-97). In 1927-30, he taught at Kyiv Art Institute, where the faculty then included Mykhailo Boichuk, Viktor Palmov, Fedir Krychevsky, Vadym Meller, Oleksandr Bohomazov, and Vasyl Kasiian.
At the same time, Russia, too, is entitled to consider him as one of its own, as it was there that he created most of his paintings, including the famous Black Square, and his exhibitions took place there. Malevich died there as well in 1935. The urn with his ashes was buried in the village of Nemchinovka, Odintsovo District of the Moscow Region, near the oak where the artist liked to rest. A wooden cubic monument with a black square was erected above the grave.
During the war, the grave was lost. Later, its location was identified by a group of enthusiasts in a collective farm arable field, so the commemorative sign, erected in 1988, had to be placed on the edge of the forest, approximately two kilometers from the actual burial place. It is a white concrete cube with a red square on the front side.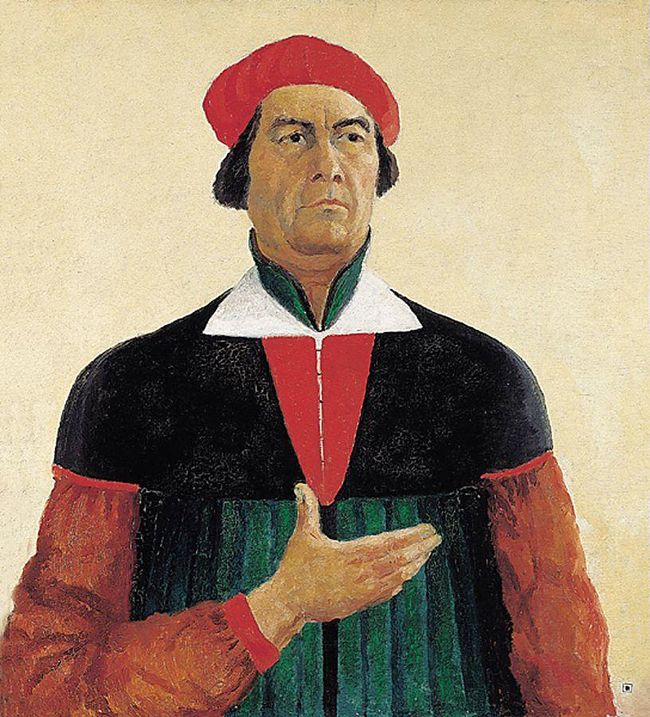 KAZIMIR MALEVICH, SELF-PORTRAIT (1933) /  Photo from the website WIKIART.ORG
However, what the communists began, the Putin-era "capitalists" have successfully completed. The field, the forest, and Malevich's burial place have all been repurposed for property development. Construction of the "elite" (of course) residential block Romashkovo-2 is already close to completion. The developer denies all accusations, arguing that he did not know anything about the grave. Whether he knew or not, Malevich's burial place was not a protected site at the time of him obtaining a building permit.
So, we can state that Malevich died the second death in Russia – under road rollers and bulldozers, under cubic meters of concrete and bricks. In the end, Moscow's parasitic bourgeoisie needs somewhere to live. Why should a grave be out of bounds?
It brings to mind another scandal that happened in the beginning of 2015 and had to do with the famous philosopher Immanuel Kant. A photo then appeared online of the ruins of a house in Kaliningrad, Russia (formerly Konigsberg), where the author of Critique of Pure Reason once lived, carrying an inscription: "Kant is a loser."
Is not he? Well, really? For the Putinist regime, which thinks nothing of human individuality, value of personality and equality of rights, both Malevich and Kant are losers, that is, stupid, unnecessary people. One can pour a layer of concrete over their graves, why not?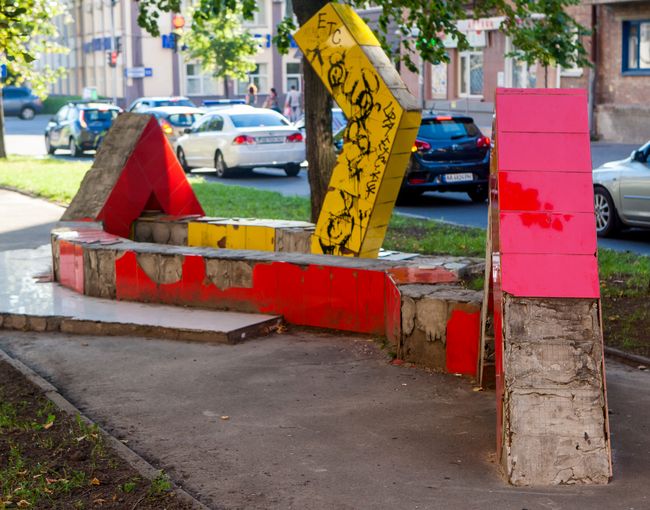 KYIV DOES ALREADY HAVE MALEVYCHA STREET (RENAMED AS LATE AS 2012), AND A NON-DESCRIPT COMMEMORATIVE SIGN WAS ERECTED IN VOLODYMYRO-LYBIDSKA STREET OF THE CAPITAL IN 2008, WHICH IS COLLAPSING LITTLE BY LITTLE /  Photo by Mykola TYMCHENKO, The Day
Coming back to Ukraine: in fact, we do not have much to boast about either. Yes, Kyiv does already have Malevycha Street (renamed as late as 2012), and a non-descript commemorative sign was erected in Volodymyro-Lybidska Street of the capital in 2008, which is collapsing little by little, and that is all. We have neither a museum nor special tours, nothing.
And now the former imperial center offers us an opportunity to look decent, even if only by contrast. All that is needed is a bit of money and desire.