The wonderful world of music, fairytales, Ukrainian nature, poetry, ballet – all these interesting children's reflections are represented at new exhibition "Inheriting the World," displaying works by students of Donetsk Art School. These vivid and sincere stories combined with high artistic techniques to create a unique exhibition in the lecture hall of Art Donbass exhibition center that impressed visitors with its special depth of thought and honesty. The exhibition features 60 works by artists aged 7 to 17.
By the way, Donetsk Art School has already produced many well-known architects, designers, artists, and art critics for Ukraine. They include Heorhii Bero, whose sculptures are now adorning Pushkin Boulevard in Donetsk; architect Stanislav Vashchynsky; artists Oleksandr Lysov, Larysa Dzharty, Hryhorii Tyshkevych, Volodymyr and Valentyna Telychko, Oleksandr Zhantalai, and Tetiana Ponomarenko.
"This marks the first time that our school opens an exhibition of our own. It presents the work of children from different generations and pictures related to composition classes. Exhibits that reflect music have a special place in all of this. Children were not limited to picturing musical instruments; they were free to convey the melody of the soul, one's local environment, or maybe even a whole city. For example, Alina Tkachuk, 14, painted Music, which depicts a man who conducts with great expression amid the rain, as her own reflection on the topic, and shades of blue convey dynamics of weather and atmosphere. The exhibition is called 'Inheriting the World' because we really want to keep all these unique children's stories as legacy," director of Donetsk Art School Alisa Chebrikova told us.
An interesting interpretation was also offered by young artist Yelyzaveta Karmanchikova in her picture The Dream, showing a girl with a cat flying over a field of poppies; the image is also a reflection of a melody, which the artist sees in her own way.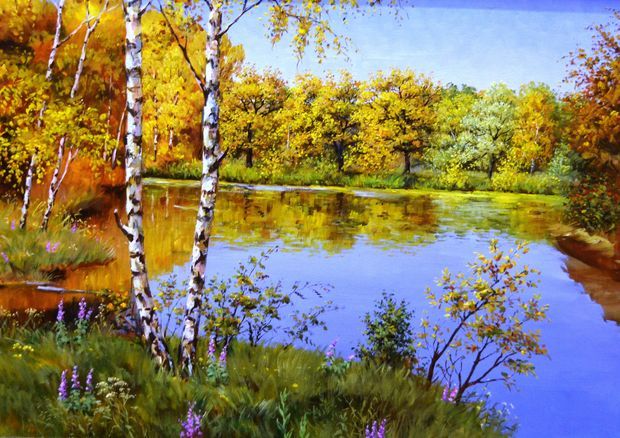 IUNIA PYKHANOVA'S ARTWORK. "MOST PICTURES ON DISPLAY ARE VERY STRONG, DEEP, ONE MIGHT EVEN SAY, NON-CHILD-LIKE ARTWORKS. THEY INCLUDE BEAUTIFUL REALISTIC LANDSCAPES, REQUIRING EXCEPTIONAL SKILL OF THE ARTIST," MEMBER OF THE UNION OF ARTISTS OF UKRAINE AND A TEACHER AT DONETSK ART SCHOOL KSENIA SHEVCHENKO REMARKED
Member of the Union of Artists of Ukraine and a teacher at Donetsk Art School Ksenia Shevchenko remarked: "Most pictures on display are very strong, deep, one might even say, non-child-like artworks. They feature magnificent graphics with high-quality perspective as well as beautiful realistic landscapes, and it requires exceptional skill of the artist. Actually, I was struck by Yulia Tkachenko's September, as it has right coloristics and reflects well the nature of fall rain. The creator was trying to convey the state of nature, including wet asphalt, ghostly people, leaving such a strong aftertaste as even adult artists are sometimes unable to achieve.
Sunflowers, daisies, poppies – all colorful plants of Ukrainian steppe were also well represented in landscapes and still lifes by young artists. 15-year-old Tetiana Kachura painted Poppies with oils. The girl said: "I wanted to demonstrate with this work that poppies are very bright and beautiful flowers. As a child, I often accompanied my parents in the fields, and already then I fell in love with those red lights, their look alone delighted me."
Visitors were especially impressed by a series of works "Portrait of a Contemporary" where young artists had to create a self-portrait, but they did it their very own way, picturing a fantastic image in which they saw themselves. The exhibition is accompanied by slideshow on a big screen, showing reproductions of the works by Hrytsko Boiko, who also attended Donetsk Art School.
"Along with the children's works, we are hosting exhibition 'Ukraine Covered in Spring Flowers' (covered by The Day in our No. 24 on April 8, 2014). The fact that works of young artists and maestros are side-by-side is also symbolic: on the one hand, it reflects the generational change among Donetsk artists, on the other, emphasizes that no matter how old the creator is, it is desire, talent, and soul that are really important," the art director of the gallery Kateryna Kalinichenko stated.
The "Inheriting the World" exhibition will be open till April 30.