New art project conveys emotions of people in frontline zone
21 February, 2018 - 17:19
"This house began to be built back in 1907. It was to be a priest's house. After the building had survived during World War Two, it housed a library, a police station, a dormitory, and nobody lived in it. We moved here, when a half of it was in dire straits, and in fact renovated it. The inner walls are very thick, which helped it bear the strike of a multiple rocket launcher. The rocket hit the yard, and I am still keeping it to remind me that the war is not yet over." It is a woman from the village of Shchastia, Luhansk oblast, who wrote this story. Written by hand on a sheet of paper, the text is accompanied with a drawing of the described building. The drawing seems to be in a fog. This impression is created by a semitransparent film over it. You can only see the clear outlines of the house and a portrait of the woman who lives in it if you turn the film away.
The house seems to be and not to be at the same time. Likewise, the people inside are semi-visible. You gain this impression when you see a couple of dozens of such illustrated stories. They were collected for a year by activists of the charitable foundation East-SOS and the "Donbas Odyssey" initiative as part of the project "Vostok House – Oral Stories in Artistic Practice." The exhibit was shown in Kyiv's IZONE gallery recently, and now it is traveling to Lysychansk and Sievierodonetsk, Luhansk oblast. The project is unique in a way, for it is not just drawings of buildings in the frontline zones. It is an exhibit of emotions and reminiscences of the people who are not leaving their native home in spite of a war.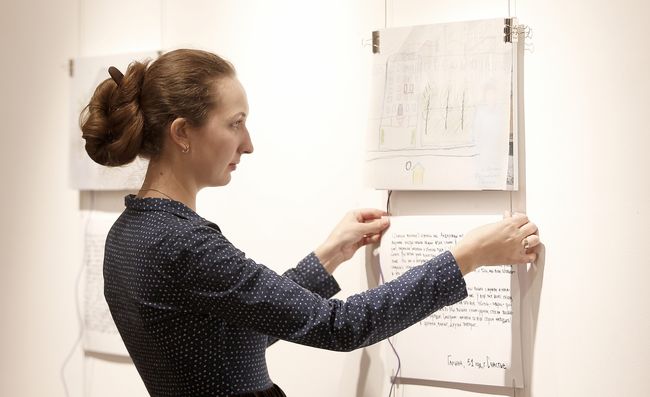 "THERE'S NO MORE PLACE TO SHOOT"
Three participants in the project came to attend the opening of the exhibit in Kyiv. Speaking about the whereabouts of their house, each of them considered it necessary to say how closely the house is to the line of disengagement. The house of Olena Vynokurova from Zolote is at the longest distance – five kilometers, while that of Maryna Hushchyna from Shchastia is only two kilometers from the river Siverskyi Donets, along which the line of disengagement passes now. But in the case of Halyna Kalinina from Shchastia, it is a mere 500 meters. All of them are afraid. Each of the three had to abandon their house at different times, but they all came back.
"I didn't leave alone, I also took my grandson and mum away," Olena VYNOKUROVA says. "Once there was an opportunity, I immediately came back home. The grass is greener on the other side, so to speak. There are enough misadventures everywhere. My grandson says: there's no more place to shoot, for a target cannot be hit twice. Two shells landed and exploded in the courtyard."
A decisive moment for Halyna and Maryna came when Shchastia remained part of Ukraine. "I was going for a month, but I thought it would be forever. It was hard to part with the home: I cried and wept, and it took me two days to make farewells to my home," Maryna recalls. "I decided to come back when it became clear that it is the territory of Ukraine. It so happened that I often moved to a new place in childhood, and, unlike many, I had no home of my own. When my family had a house built at last, we were overjoyed, for we saw a radiant future. Today, my house receives the people it needs, particularly the military. Like me, my house lives, survives, and helps me survive."
A CHESTNUT TREE SAVED THEM FROM ROCKETS
It proved difficult to record eyewitness reports about life on the line of war and the role of the house. "I just approached people on the street and suggested that they draw their house," Yulia KISHENKO, project co-organizer, education curator of the charitable foundation East-SOS, says. "People were first surprised but then said that it was really interesting to express sentiments, emotions, histories of the house and these territories. These are the stories of the people who chose not to leave in spite of the war. It is difficult for Kyivites to imagine how somebody may be living next to a war. This can be done now thanks to this project."
The dwellings of the exhibit's characters remained more or less intact. For example, a chestnut tree as high as the fifth floor, saved Vynokurova's apartment from destruction. When the so-called "LNR" "greeted" Zolote residents on January 1, 2015, with a rocket salvo, the tree's sprawling branches resisted the blast wave and saved the windows from ruination.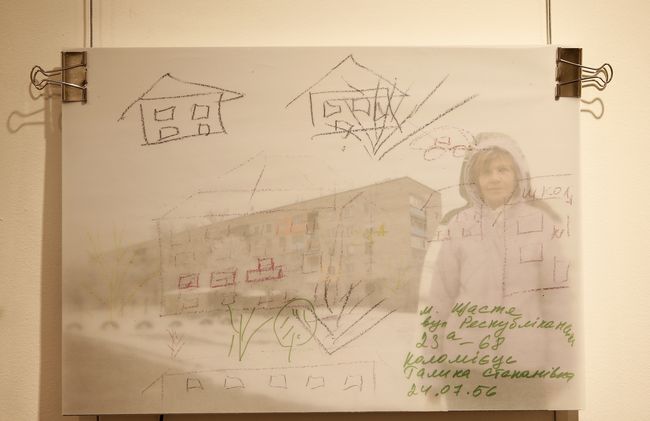 "When I came back home, hostilities were still in progress, and a mortar shell had landed in each entrance to our building. I'm so grateful to God that no one was killed or wounded in the building and nothing flew into the apartments. My building remained standing, and nothing was ruined. As peace negotiations began in the spring, we began to renovate the building. I started to paint my favorite water pump and the soccer field fence near the house in the yellow-blue color. The spring revitalized us, and I felt I was at home, and it is good and safe in spite of shootings," Halyna KALININA says smiling.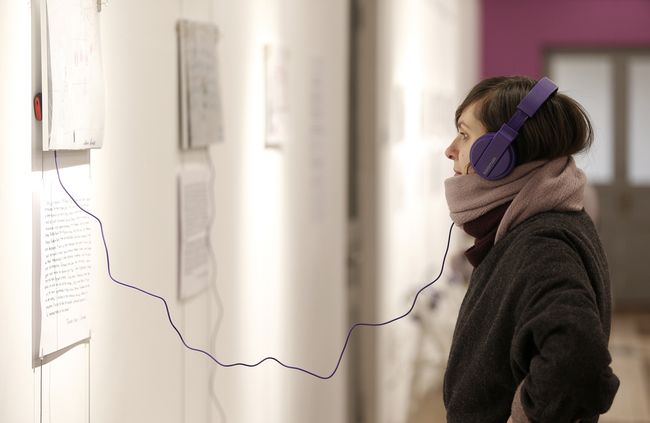 "I AM GLAD TO BE BACK AT HOME"
Now the heroines are easily speaking about what they have gone through. Yet each of them says she is making no plans for tomorrow. As the war broke out, the circle of friends changed – they are more in contact with those who have pro-Ukrainian attitudes. What also keeps the women together is the fact that there is less aggression in the town now than it was in 2014. At the time, unknown people damaged the door of Halyna's apartment, and she was afraid even to come out.
"I am glad to be back at home. But now I'm not thinking that I must raise money for a super-renovation because it's not important at all," Vynokurova confesses. "What was previously a tragedy to me – the ceiling is wrong or flowers have withered – is now a trifle. I am happy that things are OK in spite of what is going on around. I am happy that my house is alive and full of people amiable enough to deal with. I'm happy that I have a sofa for somebody to sleep on at night. When most of the people come to grasp this, it will be better."
Although there is a war going on next to the project heroines, they think it is calm at home. Vynokurova says medical and educational institutions are working in the town, but many locals work in Lysychansk because of a shortage of jobs here. What the town also lacks is a mayor – for some reasons, the Luhansk Oblast Military-Civilian Administration has not yet appointed one. The locals are taking an ironic and fearful approach to the talk about the establishment of a checkpoint in Zolote because the other side begins to shell the town as soon as such statements are made.
Olena herself is in charge of a drawing class at a local art school. She thinks it is a gift from… the war because this job appeared when she returned to her hometown which she had left seven months before right after the first shootings. She says she will not move anywhere now that she bears responsibility for the children she teaches.