A unique project, Travel Book: Ukraine, was launched in Kyiv
6 February, 2018 - 11:03
How well do Ukrainians know their country? To find this out, Marichka Padalko, hostess of the presentation of Travel Book: Ukraine, asked the guests: "The prince of what country did Lutsk-based Kateryna Desnytska marry?" Very few knew that it was a prince from Thailand. It is only one of many facts that the creative agency Green Penguin and the Knyholav publishing house, which prepared this book, found in the Ukrainian cultural and historical treasury.
 The book comprises 1,200 facts: personalities, the wonders of Ukrainian nature, historical and cultural events, architectural objects, and outstanding discoveries. You can find information about prominent Ukrainians from Volodymyr the Great to Bohdan Stupka, about the "Regal Road" that joined Eastern and Western Europe and passed through the Zhytomyr region, and the Botiieve wind farm one turbine of which is only one meter lower than the Statue of Liberty in New York. All this makes a new map of Ukraine in the book. Yes, Marichka Padalko is right to say: "This is all we can be proud of."
 Travel Book: Ukraine is the result of longtime work. According to Iryna Baturevych, project coordinator, co-founder of the cultural publishing project Chytomo, they needed advice from the scholarly editor about almost every fact. For example, they wanted at first to write that Ivan Fedorov was the founder of publishing in Ukraine. But it turned out that the first book printer was Stepan Dropan who handed over his print shop to St. Onuphrius' Monastery as far back as 1460.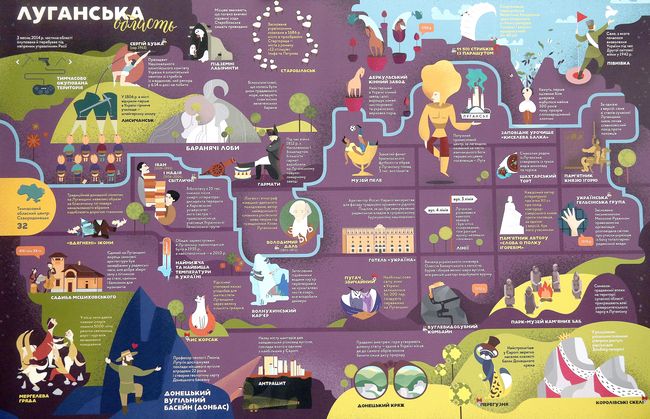 The book is particular not only about the information it gathered about Ukraine. It is also important that facts are presented in a modern format – by way of a text-spring and drawings. The book itself is 30 infographic designer maps. Baturevych explains "text-spring" as follows: "It is facts that first open up and then must shoot." In other words, an individual and a certain object in the book should be presented as completely as possible and, at the same time, as laconically as possible."
 Drawings in Travel Book are not typical either. You will hardly see anywhere else Yaroslav the Wise with an e-book in hand or Marko Vovchok as an archer who shoots heart-tipped arrows. This interpretation of well-known figures allows seeing new aspects in their work.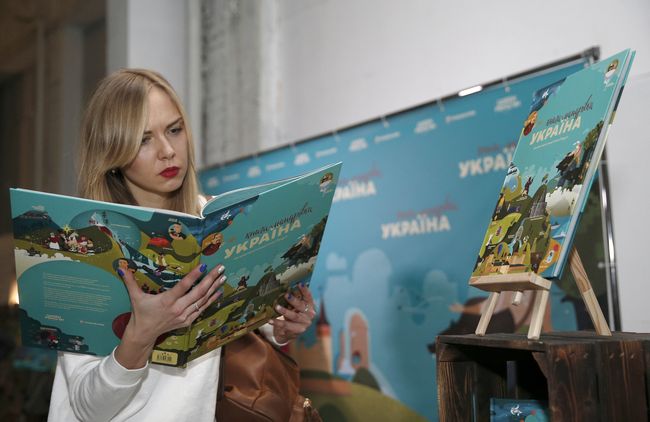 The new interpretation of facts about Ukraine is also linked with international context. Ukraine is not regarded as a country that lives on its own, for this approach only increases the isolation of our culture. On the contrary, Travel Book: Ukraine shows how open we are to the world, for intercultural parallels often occur in the text. For example, common yew forests, for which the Carpathians are famous, could be described from the angle of the necessity of their conservation. But project authors associate this tree with a popular series of Harry Potter books, emphasizing that Lord Voldemort's wand was made from this wood. Quite logically, Dmytro Komarov, one of the invited guests, called this book "trendy geography."
 In general, Green Penguin is sure that "Travel Book: Ukraine is more than a book. It is a strategic positioning of every region and the whole country and contemporary content marketing which will reveal Ukraine's potential and become an element of its international promo." Incidentally, this promo has already begun. In particular, the Ministry of Foreign Affairs has supported the initiative, and the book has been published in both English and German. Ukraine's Foreign Minister Pavlo Klimkin has even presented a copy to his German counterpart Sigmar Gabriel.
 So, Travel Book: Ukraine may become a powerful impetus for both Ukrainians and foreigners to backpack across the country.