Lviv to host a project aimed at popularizing the great sculptor's heritage
13 September, 2017 - 16:37
The art event scheduled for September 16 as part of the Forum of Publishers is aimed at preserving and popularizing the artistic heritage of Johann Georg Pinzel (Pinsel), a mid-18th-century late baroque and rococo sculptor of genius, founder of the Lviv school of sculpture.
"The master made a colossal contribution to the development of Ukrainian art and the proliferation of Ukrainian culture in the world," says Myroslava Turkalo, chief of the Lviv Oblast Administration's Department for Culture, Nationalities, and Religions. "The Project 'Under the Star of Pinzel' is a good step to popularize and discover Pinzel's heritage and, particularly, the culture and art of the Lviv region." The project's aim is to revitalize the art milieu of Lviv, Ternopil, and Ivano-Frankivsk and encourage young and well-known artists, sculptors, ceramists, literary, theatrical, and music figures to create artworks, performances, and interpretations devoted to Pinzel's oeuvre.
It is already known that such noted art figures as Mykhailo Demtsiu, Volodymyr Odrekhivskyi, Taras Beniakh, Petro Sypniak, Volodymyr Tsisaryk, Serhii Mikhnovskyi, and Viktor Prodanchuk will take part in the project. On the whole, the exposition at the Potocki Palace will display 35 works by West Ukrainian artists. The project implementers promise that artworks based on Pinzel's oeuvre will form in the future the basis of a traveling exhibit which will be shown not only in other regions of Ukraine, but also outside the country. Accordingly, this will help set up a unique art platform for creative cooperation, exchange of experience between and integration of artists from various countries, as well as for communication with spectators.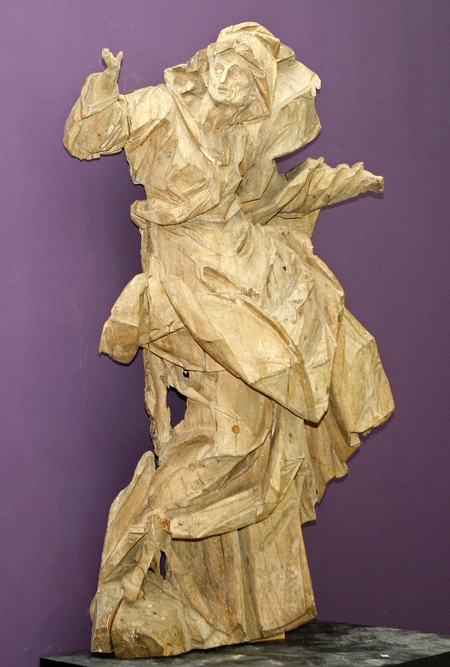 Photo by Mykola TYMCHENKO, The Day
The September 16 event will also comprise presentation of the second edition of Vira Stetsko's art album "The Mystery of Pinzel," a showing of the documentary film The Mystery of Pinzel: from Buchach to the Louvre, and a demonstration of the garment collection "Pinzel. Lviv. Baroque" by the fashion designer Ivona Loban.