Four National Guard soldiers were killed two years ago near the Verkhovna Rada building, as MPs voted for constitutional amendments
5 September, 2017 - 11:36
The last day of summer in 2015 saw a tragedy in the very heart of Kyiv – the death of four National Guard soldiers. On that day, activists protested in front of the parliament building against passing the constitutional changes about decentralization in the first reading. It all looked like a usual rally, although some nationalist parties were showing certain aggression even towards the protesters. Svoboda and Oleh Liashko's Radical Party people were trying to "monopolize" the podium. The Verkhovna Rada itself convened an extraordinary session to pass the bill on constitutional amendments on the last day before going on a recess.
Among those arrested on August 31 was Ihor Humeniuk, 21, a volunteer of the Sich battalion, who was accused of throwing the grenade that killed the National Guardsmen. The other culprit was Serhii Krainiak who investigators claimed had laid a smoke screen to conceal the throwing of the grenade. The investigation is still in progress. Both suspects are facing a life sentence. On the same day, Interior Minister Arsen Avakov blamed the Svoboda party and Oleh Tiahnybok personally for what had happened near the parliament building.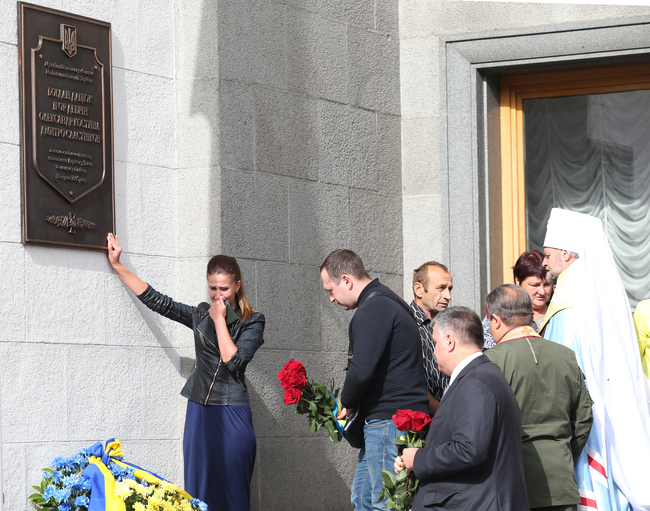 UNVEILING A COMMEMORATIVE PLAQUE ON AUGUST 31, 2017, IN HONOR OF THE NATIONAL GUARDSMEN WHO DIED NEAR THE PARLIAMENT BUILDING, NATIONAL GUARD COMMANDER YURII ALLEROV SAID: "EVERY PEOPLE'S DEPUTY MUST PAY TRIBUTE TO THE LAW ENFORCERS WHO LAID DOWN THEIR LIVES NEAR THE VERKHOVNA RADA" / Photo by Artem SLIPACHUK, The Day
As a matter of fact, although it was a daring crime, the president and the MPs, who began to play the constitution amendment game, should admit responsibility for it. Firstly, the precedent of amending the Constitution seemed to deny the fact of war because such amendments are impossible in wartime. This was a show of reverence to Putin who needed at least the slightest changes in the Constitution of Ukraine. On the other hand, many accused the president of wishing to usurp power in the provinces under the guise of decentralization by means of prefects. But, what is more dangerous, this was a step towards recognizing the occupied Donbas areas as "special-status" territories, as is written in the Poroshenko-signed Minsk Agreements: "The specifics of local self-government in some areas of Donetsk and Luhansk oblasts shall be regulated by a special law." So, to please the President of Ukraine and Putin, the MPs agreed that the seizure of a part of the Donbas was in fact no occupation and the occupied territories were something different from the rest of Ukraine's territory, where things should be governed by special legislative acts.
Society took a negative attitude to these intentions, and the bloodshed near the Rada was, to some extent, a consequence of the leadership's irresponsibility.