From the private collections of Europe
31 January, 2018 - 17:47
The Dnipro Museum of Ukrainian Art is hosting, with support from city Mayor Borys Filatov, an unusual exhibit called "Surrealism of Dali." The founder of the Museum of Ukrainian Art, Oleh Naumov, opened the exposition. In his words, this project is a bold attempt to re-create the atmosphere of modern European museums in Dnipro.
"A SERIOUS CONTRIBUTION TO THE POPULARIZATION OF DALI IN UKRAINE"
The exhibit displays colored lithographs by the artist of genius from the graphic series of "Sacral Bible," which reveals the unsurpassable gift of the outstanding master. The exposition consists of pictures from private collections of Europe. But the Dnipro exhibit is pursuing far broader goals – it is an attempt to present the personality of a genius. "In Dali's graphics, we can see a true virtuoso, an uninhibited personality without conventionalities. A stroke or a line, a blot or a reflection in his works seem to be full of the energy of life itself, its unsteady movement, variations of emotional states that carry the author's feelings. The graphic sheets based on the plots of Biblical stories correspond to the complex and contradictory sensations of mystery, incomprehensibility of the universe, the perception of Man as the apex of creation. They are unique and self-valued," says Liudmyla TVERSKA, Honored Worker of Culture and Arts, deputy director of the museum for research. In her words, this demonstration of Salvador Dali's works is the first serious contribution to the popularization of his oeuvre in Ukraine. "The exhibit will undoubtedly surprise and captivate, irk and excite our spectators. Like most of the classical masters, Dali expressed himself in metaphors and showed his own versions of old myths. Those who seek a rational explanation to everything real may find it difficult to understand this," Tverska says.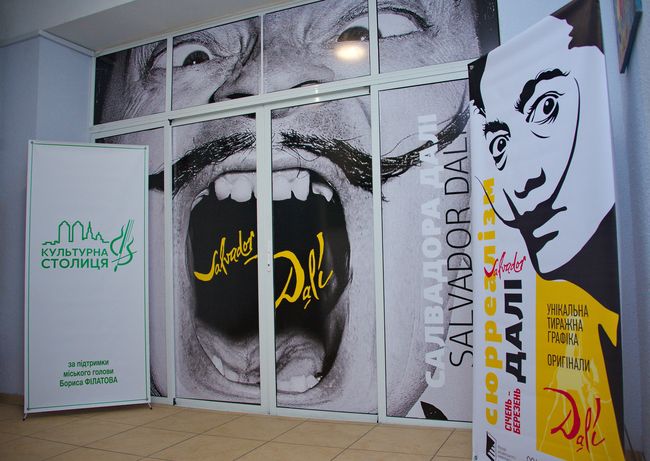 No doubt, everybody has heard about Dali – something and a little at a time. "Queer fish," "enigmatic," "mystical," "fantastic…" His life and art is a challenge to the established social and esthetic standards. He was diverse: biting and scandalous, poor and rich, apolitical and revolutionary. You can't imagine 20th-century art without him. But it turns out that Dali was also an excellent designer – Walt Disney's studio made a cartoon based on his works. One can learn at the museum a lot of things that many have never heard of or read in Wikipedia.
CREATIVE MULTIMEDIA PRESENTATION
  The story of Dali begins in the museum garden – you seem to find yourself in the artist's manor. Bright bulb strings – optical illusions, outlandish butterflies, and elephants on thin spider legs… Sculptures and a strange Christmas Tree Cat that exists nowhere else in the world… Salvador Dali meets guests at the very entrance – his startling portrait hangs on the first-floor door. He grins, as if mocking at everybody. Until he was 80, he used to burst into passions, emotions, and pranks. He thus perceived and lived his own life with a touch of irony and a sarcastic smile. To reinforce the impression and convey all the surrealism of the artist, museum people decided to create a special artistic atmosphere. The English Club TV team developed a creative multimedia presentation. The spectator receives information not only by scrutinizing the displayed works, but also thanks to audiovisual content and a number of installations. The exhibit functions in a self-contained mode, so you will see no human guides here. There are screens between the works for spectators to receive video information. This helps the visitor to "decipher" every sheet of Dali's genius.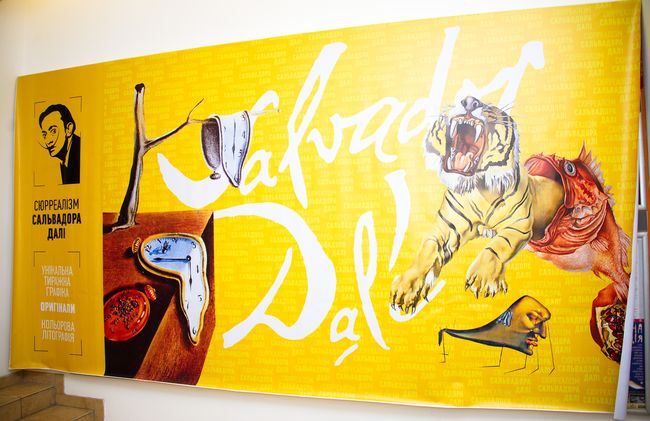 SELFIE ON THE THRONE
  The artist himself is also present – his kitsch installation. Down the museum corridor stands a bed on which the artist sleeps. He seems to be a little tired of visitors' attention and decided to take a nap. Or, maybe, he chose to "announce" the next hall in this way. Suffice it to draw a blind, and you enter the ecstatic, strange, delirious dreams of the artist. Here the spectator comes into Dali's surrealistic dreams. Images are projected by 90 degrees, and a certain effect of presence is created in a dream itself. There are chairs and even a carpet in the hall, on which you can lie and sink physically and visually into Salvador's subconsciousness. Among those who come to him at night are snails, big cats, the time that ticked off in clocks, terrible lobsters, and beautiful sexual women – muses and those in the image of his beloved wife Gala. There is also a special hall with golden throne of Dali who bore the title of Marquis of Pubol. You can take a selfie on the throne, sit down and try on yourself the image of Gala or Salvador himself. There are even good-looking and unique souvenir items: little magnets with Dali's pictures and portraits, cell phone cases with unique drawings, bags with thematic prints, and notepads. There are a lot of things that you can acquire as a keepsake, as an artifact of Dali's presence in Dnipro. And you can order a cocktail made according to Salvador's favorite recipe in a restaurant on the museum's ground floor. Reportedly, it also has a "peculiarity."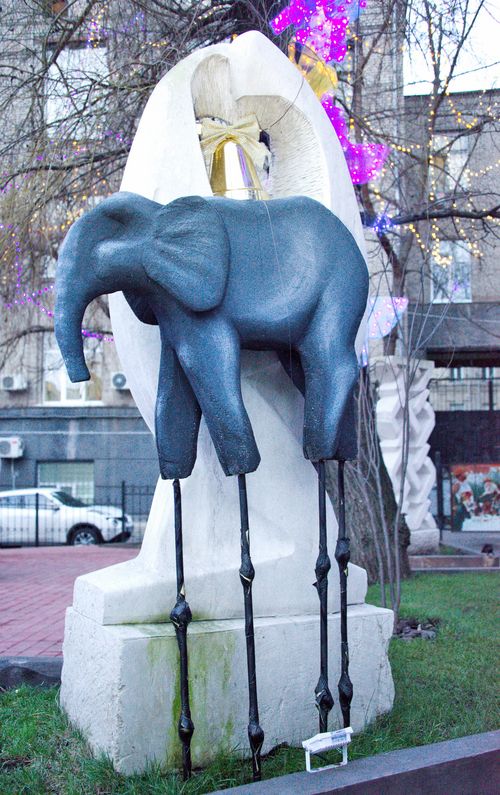 But even this is not all – the Museum of Ukrainian Painting is planning to open a new hall on February 8, where illustrations to Dante's Divine Comedy, will be displayed.