Volodymyr ZUBANOV: "Completely different forces are shaping the situation in Donbas today"
15 May, 2014 - 11:29
There is perhaps no other political force in Ukraine whose popularity ratings plummeted so dramatically. In just a few months the recently most powerful Party of Regions lost everything. Billboards with the portrait of the Party of Regions' official presidential candidate Mykhailo Dobkin became an object of splashed paint flashmobs all over the country.
Experts had more than once warned that the methods used by the Party of Regions and its leader Yanukovych in particular in politics, economy, humanitarian sphere would lead to their shameful end. Ukrainians are not used to such methods. By the way, today the ruling parties find it quite appropriate to use "old rules," even after Euromaidan. Time has come to learn some lessons.
Today the Party of Regions can blame its political opponents for what is going on in Donbas, but it actually bears the most responsibility for the events in the east. It is this very party that held the plenitude of power on the local level for years, let alone on the central level, with Yanukovych being prime minister and then president. So, the Party of Regions should not look far for the guilty ones, they should start with themselves.
Did Donbas have a chance of moving along another path, but not the path of the Party of Regions? Maybe, the assassination of the influential businessman and MP Yevhen Shcherban in the 1990s blocked that alternative path that Donetsk oblast could have followed. Back then, Shcherban stood out thanks to his progressive ideas and unconventional approaches to handling business and politics. But certainly, this does not absolve him from the responsibility for the business methods of the turbulent 1990s, which, supposedly, he used as well. The high-profile case of his murder still remains judicially open, there is no clarity as for the masterminds of his assassination.
How did it happen that the Party of Regions ended up without regions today? What is its problem? Could Donbas have followed an alternative path? What are the Party of Regions' chances at the upcoming election? Read the answers in an interview with Volodymyr ZUBANOV, a recent defector from the Party of Regions.
In your opinion, to what extent is the Party of Regions responsible for what is happening in the east of the country today?
"I would highlight two aspects. Firstly, what have we done in these 22 years in our country? Did we find mutual understanding or a common idea? Did we fight corruption? Did all political forces work for the good of the country? We have to answer honestly that Ukraine has been led into its current state by our inability to hear each other. Responsibility for the situation in the east lies not only with the Party of Regions, it is much wider.
"And secondly, what have we done today in order to root out the problems that caused the country to end up in such a state? Nothing. We still continue squabbling, looking for the culprits in order to grab a bite of power and run away, or just come to power and eliminate the opponents. No one drew conclusions out of these two issues: neither the Party of Regions, nor Batkivshchyna, UDAR, or others.
"Everyone who came to power wanted to have the rest of Ukraine bent over. This relates to Donbas, Dnipropetrovsk region, and Galicia just as much. From the very beginning, we should have looked for common goals that would unite everyone. During Kravchuk's presidency, as well as those of Kuchma, Yushchenko, and Yanukovych, these processes did not even start. Each president tried to preserve power at any cost, and nobody would solve historical, cultural, and language problems.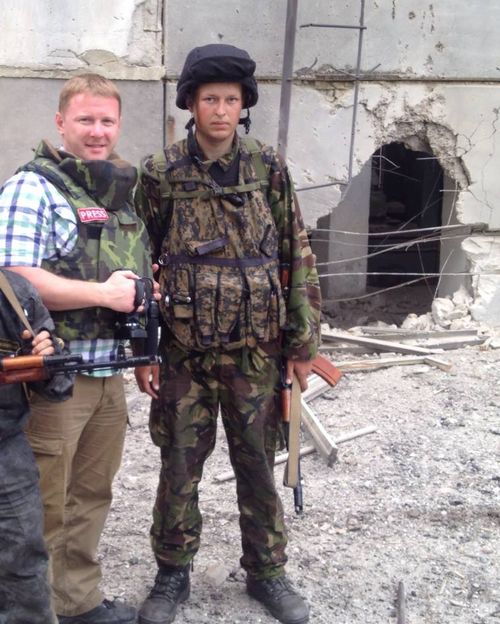 "HOLES LIKE THESE ARE LEFT IN CONCRETE WALLS OF THE SLOVIANSK FEED MILL BY MINES WHICH ARE FIRED BY MILITANTS FROM RESIDENTIAL AREAS OF THE CITY, WHICH ARE NOT BOMBED BY OUR SOLDIERS FOR FEAR OF VICTIMS AMONG CIVILIANS. SOLDIERS FROM THE 1st (SO FAR, RESERVIST) BATTALION OF THE NATIONAL GUARD OF UKRAINE," WROTE JOURNALIST ARTEM SHEVCHENKO ON HIS FACEBOOK PAGE. TODAY THE PARTY OF REGIONS' MEMBERS WERE ALMOST UNANIMOUS IN APPEALS, INCLUDING THOSE FROM THE PARLIAMENTARY ROSTRUM, THAT THE ANTI-TERRORIST OPERATION IN THE EAST MUST BE STOPPED. THEY HAD BETTER GO TO THEIR VOTERS IN DONBAS AND CONVINCE THEM NOT TO SUPPORT SEPARATIST SLOGANS, USING TERRORIST METHODS UNDER THE GUIDANCE OF RUSSIAN DIVERSIONISTS / Photo from Artem SHEVCHENKO's Facebook page
"Today Donbas was again scared with mythical 'banderites' again (not without involvement of a certain neighboring country), and this fear is being abused. The situation has been undermined so badly, it will be extremely difficult to stabilize it. There is hope for external factors and that we will finally decentralize the government, and find a compromise sooner or later. But what we have today is only half the trouble, acute economic problems will arise in a month or two. If we do not do systemic things, problems will not abandon us. And now, of course, we must hold the election, roll up our sleeves, and get down to building the country."
The general reasons for the country's state are clear. But we know that the power has been in the Party of Regions' hands for a long time now, so the responsibility for the state of the region lies mostly with it.
"I agree. We can judge about this from the influence the Party of Regions has in the region today if some armed individuals are in charge there. Besides, the party will be assessed by electors, and we all know its current popularity rating."
What is the reason for such result?
"The problem is our parties are not democratic. There is one leader: Yanukovych, Tymoshenko, Klitschko, and that is it. One person decides everything. We do not have democratic procedures within parties, everything is built to suit a leader. Such party falls apart sooner or later. The Party of Regions is no exception, it was created for one leader, who made decisions at his discretion that bypassed democratic procedures. We failed to build democratic parties in Ukraine."
Did Donbas have a chance to follow a different path? For example, in mid-1990s a very influential person in this region, Yevhen Shcherban, was assassinated. He had rather democratic views at the time and was going to implement them in life through politics.
"That was the result of the showdown in the 1990s. If one group had not eliminated the other, this other group would have eliminated the first one. Yes, Shcherban had certain views, but it is always hard to predict how a person would act in practice."
You were a member of that party too. Do you feel your responsibility?
"The mechanism of the party did not let realize an individual's opinion. No one was given a chance to speak during party conventions, and if you expressed something at a closed session of the political council, nobody listened to you. I could have slammed the door and left earlier, but we were moving towards the European Union, after all. I shared a lot of the Party of Regions' ideas. Everything changed after November, because the then leader of the party made a decision at some point that we were not going to sign the Association Agreement. External players realized that if an agreement with the EU is not signed, another one with Russia would be signed in a month or two. Viktor Yanukovych was made offers he could not refuse. Since there are one and a half million people in the Party of Regions and everything depended on one person, as a result, this led to a complete collapse of this party. Absolutely different forces influence the situation in Donbas today, but it could have developed in a different direction. I learned about the corruption and the Family from television. Viktor Yanukovych used to say: oh come on, compared to some here, I am poor as a church mouse!"
What is your evaluation of the Party of Regions' chances at this early presidential and eventual parliamentary election?
"We see that in terms of popularity ratings, the party is doing very badly in Kharkiv, Zaporizhia, Dnipropetrovsk, and it is unclear at all who is in charge in Donetsk oblast. I have already said before, when the Party of Regions lost to Yushchenko, that the party's future is confined to four percent. But when the scandal between Yushchenko and Tymoshenko flared, the Party of Regions skyrocketed to 30 percent. I do not want to give any forecasts now. Tihipko left the party and Dobkin does not have enough charisma on the national level. Russian as the second official language is not working either. Who is this slogan aimed for now, Donetsk, Luhansk? We see what is going on there. The leader of the Party of Regions does not have innovative ideas either. Today voters divide the blame for what is happening in the country between two political forces: the Party of Regions and Batkivshchyna, Yanukovych and Tymoshenko. It will remain in history, that these two leaders have caused our country a lot of harm."
The Party of Regions had close contacts with Russia. Why do you think the events unfolded in a way that Russia is basically waging a war against us?
"We had partnership relations not with United Russia only, but with the Social Democratic Party of Europe. As for Russia, did we not know how it was going to act? It is in the core of its ideology, to annex other territories, this is the way it develops. We have to offer something quite opposite in return. I have traveled all over Ukraine. I have spoken in Donetsk and in Lviv, where I said: if we know history, what is there to divide, if 90 percent of families in Donetsk have Ukrainian roots and 90 percent of families in Lviv have Ukrainian roots? And now all my friends in Donetsk, when you ask that question, say: yes, either a wife or a grandmother is... Ukrainian. Ukrainian identity could be a serious ideology, which could have opposed Russian ideology. But the state has absolutely ignored it. During all these years, all the politicians did was rob the country. People's consciousness is a total mess when it comes to questions like who we are, were we are going, how we treat our neighbors. Russia uses this, moreover, it supports the so-called 'Russkiy mir' (Russian World) which really has nothing to do with the Russian world. We need to build and propagate our ideology. I think that we need to talk about things that unite. For example, within the framework of the project 'Ukraine: the History of a Great Nation' we are going to present a cult film Khreshchennia Ukrainy-Rusi ("The Baptism of Ukraine-Rus'") at the Ostroh Academy. This is a uniting event. But do you think anyone outside a small circle of people finds it interesting? We have very few people who care about the state, that is why we have such results today."