Who will stop Bashar al-Assad and Russia?
6 April, 2017 - 11:20
Over 70 (according to some sources, over 100) people were killed and about 150 injured in a chemical attack on the Syrian town of Khan Sheikhoun. The country is today one of the worst and most dangerous places in the world. The war which has entered its seventh year has left hundreds of thousands dead, forced millions to become refugees, destroyed the country, and prompted intervention on the part of a number of foreign countries... Syria has actually become a testing ground for various weaponry.
Regarding this latest crime, the national coalition of Syrian opposition and local activists immediately reported that the air attack in northwest Syria was carried out by aircraft of the Syrian government forces loyal to Bashar al-Assad or Russian aviation. It is reported that people died from suffocation and poisoning by toxic gas. Some observers have indicated that the gas attack used chlorine, while others speak about Sarin having been used (i24news.tv). In addition, the hospital which is treating the victims of the gas attack was also hit by a missile.
In turn, the Russian Defense Ministry's spokesman Igor Konashenkov said that Russia's means of airspace control had registered the Syrian Air Force striking weapons and ammunition depots on the eastern outskirts of Khan Sheikhoun on April 4. According to him, the facility in question included shops used for manufacturing bombs containing toxic substances, which were then allegedly transported to Iraq (interfax.ru). The Syrian military itself denied responsibility for the attack, alleging that it "does not have chemical weapons."
It was reported soon afterwards that the UN Security Council would hold an emergency meeting after reports of chemical attacks in Syria. Meanwhile, UN investigators are checking data on the possible use of chemical weapons and reports of the attack on the institution where the wounded were being treated. EU High Representative for Security Policy Federica Mogherini said that Syrian President Assad bore "primary responsibility" for the gas attack (uk.reuters.com).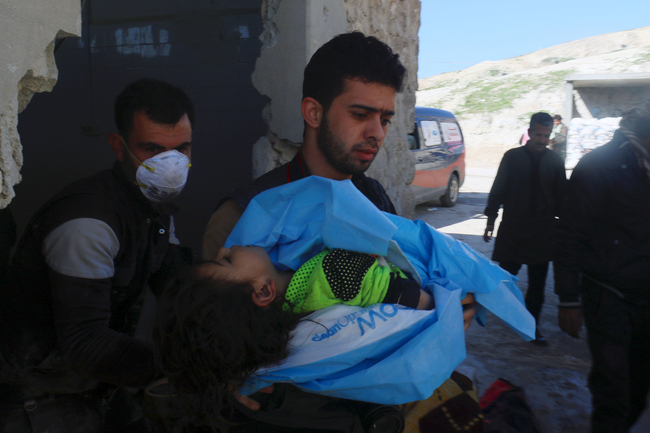 REUTERS photo
US reaction was important, because the new administration led by Donald Trump has repeatedly criticized the previous president Barack Obama for weakness in defending US interests in Syria. However, the White House did not come up with anything out of the ordinary. "Today's attack is reprehensible and cannot be ignored by the civilized world. These heinous actions by the Bashar al-Assad regime are a consequence of the past administration's weakness and irresolution," White House Press Secretary Sean Spicer told reporters (go.com). However, the US president's fellow Republican Senator John McCain said that Trump's inaction on Syria after the chemical attack was "a disgraceful chapter in US history" (thehill.com).
"Everyone remembers the chemical weapons deal which the Russians made with the Americans," executive director of the Center for Middle East Studies Ihor Semyvolos told The Day. "According to this agreement, the Syrian army had to get rid of chemical weapons, and Russia would act as the guarantor of these understandings. However, looking at realities, we have a situation where Russia and Assad at least have failed to comply with their obligations. Automatically, there is, for example, the case for strengthening sanctions against the Assad regime. It is so in theory, however, while in practical terms, an international commission may be created, which will take some time and coordination. This commission could deliver its report, like its likes did before, and so we, for example, know about the bombings of humanitarian convoys in Syria. Again, where is the result? Who has been punished for it? These questions may be asked. They stir up the Arab public. However, there is only a slim chance that the UN Security Council will pass a resolution clearly blaming Assad for his crimes, because Russia can veto any such document, as it has repeatedly done before."
What can we expect from the new US administration and Trump? "Trump has been putting up psychological defenses so far, which involve shifting blame to predecessors and accusing Obama of everything," the expert responded. "This is a very comfortable position because it allows him to keep doing nothing. Like, 'we are in this situation, and it is so bad that we are unlikely to achieve a positive result starting from where we are.' Also, let us do not forget that this is not the first crime to be committed by the Syrians and Russians, let us remember Aleppo, for instance. Has someone been punished? No. So, unfortunately, this criminal activity will continue in the absence of working safeguards."
Even if the Americans withdraw from Syria, and Assad and the Russians take full control of the country, will it stop the war?
"Firstly, taking full control of Syria will be very difficult. Secondly, we must not forget that this is really not just a Syrian civil war, as other nations have long been present there," Semyvolos said. "We are used to talking about Turkey and Russia, but somehow, Iran gets mentioned less frequently, although the country plays a key role there in fact. It has sent at least 90,000 soldiers to Syria, excluding members of the paramilitary formations and Iranian mercenaries. That is, there are many more Iranians there than even the figure I just used. Assad has actually been kept in power by Iranians, because they are really fighting there, while the Syrian army flees from serious combat. The US is today only one player in Syria, and it does not play a major role. Overall, it looks like the new US administration does not want to deal with the matter."
In support of this assessment, we can cite one of the latest statements of US Ambassador to the UN Nikki Haley, who has condemned Assad and accused him of committing human rights abuses targeting his own people. However, she said the US would focus on working with powers such as Turkey and Russia to seek a political settlement, rather than focusing on Assad (yahoo.com). Perhaps this is one of the signals of changing priorities in US foreign policy, which Trump promised during the campaign. This cannot but cause concern because it effectively finalizes the failure of US policy in Syria. Worryingly, Russia remains unpunished, and this gives the Kremlin an even freer hand. Since Ukraine has had to contend with direct Russian aggression for the fourth year in a row, we know firsthand how dangerous impunity is. It has cost Ukraine parts of its territory lost and thousands of citizens killed and maimed, while Russian aggression continues.