Never again…
This year marks the first time in the history of Ukraine that official events on the anniversary of the end of World War II will use a European symbol of red poppy instead of Russian and Soviet symbols. This idea came about as a result of cooperative effort of the Ukrainian Institute of National Memory and the National Television Company of Ukraine (NTCU).
"The memorial day, the day of the surrender of Nazi Germany is approaching. Its traditional symbol, Saint George's Ribbon, has been permanently compromised over the recent months. We had to find something that would symbolize not a celebration, for war is nothing to celebrate by definition, but memory and sorrow," the NTCU's director general Zurab Alasania wrote in his Facebook posting about the history of the symbol's creation.
Ukrainian design studio 3Z, wholly owned by its only employees Serhii Mishakin and Tania Borzunova, has developed the graphical version of the flower for Ukraine. The designers had a hard task before them – to create a laconic but impressive symbol out of the red poppy. The result can be seen by all as they look at the allusion-provoking symbol, being a red flower and a bullet wound at the same time. The poppy is accompanied by words "Never again" and figures "1939-1945," standing for war years.
"We faced a peculiar task, as we had to try and use this symbol to move emphasis from the general concept of victory to the suffering of each participant in the war. This is exactly what our main objective was – reflect not the victory of one empire over another, but the tragedy of each person during the war," graphic designer Mishakin told The Day about his work on the symbol. "Poppy is already in use, for example in Britain since the World War I. We went a little further, painting it as a wound. So, we had to create a symbol for a symbol. We wished to find a concise symbol using simple shapes, one that would be terrible, painful, and understandable to everyone. That is why we used these words, 'Never again...' It was pointless pain... It was not just a war, but the death of each individual, and it was important for us to show it up and remind people of it. It is especially important now, for one day we are at work, and another may see us donning helmets, taking arms, and going to die. We must do everything to prevent it." He adds that "the poppy is a quite popular folk culture symbol. Its colors, too, are in alignment with our culture, as our traditional embroidery is in red and black. It is definitely closer to us than Saint George's Ribbon," Mishakin summed up.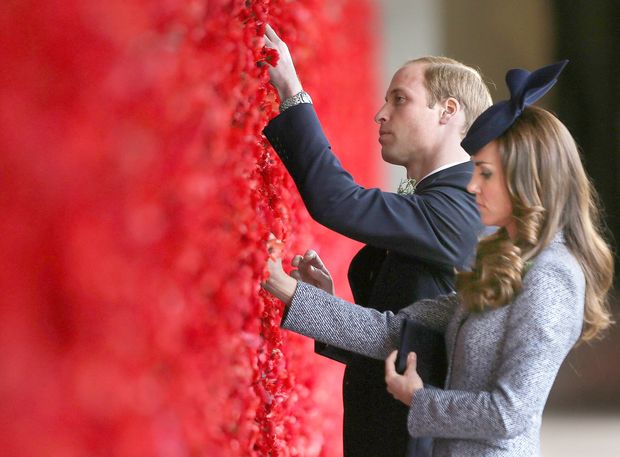 APRIL 25, 2014. BRITAIN'S PRINCE WILLIAM AND HIS WIFE CATHERINE, DUCHESS OF CAMBRIDGE, PLACE POPPY FLOWERS INTO THE WORLD WAR ONE WALL OF REMEMBRANCE DURING THEIR VISIT TO THE AUSTRALIAN NATIONAL WAR MEMORIAL ON ANZAC DAY IN CANBERRA  / REUTERS photo
Why poppies? This flower is a symbol of memory in many countries. In the beginning, the flower was a symbol of the victims of the World War I, becoming later a symbol of the victims of all wars, including civil ones, from 1914 onwards. The tradition to pin silk and paper red poppies to clothing and use these flowers to honor the fallen soldiers comes from a poem by John McCrae "In Flanders Fields" (1915), which begins: "In Flanders fields the poppies blow / Between the crosses, row on row…" Incidentally, poppy seeds were planted at sites of the greatest battles of the World War I...
Poppy as a symbol is no stranger to Ukraine. Among other things, it is a symbol of sleep and death in our culture. In addition, the folklore has it symbolizing the Cossack blood shed for Ukraine. The Christian tradition, too, says that poppy is a symbol of innocent bloodshed. There is a belief that the first flower grew from drops of blood of the crucified Christ.