Ukraine to go to NATO... cautiously
Or On a new National Security Strategy
14 May, 2015 - 11:19
On May 6, several days prior to Victory Day, the National Security and Defense Council (RNBO) adopted the Strategy of National Security (SNB) of Ukraine as the main defense planning document. Usually this is followed by a new military doctrine, whereupon specific programs – like the armed forces and weapons and defense technology development programs (each for a certain period of time) – are worked out.
This strategy was developed and adopted in wartime after Russia invaded Ukraine. In fact, this document considers almost every nuance of Ukraine's current status. Most importantly, SNB reads that the Russian Federation has … "occupied part of Ukrainian territory, the Autonomous Republic of Crimea and the city of Sevastopol and begun a military aggression against Ukraine, aimed at retaining our state under its [RF's] control."
Although SNB does not proclaim the necessity of joining NATO (which would at best be inappropriate in wartime), it sets forth a desire to meet national security and defense criteria "required for NATO membership." Practically this means full preparation for membership that can become a reality only under certain political conditions. "Proceeding from the long-term objective of NATO membership, Ukraine will enhance cooperation with that organization," reads SNB and proceeds to outline the directions. The document contains two important clauses: "implementation of European norms and standards in the preparation and functioning of the Armed Forces of Ukraine, ensuring their maximum interoperability with the armed forces of the NATO member states." Ukraine's implementation of the Association Agreement "will create conditions for an accelerated integration of Ukraine into the zone of stability and security formed by the EU and NATO." Therefore, it is safe to assume that Ukraine is slowly but surely moving toward NATO membership.
Interestingly, exactly one day before the approval of the SNB President of Ukraine Petro Poroshenko declared that it was necessary to re-enter into the document the NATO membership clause, considering that the "threat of large-scale combat operations on the part of the Russian terrorist groups is still there and on an upward curve." The fact remains, however, that there is a certain game being played round Ukraine's NATO membership. The Kremlin has hinted that Kyiv's refusal of this membership would be a key factor in the possible stoppage of war against Ukraine. The Russian Federation is currently prepared for full-scale war, with 40,000-strong Russian terrorist groups in the Donbas (including 60-70 percent Russian mercenaries or regular servicemen). The Russian military grouping close to the border exceeds 50,000 officers and men, with as many waiting for order to attack in the occupied Crimea. And so there are quite a few arguments and they require from Ukraine a frank assessment of preparations for war.
SNB ought to have been submitted if not last year, then a month after Poroshenko's inauguration. Then Ukraine would have had a new military doctrine in August, in which the enemy would have been identified. Much as Europe wants to refer (and is still referring) to this war as a crisis in Ukraine, they would've had to recognize Russia's war against Ukraine at all levels, and Ukraine would have probably started building a new, professional army in September, with an eye to developing deterrent weapons. Regrettably, this isn't being done even now. Although there is much written in SNB about the "professionalization" of national security and defense, there is no mention of professional army. Of course, building such an army would be very heavy on the national budget compared to the Soviet pattern, just as Ukraine would have to retain mobilization and conscription. The important thing is that this would help build a reliable army nucleus which, in turn, would provide conditions for the formation of deterrent forces like special mission units, and so on. Hopefully, this trend will be reflected in the military doctrine.
Another extremely important element of Ukrainian military preparations is the development of strategic deterrent weapons. Many experts realize that Ukraine's main enemy Vladimir Putin's refusal to conduct hostilities against Ukraine in May-June means just freezing the war. Ukraine, therefore, must gain strength so that aggression will become mission impossible because of high manpower loss threshold. The Center for Army, Conversion and Disarmament Studies believes this threshold to be between 50 and 60 thousand, in which case such losses will cause a social collapse even in a police state like Russia. To reach this target, Ukraine must develop a ramified network of Western-equipped and trained special mission units, missiles, high precision weapons systems and powerful air defense. Unfortunately, we don't have any of these, although some progress has been made in terms of weapons and defense technology (mostly in terms of tactical and operational support). There are good prospects only for high precision weapons systems but nothing to write home about any of the other components.
SNB sets course on bilateral and multilateral cooperation with Ukraine's partners to ensure this country's defense capacity, including efforts to secure an "accelerated development of the defense industry," implement a "policy of import substitution and domestic production of critical components and materials," enhance cooperation with other countries, primarily EU and NATO members, in terms of defense industry and military technology. All this sounds very good, except who and when has negotiated any of this with any countries since the start of Russia's aggression a year and several months ago? Has anyone "upstairs" bothered to negotiate upgrading helicopter model Mi-24, the domestic manufacture of the "Flowerbed" high precision artillery system without the Russian components? Has anyone made an effort to start developing operational and tactical missiles and anti-ship missiles? Perhaps no one will answer these questions because for the duration of Russian aggression our Cabinet has lacked the post of first deputy prime minister in charge of national defense and military-industrial complex.
In a word, there are many questions. While it is important to work out and adopt a well-worded document, this is just one percent of success. The rest is hard practical work.
"THIS WAR HAS PROVED THAT THE TANK ERA STILL CONTINUES"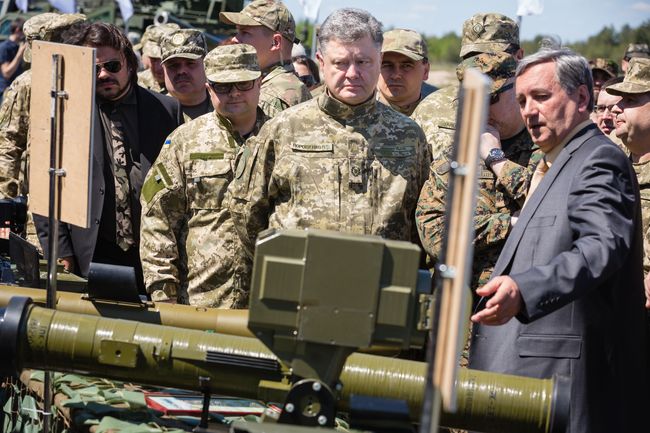 Photo by Mykhailo PALINCHAK
The President of Ukraine visited the 169th Desna training center of the Armed Forces in Chernihiv oblast the other day, where he was shown high-precision weapons, antitank missile systems, and guided missiles. All this equipment was manufactured at Ukrainian Ukroboronprom factories. Petro Poroshenko noted that Ukraine must boost its defense capability.
The president also pointed out the importance of exporting Ukrainian weapons. "I think we should be among the top five exporters," he said.
"It is not yet realistic for Ukraine to be among the top ten exporters of arms, as the president wishes. It is a dream so far," says Valentyn BADRAK, military expert, director of the Center for Army, Conversion and Disarmament Studies, "although any war gives an impetus to defense production. All the more so that Ukraine has a very strong defense production school. A better approach would be to hold back the current positions and not to allow rivals, including Russia, to take advantage of the war to throw Ukraine away from some markets. For Russia is doing its utmost to achieve this. It once did so with the help of its agents in Ukraine – I mean the Iraq contract. The problems Ukraine had in connection with this contract resulted from the Russian agents' actions.
"In the past 10 years, Ukraine has in fact made from the scratch a line of high-precision land-, air,- and sea-based weapons. Most of them are developed at the Promin design bureau. The Iskra state-run enterprise and the Ukrspetstekhnika private company have developed new radars. These highly-competitive items can be sold very well on the market. Ukraine has also begun to manufacture the armored personnel carriers it has never produced before. This became possible owing to a creative approach of the Kharkiv-based Morozov Design Bureau. Ukraine has made headway in the field of tanks. The Oplot tank has very good prospects for being exported. Moreover, Ukraine has an ample tank supply potential in general. This war has proved that it is too early to claim that the tank era has come to an end. We can see that tank and artillery units are going to revive and further develop. But Ukraine has also lost many fields, and, to fully resume work in this sphere, it should focus on military and technological cooperation with Western states to stop being dependent on the import of Russian component parts. From this angle, I have seen no essential results in the past five years. All the promising projects of this kind have been frozen since 2010. And even now that we have a new leadership, the revival is still very slow for no discernible reason."