Fairy tales, reality as reflection
New works of Olha Vorona-Adamenko are on display in the Triptych ART contemporary art gallery
13 December, 2017 - 16:41
This time, the famous Kyiv artist is presenting her paintings on mirrors. According to the organizers of the exhibition, it is probably symbolic that the exhibition "Palaces. A Reflection" goes on display on the eve of the Christmas and New Year holidays, because most works by Vorona-Adamenko are extravagant fantasies, where reality and fairy tales are intertwined in an interesting way. For instance, architectural structures inspired the artist to let her imagination play freely and admire ornate shapes. For example, the Fontainebleau Palace, depicted in a work presented at the exhibition, is a sandy-colored building, typical of French towns, with a grand stairway and a watch tower; it brings back magical memories, like that of the popular fairy tale Cinderella, or The Little Glass Slipper by Charles Perrault. And it seems that the good Fairy is about to make an appearance... Meanwhile, a carafe or a cup, or a colored-glass vase can be made of crystal. And many mirrors enter one's imagination... Featuring tapestries, fireplace grates, chests, bureaus, and console tables, this exhibition offers a kind of reflection of the author's impressions associated with her wide-ranging travels, as well as a reflection of the childhood dreams of beautiful things which were once held by every visitor to the exhibition...
The Day's REFERENCE
Olha Vorona-Adamenko was born in Kyiv in 1961 to the family of famous artist, professor of Kyiv National Academy of Arts and Architecture Oleksandr Vorona. She graduated from Taras Shevchenko Art School and studied at the art studio of Viktor Zaretsky. In 1987, the artist graduated from the painting department of Kyiv National Academy of Arts and Architecture, having studied in a workshop of monumental art under V. Chekaniuk, M. Storozhenko, and O. Kozhekov. Vorona-Adamenko began holding exhibitions in 1987.
She has been a member of the National Union of Artists of Ukraine since 1990. In 1991, the painter took part in the first group exhibition of Ukrainian artists abroad (Sweden). She created a number of monumental works (mosaics and stained-glass windows) in Kyiv, Slavutych, and in Vinnytsia oblast. In 2010-11, Vorona-Adamenko worked on making a series of stained-glass windows for a church in the Polish village of Rozprza.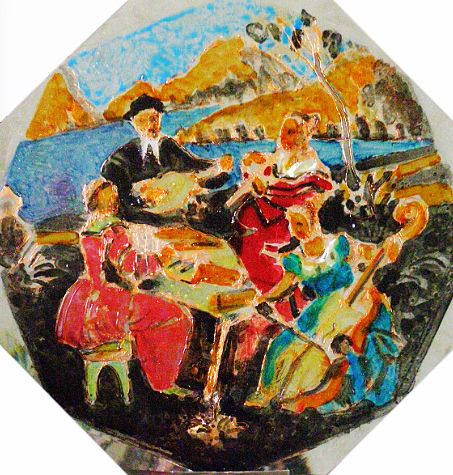 «Сoncert», 2017
She participated in the exhibition "Art without Borders" (Poland).
Speaking of recent creative events, the "Land of My Great-Grandfathers" and "Keys to Crimea" exhibitions were among landmark occasions for the artist. Currently, Vorona-Adamenko's works are kept in private collections in Ukraine, Sweden, the Czech Republic, the Netherlands, the US, Canada, and Poland.
The exhibition "Palaces. A Reflection" will last till December 22.