Camouflage and emptiness
How photographer Oles Kromplias convincingly showed servicemen's loneliness in peacetime
13 December, 2017 - 16:44
Imagine that you stroll down the riverside and suddenly notice a khaki battledress spread on the asphalt. Or you hurry up to work, jump out of the bus, and almost step over a camouflage jacket. What is your reaction? Photographer and volunteer Oles KROMPLIAS has explored, by means of a camera, the reaction of people to military apparel and their attitude to the theme of war. His project "Camouflage" was recently on display at the IZOLYATSIA platform for cultural initiatives.
IDEA
Since 2014, Oles has visited all the hot spots in eastern Ukraine. He took part in the liberation of Mariupol and photographed at Donetsk airport, the Avdiivka industrial zone, Pisky, and Marinka. "Whenever I come back from the front, I wear camouflage. I am already back in Kyiv, but my brain says I'm still in the east, carrying out my project, and continuously records the reaction of the people around to me, to camouflage, and to all the trappings of a man who has just returned from war," Oles says. "At first, people would honk to and stop you, slip money into the pocket, shake your hand. Then they began to say something like 'OK, well done!' Then I began to see a silent question in their eyes: 'When is all this going to end?' I tried to express the current reaction in the project 'Camouflage.' This reaction surprises and worries me."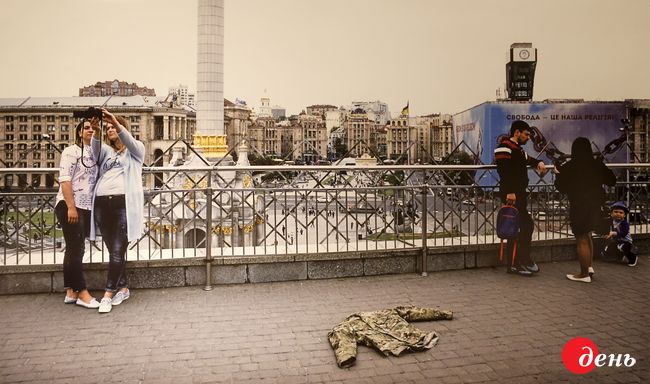 Oles says he used the modern language of photography in the project, when exploration, a certain idea, and scenography are of even greater value than the picture. At the same time, he speaks ironically about those who conceive this kind of projects. "It is hipsters who often do such things – they pretend for the fourth consecutive year that we don't have a war and they are being hindered from inspiring themselves and creating," the photographer adds.
"HELL OF A PERFECTIONIST"
The camouflage outfits on the pictures are from Oles's wardrobe. They are of different patterns, such as multicam and "woodland," but there is no "pixel," for it is worn by Ukrainian Armed Forces servicemen, not by volunteers. "I went to the places, where there were a lot of people who relaxed, strolled, or worked, and spread these camouflage outfits in the middle of a street, a hall, or the riverfront. Then I stood aside for an hour or two and photographed the way the people behaved," Kromplias says.
Some people would come up to the photographer and ask him what he was doing, some reacted aggressively. Sometimes the homeless were trying to take the outfit away. But the author emphasizes that in the 90 percent of cases the people around simply ignored what was going on. "You spread this thing out, and the surrounding space immediately becomes empty even if it is a most crowded place," Oles says. "This means I in fact photographed emptiness. Firstly, the camouflage outfit is without the wearer, and, secondly, passers-by create emptiness in space as well as, after all, in their minds and hearts. I would spread the outfit in an open place so that people were not taken unawares, could see it well 20-30 meters away, identify it, and have a couple of seconds to react. You can see in the pictures that people are doing their utmost not to notice this."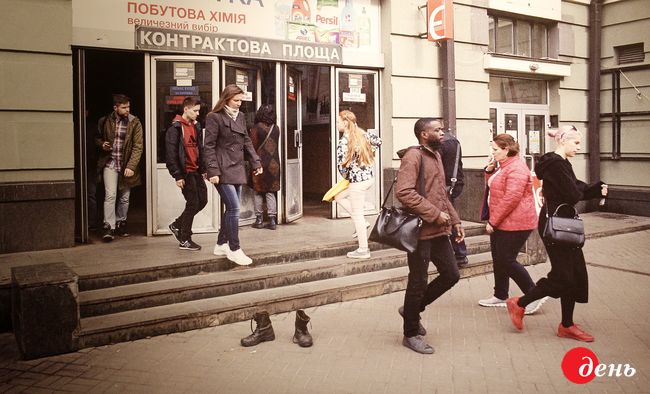 The photographer also wanted to express this uncomfortable situation in technical terms. The pictures were taken with different cameras and films – slide-oriented, colored, expired, and new. The works are similar by the image quality, but the shades differ a little, and the horizon is somewhat depressed everywhere. The author comments: "I thus tried to create an emotional tension. It is like 'hell of a perfectionist,' where all things do not coincide fully."
"UNLESS SUPPORTED, REINTEGRATION WILL TAKE A YEAR"
Oles himself puts on a camouflage outfit today when he goes out of town to practice in shooting, photographs at the front, or is busy about the house. "It is also a special point. We can often see camouflaged people doing dirty work, such as laying cobblestones. Sometimes this sets my teeth on edge," he confesses.
In the view of the photographer, who also has the experience of returning to civilian life, employment is the key point in reintegration. "A lady friend of mine says that, unless supported, reintegration will take a year. This is my case, too. You feel elated in the first three or four months. Then you begin to think of finding a job. You can't find one for six months or so, and you don't know why. Then you delete from your resume the fact that you've been in the ATO and find one quickly. You need another year for stabilization and regaining the prewar situation," Oles continues. "Work immediately makes you feel that you are needed. You continue to do something useful and you develop. The most valuable thing you can get in war is the sensation that you are right. When you come to the civilian world, it is important to immediately direct this sensation to a different channel. Otherwise, you'll feel depressed – it is like a basement from which you have to climb to the ground floor."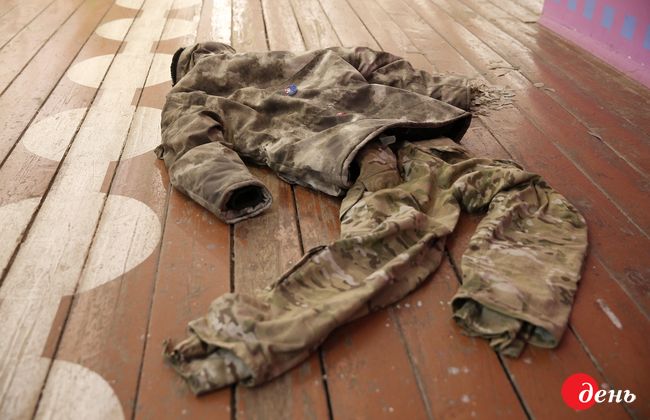 Incidentally, Oles also helps soldiers get back to civilian life. He worked until recently at a center that offers assistance to servicemen who saw action in the Donbas. He is now employed at a public hub that helps nongovernmental organizations carry out their projects. One of the initiatives, now being launched there, is about social entrepreneurship and ATO veterans.
FLORAL BULLETPROOF VEST
Camouflage outfits were not only on photos at the IZOLYATSIA exhibit. One was lying at the exhibit entrance and another – hanging near the pictures in order to increase the sensation of discomfort. What also bewildered the spectator were three bulletproof vests made from "civilian" polka-dot, checkered, and floral fabrics. "These are real bulletproof vest models, into which you can insert armor plates and wear," Oles comments. "They were put on the dummies whose heads are packages stuffed with other packages. I mean by this that the heads of the people who disregard war turn into packages stuffed with the thoughts of what to buy, whereas 'civilian' bulletproof vests show that these people themselves are in fact in a camouflage outfits made from an ordinary fabric. There are no people who are indifferent to war. By ignoring, people protect themselves from the feeling of discomfort."
The photographer stresses that he wants to use his project to broach a ticklish issue. "I'm not taking up biblical narratives – look how callous people are, and so on," Kromplias asserts. "Of course, we know about slighting the military. But I wanted to materialize this. For if you show these things, it will be easier to improve the situation."