Andrii Petrenko on his impressions from Den's Photo Exhibit and first author's caricatures
16 November, 2015 - 17:57
Den's Photo Exhibit has traditionally become a place for interesting meetings. A reader of our newspaper, who knows the projects of Den/The Day well, self-educated artist Andrii Petrenko at an opening of the exposition got acquainted with the team of the newspaper and its editor-in-chief Larysa Ivshyna. And already after the opening he brought his caricatures to the newspaper's office. A builder by profession, he has drawn numerous exposing and poignantly precise pictures. The artist, who supports the social projects of Den/The Day as a volunteer, wanted to present his works namely to our newspaper.
"Den's Photo Exhibit shows a painfully precise portrait of our country and the challenges it is facing. I was impressed by the level of the works presented at the exposition. I seek to show Ukrainian life in caricatures from an original, not hackneyed angle," Andrii Petrenko says. "I have spent much time on precise technical drawings and sketching as a professional builder and sometimes drew caricatures of my colleagues and friends."
But the revolutionary events at Maidan became an impetus for him to take up caricature more seriously. Today Andrii authors more than 150 interesting sketches about the Russian aggression, the situation in the ATO area, political "battles" of our politicians, and desire of Ukrainians to figure out the situation in the country. The artist says that Maidan offered topics for creative reconsideration of reality, and his wife catalyzed his desire to start drawing.
"I am a builder by profession. In my profession I was attracted to drawings and sketches, but those was technical work. I drew humorous sketches about my friends. Somewhat later I took lessons from a professional artist who taught me the most essential elements of mastery, but I started to draw seriously only during the Maidan events, where I spent much time as a volunteer," Andrii Petrenko says. "The revolutionary events gave me a new understanding of life, changed my world outlook, and became a creative impetus to draw more and better. Later I went to the ATO area and closely observed the details of what was going on there. And my wife was a catalyst of my creative work. She is a good oil painter. Sometimes, when she started working, I came up to her and criticized her. Once my beloved woman couldn't contain herself any longer and replied, 'Go draw something yourself.'"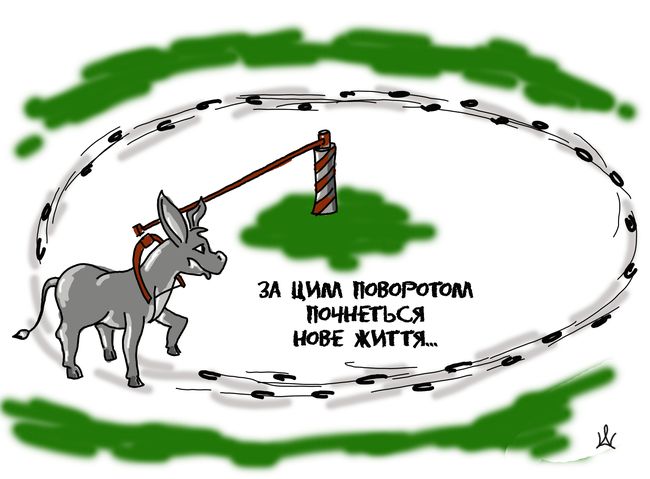 "THIS TURN MEANS A NEW LIFE"
How is your caricature born?
"From life. Namely life gives food for creative exploration. I think that a drawing is successful, if it makes people laugh. On the whole, the better the authors is, the deeper his works are. Caricature in its content is a very powerful psychological weapon. The main effect is evoking not just a smile, but an impetus to deeper understanding of the problem, probably even to action. I encode this implication in my works. I am incredibly happy when people decode it. Or even see in the work a  deeper meaning than the one encoded by the author. A good caricature may open differently to everyone who sees it."
According to your observations, are Ukrainians ready to laugh at themselves, including through the instrument of caricature?
"I think ordinary Ukrainians are ready. The power is not. As far as I can see, the power has an aggressive attitude to any criticism. And a stormy reaction, including the reaction to caricatures, is in my opinion a sign of weakness. A self-confident, strong, honest, and sincere person will never react aggressively to a caricature of his. Incidentally, the power's response to sharp caricatures may be a sign of readiness for more democratization. Have you seen many poignant caricatures of Putin in Russia?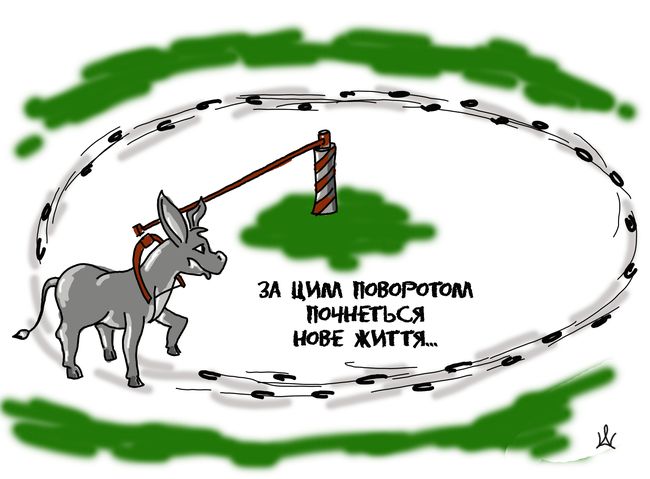 "IN RUSSIA BLOOD IS ALWAYS IN FASHION!"
"I think the incumbent power in Ukraine underestimates the power of caricature. A powerful drawing with an implication may be a good weapon of anti-propaganda. Let's speak frankly, Russia today has numerous caricatures about 'fascism' in Ukraine, Crimea they consider theirs, and our aspirations of the EU integration. The most skilled artists draw at an order. This is reality. Their works have a powerful effect on the minds of our audience.
"I am surprised by the fact that we have no system of defense against the Russian propaganda. However, there are attacks upon interesting projects. The same Quarter 95 has been creating apt jokes about Russia and separatists in the east. Today some obscure things are going on with the show, and the channel 1+1 has suspended it. No one has given any clear explanation of the situation. The newspapers, except for Den/The Day, seem to have forgotten about caricature as such. There are discussions on whether it is appropriate to joke during the war – of course it is. This is what the enemy wants, moral degradation of Ukrainian society and constant psychological stresses. In spite of everything, we should have faith in life, our victory, and we should be able to laugh, at the enemy among other things. Laughter is freedom.
"I am grateful to Den/The Day for noticing my works and inviting me to cooperation. Today it is very important to support our national things, Ukrainian actors and directors, writers and artists, journalists and singers. And caricaturists of course. The right focus of looking at the current problems in the country, joint efforts and consolidation will help us all not to lose optimism."