28 February, 2017 - 10:56
Last year marked a period of most strained relations between Ukraine and Poland. The Polish Sejm passed a resolution in summer, accusing Ukrainians of an act of genocide against the Poles during WW II. This was done despite official Kyiv's repeated requests that Warsaw reconsider and adhere to Kyiv's ask-forgiveness-and-forgive reconciliation formula, leaving the issue to be handled by historians. What made one wonder was why Warsaw took this step to worsen the relations with Kyiv, considering that Russia, Poland's old enemy, had been waging war against Ukraine since February 2014, and that Poland would be the next target of aggression.
This year, the Polish political elite appears to have realized the necessity of re-establishing normal relationships with Ukraine. Evidence of this is recent visit by a group of Ukrainian MPs to Warsaw, when the Polish side made it clear they wanted to stop arguing and figure out historical and political misunderstandings.
In the following interview with Polish Ambassador to Ukraine Jan Pieklo, apart from historical issues, the emphasis was on the future: cooperation in the face of Russia's aggression and hostile propaganda.
Mykola SIRUK: "President Andrzej Duda said on more than one occasion that Poland wanted to join the Normandy format, and that the United States should do so. The latest meeting of foreign ministers in Munich decided that US involvement wasn't necessary. How does Poland propose to implement the Minsk agreements and resolve the situation in the east of Ukraine?"
Jan PIEKLO: "An answer to this question rates a Nobel Prize. Poland's stand in the matter is as follows: Ukraine is Poland's strategic partner. We understand that Ukraine's security is Poland's security, and vice versa. President Duda's presence during the military parade on Independence Day in Kyiv, side by side with President Poroshenko, was symbolic. They watched the Polish-Ukrainian-Lithuanian Brigade marching, and this was the best evidence of Polish-Ukrainian strategic partnership. This combat unit answers NATO standards and is fully operational. In December, President Poroshenko visited Poland and the [Ukrainian and Polish] Defense Ministers Poltorak and Macierewicz signed a security cooperation agreement. An important document! I could also point out that a million Ukrainians are living, working, studying, and investing in Poland. This is also very important. Should all Ukrainians leave Poland now, our own and the Ukrainian economy would have big problems. Ukrainians [working] in Poland send money to their families in Ukraine, and this is a tangible addition to the national budget. I might describe this as the best way to implement the Association Agreement. This can't be changed today. We have a common economic space that proves highly effective."
PUTIN PROVES UNINTERESTED IN THE DE-ESCALATION OF WAR
M.S.: "Getting back to the Minsk agreements, recently President Vladimir Putin signed an edict recognizing DNR/LNR passports. This runs counter to the agreements. How do you think the EU should respond to this and make Russia answerable?"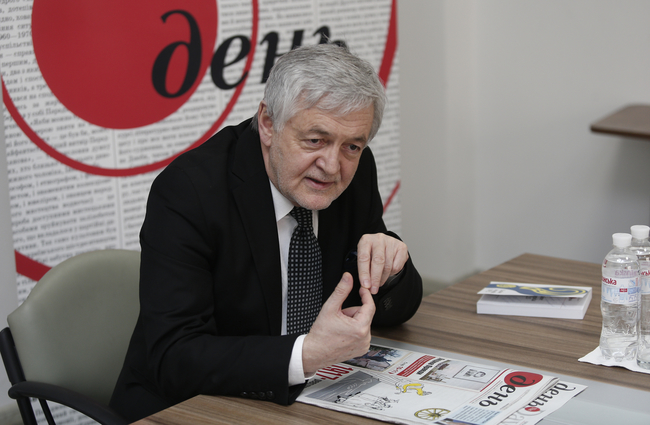 J.P.: "Poland knows what security is all about. There are NATO and US troops deployed on its territory. Too bad Ukraine could not get NATO's Membership Action Plan at the Bucharest summit. I think that every effort should be made to strengthen one's defenses. The agreement signed by the defense ministers in Warsaw is designed to provide for cooperation between NATO and Ukraine. This is a working instrument for us.
"I will repeat myself by saying that we believe that the United States should join the Normandy format. There is no telling what political line the White House, President Donald Trump, will adopt tomorrow. Be that as it may, his stand in certain matters isn't up to Moscow's expectations – I mean the White House's statement demanding the return of Crimea to Ukraine.
"Russia appears to be testing the United States and NATO for strength. The recognition and issuance of DNR/LNR passports is dangerous. One is reminded of what happened in Abkhazia. This is actually a move toward the recognition of [these occupied regions] as independent republics.
"Therefore, the Minsk process could well be described as a disaster. It will be very difficult to maintain a dialog to implement the Minsk agreements in the Normandy format. President Poroshenko said that the recognition of DNR/LNR passports was a blatant violation of the agreements, that what was happening was escalation, rather than de-escalation. He added that the Russian leader had made his move during the conference in Munich. It's safe to assume that Putin demonstrated his lack of interest in de-escalating [the war in the east of Ukraine], and that he was interested in escalating it. I believe that he will run for president again, and that this is part of the preparations for the campaign. After the annexation of Crimea, with the war in Donbas, there is no backing off for Putin, he can only act that way. Regrettably, this may cause another tragedy, further combat operations, and escalation, rather than de-escalation."
MARSHAL PILSUDSKI AND SYMON PETLIURA'S PROJECT INTERMARIUM
M.S.: "During a meeting with Polish diplomats, held January 11, President Andrzej Duda urged to step up cooperation within the framework of Project Baltic-Black Sea Union. Would you care to comment on this?"
J.P.: "Indeed, there are plans for reviving this project, originally known as Project Intermarium, authored by Marshal Pilsudski and Symon Petliura who agreed on it. A map of Europe shows that the entire infrastructure starts in Berlin, reaches Moscow, then perhaps reaches as far as China. We would like this infrastructure to start by the Baltic Sea and traverse the Baltic states, Ukraine, Belarus, Poland, the Black and Adriatic seas. This would change economies and geopolitics. After reading Timothy Snyder's Bloodlands and taking another look at a map of Europe, the impression is that what he writes about is actually the idea of building federal Central and Eastern European states, put forth by Jozef Pilsudski and Symon Petliura. Had they succeeded at the time, the Second World War would have probably never come to pass. The front for Europe's liberation, which stretched along the Vistula in 1920, is now in the Donbas region. These are realities of contemporary history. There is hardly a way to deny them."
POLAND HAS NEVER EXPERIENCED WILD PRIVATIZATION AS UKRAINE HAS UNDER KUCHMA
M.S.: "How did Poland manage to keep its economic growth rate, with the rest of EU countries showing negative indices? What lessons should Ukraine learn from your experience of economic reforms, considering that we're trying to reach this growth rate and solve complicated social problems?"
J.P.: "Remember what was going on in Poland when martial law was imposed in the 1980s? Huge economic problems. The situation was going from bad to worse. We had drastic consumer supply shortages before the main political forces held a roundtable in 1989. People could buy goods only by using ration cards. Poles would travel to Ukraine (then Ukrainian Soviet Socialist Republic) to buy goods they couldn't buy in Poland. At the time, Ukraine boasted a higher living standard. Our economy was practically ruined, so we had to start practically from scratch. But then we received money from the European Union, and this allowed us to stabilize the situation.
"Poland, however, has been spared phenomena Ukraine hasn't, oligarchs operating on a mind-boggling scale, having the lion's share of [state] property and political power – I mean your government and the Verkhovna Rada. Once again, we didn't have any of this. Another thing. Frankly speaking, we never had all that wild privatization you had under Kuchma. The Polish economy transformed in a different manner, quickly, and even if we had oligarchs, they were small fry by comparison.
"There are various kinds of Ukrainian oligarchs, of course. Some of them wanted the 'controlling interest' at the Verkhovna Rada, thus blocking the evolution of Ukrainian society. Others realized that the EU Association Agreement would open up dazzling horizons."
WE MUSTN'T QUARREL
M.S.: "Not so long ago, Jaroslaw Kaczynski, leader of Poland's ruling Law and Justice Party, said in an interview that the glorification of Stepan Bandera would prevent Ukraine's integration with the European Union. In your opinion, why do some Polish politicians come up with such controversial statements, instead of letting acknowledged Polish and Ukrainian historians handle the issue?"
J.P.: "I think that such statements are made in Poland and Ukraine, serving some inner political interests, rather than for the benefit of relationships between Ukraine and Poland. There are nationalistic moods in Ukraine – a portrait of Stepan Bandera was displayed by the entrance to the Polish embassy in Kyiv recently. There are anti-Ukrainian moods in Poland, meant to [help certain politicians] keep the electorate. Under the circumstances, the important thing is to maintain contact, with your foreign minister visiting Warsaw and ours visiting Kyiv. Members of the commissions under the auspices of the presidents of Ukraine and Poland will hold a meeting in Kyiv. A team of reputed Ukrainian historians from the Institute of National Memory, led by Volodymyr Viatrovych, and their Polish counterparts, led by Grzegorz Motyka, is working on pertinent documents. This is the right approach. History is history and the future is the future.
"I believe that the Polish and the Ukrainian government understand that we mustn't quarrel, whatever the circumstances. We must reach an understanding because we're championing a common good cause."
UKRAINAINS AND POLES SHOULD REMEMBER GOOD EXAMPLES OF JOINT STRUGGLE
Ihor SIUNDIUKOV: "The Ukrainian and Polish peoples share a thousand-year-old eventful history, ranging from partnership to neighborly relations to conflicts to wars to reconciliation and renewed neighborly relations. All this is in our book Wars and Peace of Den's Library series. The freedom gained by these peoples is closely interrelated. Each time one of the two countries lost national independence, the other one suffered gruesome consequences. There is Wojciech Smarzowski's openly anti-Ukrainian movie Wolyn, but more importantly, there are traditions set by Jerzy Giedroyc and Jacek Kuron, spelling respect for Ukraine, urging to understand that country and establish equal relationships with it. Recent events in Poland, however, seem to indicate that these good traditions are sinking into oblivion..."
J.P.: "I'm sure that the Giedroyc tradition is alive in Poland. I met this unique personality in Paris and we discussed Ukraine. Our President Lech Kaczynski, killed in the 2010 air crash, visited Tbilisi [capital city of Georgia] in 2008 with Viktor Yushchenko [then President of Ukraine] and Valdas Adamkus [then President of Lithuania]. He declared in Tbilisi: 'I came to Georgia in time of war, in time of Russian aggression. I'm here because Ukraine, the Baltic states, and Poland will be the next targets, unless we stop this aggression.' The man was a prophet.
"Ukrainians and Poles should learn from positive examples of joint struggle and cooperation, like when Marko Bezruchko's men fought shoulder to shoulder with Pilsudski's troops at Warsaw in 1920; like when Ukrainians and Poles fought the Nazis together to defend Lviv. Presidents Duda and Poroshenko have proposed to memorialize the Poles who saved Ukrainians during the war, and vice versa. This is a very good idea and practice. This practice originates from Israel. I believe we should interpret our common history by using good, rather than bad, examples."
I.S.: "There is no way to avoid the issue of the Volyn tragedy. It is a very heavy burden for both our peoples, but I think the Polish term ludobojstwo (genocide) best describes the situation. Ukrainians and Poles were massacred. Those who murdered elders and children, whatever their ethnic origin, acted against the Ten Commandments. A group of Ukrainian journalists (I was among them) visited the Polish Ministry of Foreign Affairs in 2013. I'd considered the ask-forgiveness-and-forgive formula to be the right way to figure out that tragedy, but the lady holding the post of Deputy Minister said her Ministry considered the formula to be obsolete. She offered no alternative. Do you think that this formula remains effective? That we ask forgiveness and forgive in return?"
J.P.: "I'd attribute this to the historical process. We had this process with Germany, when please-forgive-me letters were sent both ways. I know that such messages were sent from our countries, but there is Russia. It is making every effort to antagonize our countries. Remember what happened at Huta Pieniacka? On Christmas Eve, someone destroyed the roof that was a precious symbol for all Christians, Ukrainians, and Poles. That was when Poles and Ukrainians realized that the goal of this action was to make us quarrel and create the impression that it was the Ukrainians who had done this. The same is true of Bykivnia, the site [near Kyiv] where Polish, Ukrainian, Moldovan, Jewish, and Russian victims of the Stalin regime were shot by NKVD firing squads. This could be done only by bandits. Some believe that such bandits are now working for Russia's FSB."
UKRAINE AND POLAND CAN COMBAT KREMLIN PROPAGANDA TOGETHER
Vadym LUBCHAK: "The March of Eaglets of Przemysl and Lviv took place in Przemysl last December. It was meant to commemorate local high school students and boy scout activists killed during the war between Poland and Ukraine in 1918-19. On that occasion, anti-Ukrainian slogans were heard loud and clear. Some of the marchers shouted 'Death to Ukrainians!' in front of the Ukrainian People's Home. A Ukrainian flag was burned. Den's correspondent reported from Poland, saying none of the leading media offered coverage of the events in Przemysl, that there were reports on local channels. Why did Poland's noted intellectuals and official Warsaw fail to condemn such anti-Ukrainian events?"
J.P.: "To begin with, that flag was burned in summer, during the march in Warsaw. I trust you to understand the circumstances. Someone set the flag afire while someone else was making a video. This video is easily found on YouTube and DNR/LNR websites. I keep asking myself: Who did it and for what purpose. I think this was done to antagonize Poland and Ukraine. There are many Ukrainians working in Poland, and there is no antagonism. I can't picture a normal Pole doing this. Even if so, this wasn't done to serve Poland's interests but someone else's.
"What happened in Przemysl is typical. The protesters were marching by the Ukrainian People's Home when someone shouted something. A video appeared on most websites. Then, recently, a portrait of Symon Bandera was hung [above the entrance to] our embassy, followed by a video. Russia realizes that social networks are the best weapon. Such networks' data can be used in mainstream format – I mean newspapers, television and radio channels. The problem is that Russia is setting targets and reaching them.
"There is a volunteer team in Poland, known as the 'Fifth Russian Column in Poland.' They demonstrate propaganda techniques and results, along with fake news bulletins. You have http://www.stopfake.org and I think that it would be best to put together a team of Polish and Ukrainian investigative journalists who would trace and expose such provocative fakes. Their findings would rate a feature worth being carried by, say, Rzeczpospolita in Poland and Den/The Day in Ukraine, exposing the biggest threat, untruth."
Anastasia RUDENKO: "Mr. Ambassador, you are the author of two books about the Balkan states. Previously, you sent journalist reports from war-torn Yugoslavia and this region remains a hot spot. In October 2016, Montenegrin law enforcement forces prevented a coup d'etat. The conspirators planned to seize government offices and murder Prime Minister Milo Djukanovic. The Kremlin had been making every effort to assert its position in the Balkans and reinforce the local friendly political forces. They're now working hard on Plan B, preparing to stage a Russia-backed referendum. It is scheduled for March 24, the date when NATO started air raids attacking targets in Serbia and Montenegro. Would you please comment on the current situation? Why did the United States and NATO fail to pay serious attention to Russia's 'soft' intervention into Europe? How should they have responded to it?"
J.P.: "Some countries didn't fail. Putin's strategy was aimed at distracting Europe's attention from revolts in separate countries. Before WW II, they said Adolf Hitler wasn't a very bad fellow. He did a bad thing occupying part of Czechoslovakia, so what? Europe didn't want another war. Then they let him seize Poland because they needed world peace. Vladimir Putin annexed Crimea and Europe remained silent, waiting for his next move. The Minsk agreements followed. They aren't being implemented de facto. This is the same policy as in the Hitler era.
"The Balkan states have always been Europe's 'soft zone.' Putin is actively operating there. The Republika Srpska [Serb Republic] is part of Bosnia and Herzegovina, part of a federation. Its president visited Putin and the two must've decided that the republic quit the federation. A case study in contemporary history. Western media reports allege that there was an attempt on the prime minister's life. Putin is operating on all possible fronts: Aleppo in Syria, Azerbaijan, Georgia, Moldova, Ukraine, Balkans… That's what happened at the start of WW II. No one expected Hitler to seize France and Belgium.
"Liberal democracy can defend itself only after being raped. Marine Le Pen appears to stand a fair chance of winning the presidential race in France. This would be a tragedy and challenge for all of us."
"THE TIME IS RIPE FOR POLISH BUSINESSES TO INVEST IN UKRAINE AND SUPPORT IT"
M.S.: "The Day carried an interesting feature entitled 'On indivisible freedom, or What do we love about Poland?' (in No. 12, February 21, 2017). Did you read it?"
J.P.: "I did and I'm grateful for your stand in the matter."
M.S.: "May I ask you what kind of Ukraine you'd like to see?"
J.P.: "We'd love to see and support a civilized, European, democratic, and prospering Ukraine as a member of the EU and NATO, so Polish businesses could invest in Ukraine, and vice versa; so we could make money and evolve together. The time is ripe for Polish businesses to invest in Ukraine and support it. There are risks involved, of course, and some say that Putin could attack your country, that this would be a threat to Europe. Zbigniew Brzezinski said that there is no safe Europe without a democratic and free Ukraine. Cultural projects could also serve to strengthen our bilateral relations. We have a student exchange program underway. This is an interesting Poland-Ukraine project, the best way to learn more about our cultures. Further joint cultural projects should be considered – for example, a movie about the Battle of Warsaw with Pilsudski and Petliura. We should combine effort in promoting our writers, musicians, and artists."