"I try to record timeless realities"
Photographer from Chile Nicolas Val creates projects about a frontline city in the Donbas
14 May, 2018 - 18:12
Last summer, documentary photographer from the city of Valparaiso Nicolas Val unexpectedly went to Avdiivka with a humanitarian mission. He was invited for the trip by Sandra Briones of the ICW Latina, an organization of women living with HIV. Val himself cooperated with this organization for more than eight years previously. The photographer, who had had little knowledge of Ukraine before, especially of the war in the Donbas, quickly agreed. The mission involved volunteering in a small local church, studying how the organization could help HIV-positive women living in the war zone, and doing educational work. Val helped volunteers and collected materials for several projects of his own. However, the word "collected" sounds too formal, given that the photographer actually tried to join the urban community, so as to offer an inside perspective on its life, and not one using the optics of a tourist or a journalist. Val told The Day how he had been achieving that objective and why he planned to return to Avdiivka.
"AT FIRST, I TOOK PICTURES LIKE A TOURIST WALKING THROUGH A CITY AT WAR"
In your interview, I read that you went to Avdiivka spontaneously, on a humanitarian mission. What became the main reason for you to agree to go there?
 "Indeed, I had planned to do some research and a photo project in Central America, but then received a message from a friend who worked with me in an organization for HIV-positive women in Chile. She told me about the conflict in eastern Ukraine and asked if I wanted to go there with her to help. She also said that I would be able to do my primary job as well. Having pondered it for 10 minutes, I canceled my project in Central America and replied: 'Yes, let us do it.'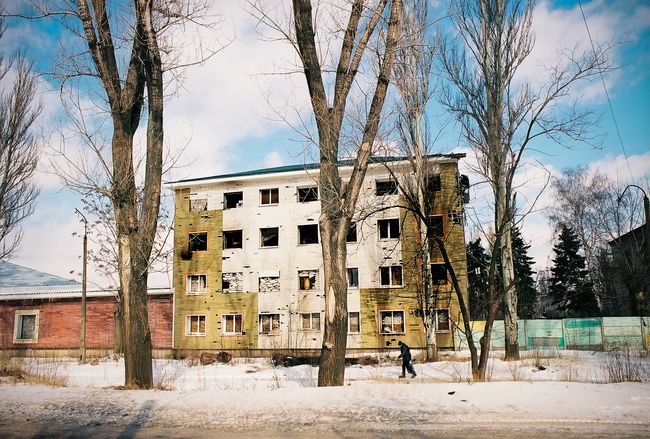 "But the main reason why I agreed was to continue to tell stories with my images and try to help the world a little bit through them."
How difficult was it to find a common language with residents of Avdiivka? After all, you live in a completely different culture and reality, and there is also a language barrier.
 "Cultural clashes are always interesting, I believe they push me to start a new project, because I need to reconstruct myself and look for meanings and think in different directions as I am trying to adapt to a new culture. I think the only barrier was the language one, but eventually it began to collapse too. I find people who tried to teach me the language very nice and patient. Now I can speak Russian a bit, express my thoughts using it."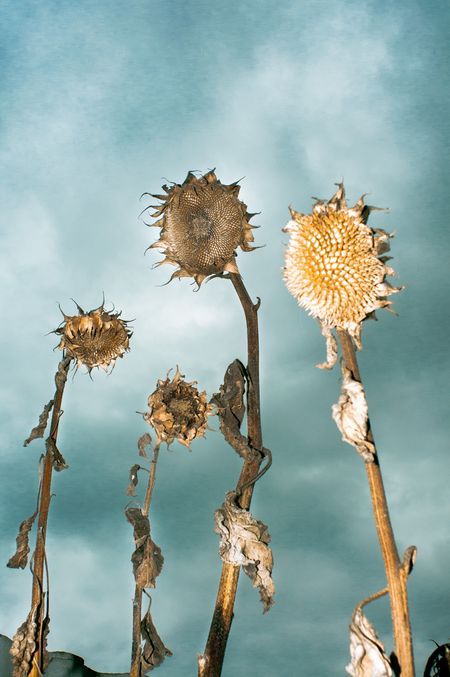 How did you combine volunteering and working on the photo project?
 "Thanks to the assistance we provided to residents of Avdiivka, I managed to get closer to a new world which I believe I could never have entered alone. For example, we brought food to people who could not cook or leave home for various reasons related to the war. Thanks to this, I was able to feel and see many realities and stories that allow me to understand wars going on in this society, which lives to the sound of the war 24/7. I am talking about mental wars here, which cause such a situation more than the social and political war. When I realized that, I started taking my photos. Meanwhile, at first, I took pictures like a tourist walking through a city at war without understanding anything."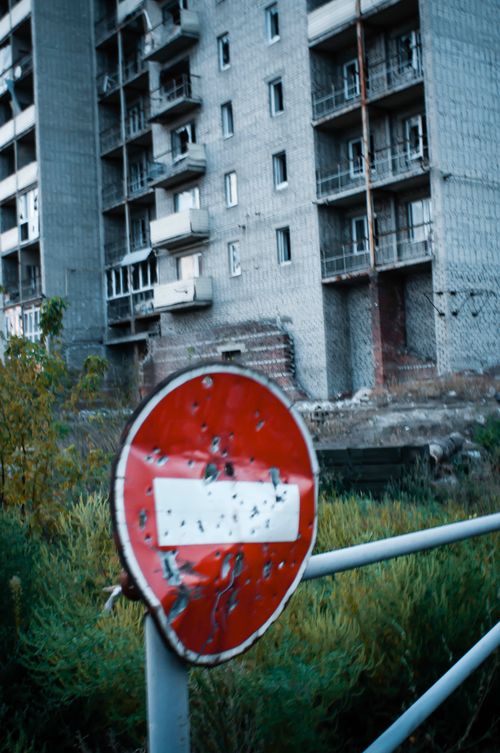 Do you maintain contacts with residents of Avdiivka now?
 "Yes, it is almost a continuous experience. I will keep visiting this locality for a long time. I met some very good families there, I have plans for many projects."
"BECOMING INVISIBLE IN AVDIIVKA IS NO MEAN FEAT"
I know that you want to make a photo book about Avdiivka and do a project involving portraits of its residents. Have you already developed the concept of the book?
 "I am in the process of creating it right now. The photo book will be far removed from the military matters, as well as from violence and war, the idea is to convey the energy of everyday life in eastern Ukraine and move the reader from the images to the locus of action. Now I am looking for funds to cover the costs of the implementation of this project."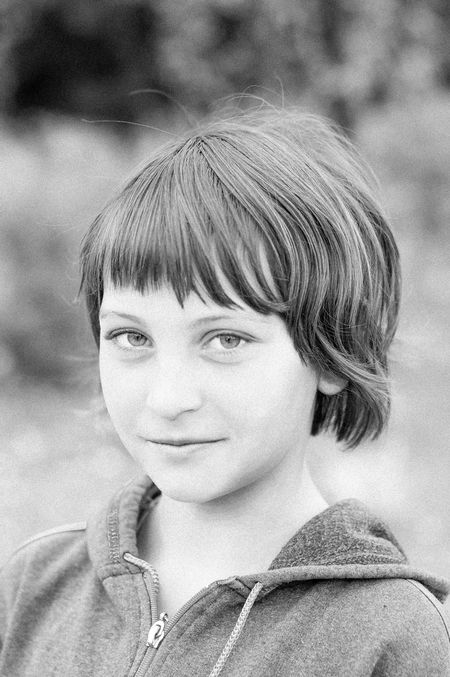 You said that you did not want to show suffering or death. What do you want to express through this project?
 "This is a personal project, which is an attempt to immerse myself into the daily life of a city in the war zone. Using photographic exercises in quick and intuitive shooting, I try to capture timeless realities in which people in Avdiivka have lived for the last four years. These realities are caused by the uncertainty which people experience every day because they do not know what happens next or when it ends. Through these exercises, I join the community as a fellow member, without the intention of being seen as a tourist, journalist, or some other stranger.
 "Becoming invisible in that city is no mean feat, but one needs to do this to document the confusion in everyday life from inside. So I try to reinvent myself with every new experience, conversation or something I see, and that helps me as I attempt to tell this story without explicit violence, bombs, and journalistic optics."
"IN CHILE AS WELL IN THE WORLD IN GENERAL, PEOPLE DO NOT KNOW ABOUT WHAT IS HAPPENING IN EASTERN UKRAINE"
Do you plan to show this project in Chile? Where do you want to exhibit it?
 "I live in Germany now, and I want to show this project in Ukraine and Europe as a whole, but not yet in Chile. Currently, I am planning on showing the project in some other locations as well."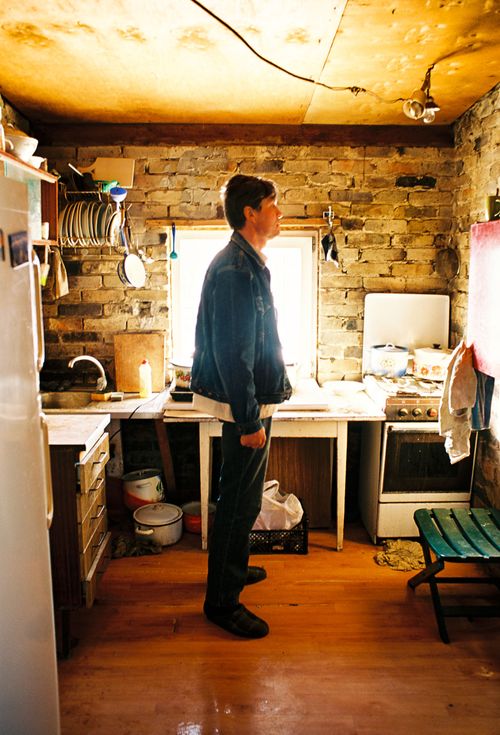 In general, what do Chileans know about the situation in Ukraine?
 "In Chile as well in the world in general, people whom I tell about the situation in Ukraine do not know anything about what is happening there. This applies to people from Ukraine as well.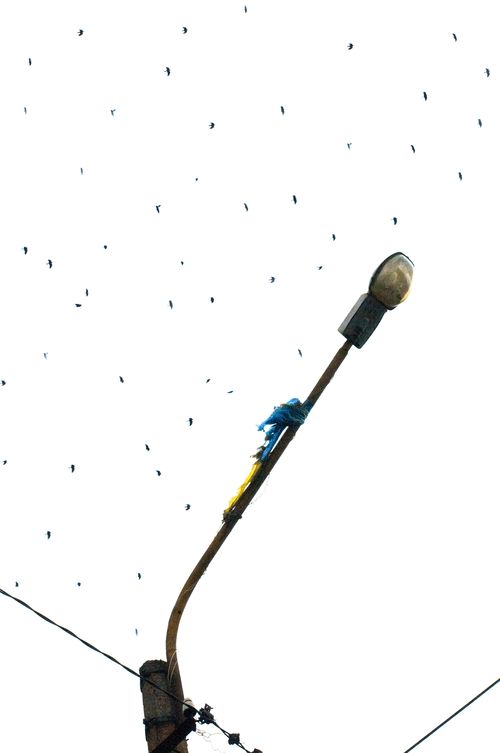 "In general, people in Chile know little about this situation. When I talk about my project, they think that it is about Crimea or the Maidan revolution, but they do not know what is happening in eastern Ukraine."
At the end of 2017, you talked about plans to visit Avdiivka once again in early 2018. Have you succeeded in it?
 "Yes, I returned from my most recent trip to Avdiivka a month ago. There, I spent two months communicating with locals, who are my friends now. I want to go back there next winter, I want to do more projects there, which I will not reveal to you just yet. For you know, if one talks a lot about one's plans, they will not come to fruition. Overall, I have ideas and realistic projects for the future which are related to children."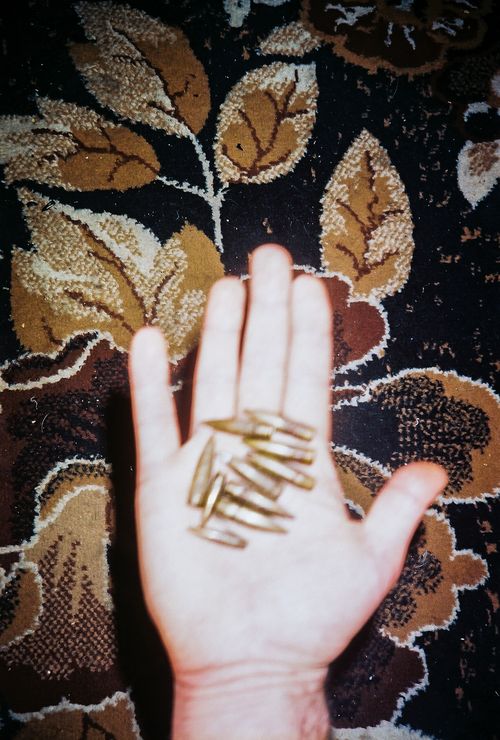 "I AM INTERESTED IN EVERYDAY LIFE"
What topics are you generally interested in? In which countries have you worked?
 "I am interested in everyday life mostly. Things that happen before one's eyes daily are captivating, and one does not have to cover long distances to find interesting worlds. I am currently working on a project about the outskirts of my home district in Berlin.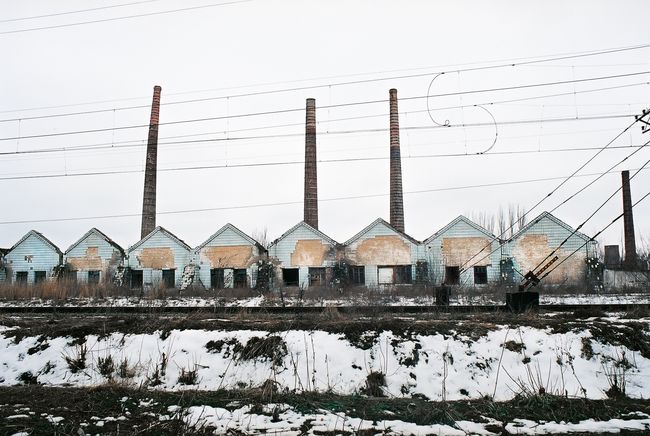 "Last year I completed my first book, also related to the everyday life of the city where I lived in Chile."
We live among crazy flows of images on the Internet and on the street. In your opinion, what is the importance and power of photography today?
 "Indeed, we live in a time when images surround us everywhere. Today, I see good pictures as peripheral, they are not so important anymore. It is more interesting to see a photo and ask myself a lot of questions, establish who made it and why they chose that scene, and when I see it, I stop looking through more and more photos. I see this as the power of photography. And it is better when I see more than one image, enabling me to understand the story more in-depth, move to another reality."