All Vinnytsia schools and libraries have received books from Den's Library series
2 March, 2017 - 12:30
The National Dialog, initiated by Den, is designed to not only rethink the lessons of our revolution, but also encourage the Ukrainians to think about "fixing" the national character. With that in mind, Larysa Ivshyna held two meetings during her visit to Vinnytsia. The first involved the students of Stus Donetsk National University (DNU) and creative elite of the university, while the second saw her talking with Vinnytsia school teachers and librarians, for whom dialog with Den's editor-in-chief became a kind of extra-curricular activity aimed at shaping thoughtful patriotism.
Stus DNU met Den's editor-in-chief with a selection of the best photos of the 18th International Photo Exhibition, which this newspaper presented to the school on the eve of the visit. While browsing through the pictures, Ivshyna talked about their authors and the importance of the photo exhibition, because it affects the formation of Ukrainian society and visualization of current events in Ukraine as a whole. Dean of the philology department Volodymyr Mozgunov and head of the journalism sub-department Olena Taranenko also shared their views on the relevance of the exhibition and Den's projects in general. The latter, in fact, moderated the National Dialog. But before the conversation started, Taranenko reminded the audience that Den had been almost the only publication to support the university on the issue of getting it named after Vasyl Stus.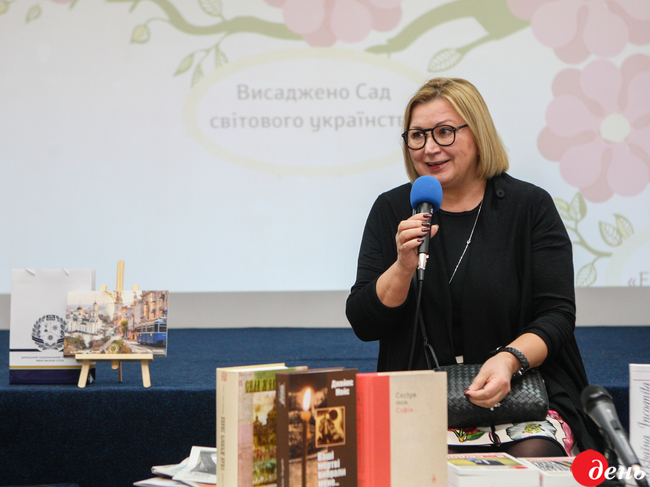 "The fact that Den's team, led by its longstanding editor-in-chief, is visiting Stus Donetsk University, is a landmark event. After all, Den was the only newspaper to support the initiative to have the university named after Vasyl Stus, and it started collecting signatures for an appeal to that end in the earnest, which gathered thousands after thousands of supportive voices," said Taranenko. "Den was among the first to offer support to our university when we had moved to Vinnytsia. My sub-department did not even have an office then, but we still had a fresh issue of Den in our mailbox. It was incredibly hard at the time, and various troubles happened, but Den always lent us a friendly shoulder and refrained from putting pressure on us, as it understood that the university had to recover first. When the rector received in January 2016 a letter of appeal signed by nearly 200 people, who called naming the university after Stus 'a debt of honor which has been outstanding since 2008,' and our faculty announced its readiness to consider this question, Den again was there and covered the public debate on the issue. I remember Ivshyna's visit to our university in Donetsk in March 2013. She then instructed our students to follow three maxims: 'I want..,' 'I can..,' and 'I will do...' No one knew then what tests university and we all would have to go through soon to prove just that – we will be able to overcome it all, if we work hard realizing our freedom of choice and responsibility for our own desires. And the fact that editor-in-chief Ivshyna came to Stus University is symbolic evidence of our friendship and the desire to develop Ukraine according to a common roadmap. Meanwhile, the photos presented here offer a living testimony of our history which you and I are creating."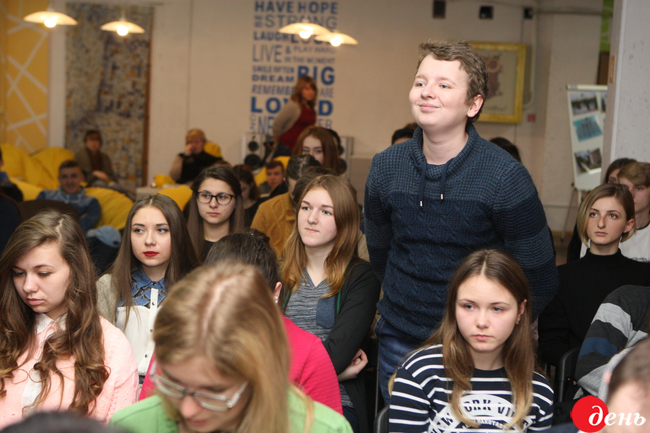 "I have longstanding memories of Donetsk University, and I hope that relations with the Vinnytsia-based Stus Donetsk University will be no less interesting but more successful because you have questions to ask me and I have questions to ask you. Moving Donetsk University to Vinnytsia became a kind of laboratory experiment, dealing not only with mixing up different parts of Ukraine, but also with developing a special synthetic matter of this country. And this synergy that poured into Vinnytsia community, it has become needed," Ivshyna picked up the conversation. "All great histories are personal. History deals with what we ourselves could do differently, and what we should do now. In fact, all Den's projects have been implemented by us to turn people into citizens. We are looking for opportunities to launch new initiatives targeted at people from the Donbas. They will appear, no doubt about it."
For the National Dialog, Stus DNU offered a modern conference hall in a coworking center that allowed us to present the flourishing Den's Project Tree. Those present actively asked questions and expressed interest in Den's projects and Ivshyna's personal achievements as a journalist and cultural figure.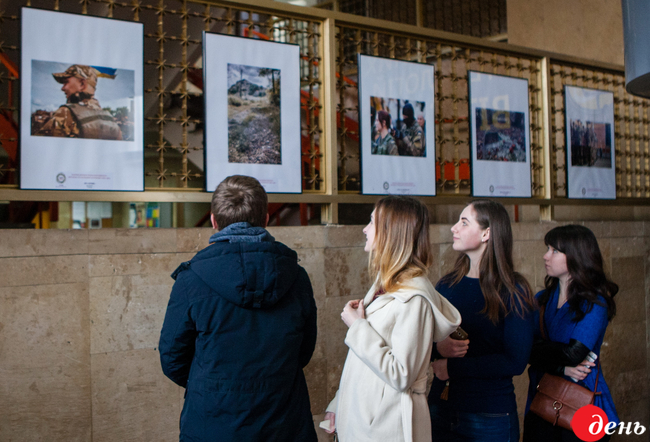 "I am extremely impressed with today's event. Journalism students hear in class all the time about rules, regulations, journalistic standards, social responsibility, role models from the media practice; and in a way usually just accept their teachers' assertions as truths. Today, however, they had a chance to chat live with a reputable, experienced, principled, and absolutely focused on Ukrainian society journalist and public figure," the university's senior lecturer in journalism Anna Hlushko shared her impressions. "With her work, cultural projects, and educational activities, Ivshyna provides future reporters with an example, showing that each of us can be active, defend democratic values, and contribute to the building of civil society and effective national dialog. We appreciate new issues of Den's Library as well: it is a priceless source for lively discussion and debate, a new brick in the foundations of student knowledge!"
Den's meetings with students are always especially fresh and rich. The Vinnytsia debate was no exception. There was quite a lively dialog between Den's editor-in-chief and students who got actively involved in the discussion. The hall was full of interested listeners. Ivshyna talked about Den's educational projects and presented new books from the newspaper's Library series.
"Ivshyna emphasized key points and stressed some major problems. Firstly, one of the major mistakes of the Ukrainian society is the fact that people cling to the heroic history of the Cossack Age instead of asking themselves the key question: 'How can Ukrainians not only survive, but also take a worthy place in the world? How can we become better here and now?' Secondly, we in Ukraine lack a political force worthy enough to launch a national dialog with society. It is so because to unite the nation and create a decent state, we need a strong government," fourth-year student Anastasia Skliarenko said. "I share her opinion totally, because to address the issue of national dialog, we need to 'clean up' Ukraine, to create effective political forces that will protect the interests of the nation, the public. And our task, that of the younger generation, is to make real steps to achieve that goal."
Following the dialog, Ivshyna awarded books from Den's Library to authors of the most interesting questions. They were freshman Slavko Popyk and dean of the philology department Mozgunov. For its part, Stus DNU presented Den with a handmade painting which had been selected specifically for Ivshyna by the university's rector Roman Hryniuk.