Olha KHARLAN: "We, athletes, are also trying to bring the victory closer by means of our results and efforts"
31 August, 2017 - 09:13
Te well-known Ukrainian fencer Olha KHARLAN won an exclusive distinction from the National Olympic Committee (NOC) of Ukraine the other day – she was pronounced the Best Athlete of the Month for the 10th time. NOC President Sehii Bubka handed her a statuette of a particular design – it bears nine little pictures of the best athletes of the month with the date of awarding. A champion at the Beijing 2008 Olympics, a bronze medal winner at London 2012, a two medals winner at Rio de Janeiro 2016, Kharlan is the only athlete to be recognized ten times as Ukraine's best athlete. She won this high honor owing to a new triumph at the world championship in Leipzig, Germany. Although she had recovered from an injury only a short time ago, our athlete proved again in the individual competition that she remains the world's best saber fencer.
The Day congratulated Kharlan on this sporting achievement and presented her with an exclusive gift – the book My Sister Sofia... and a designer T-shirt with the logo "Fine Girls Read Den."
"Thank you for watching our successes and for the gifts," Olha said to The Day's correspondent. "It is only the beginning of the Olympic cycle. I am now as motivated as never before. Due to an injury and surgery, my season was short – four competitions only. It is so untypical of me. You know, this is the first time in my 12-year sporting career that I've been competing so seldom. I wanted to fence very much and was literally bursting to go into action. I trained a lot and stayed in the exercise hall practically all the time, but some people were saying I must cool my ardor after the injury and be prepared for world championship-level competitions not only physically, but also psychologically. It is first of all the coaches who were giving me this advice. In the world championship finals, I managed to show the result I wanted and my mentors demanded. You know, I wanted to regain my shape quickly after the operation and get back to sport, so I was training very much, even with my left hand, particularly with young-age athletes – and I was losing to them. But the injury that had unsettled me, the incredible sensation of having to rise to your level again, in fact convinced me that fencing is my ultimate passion, in fact my life. I wished again to feel the golden taste of victory."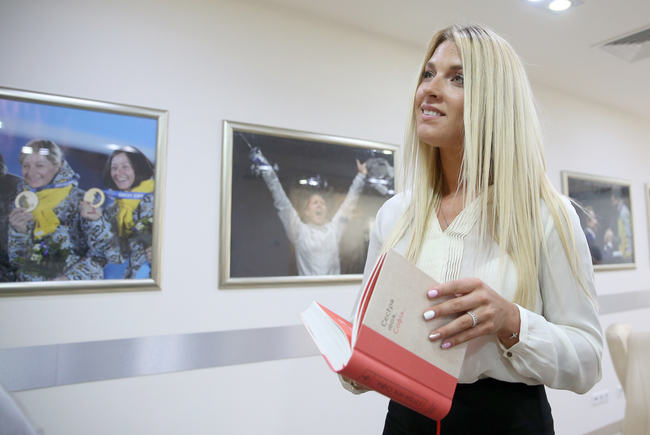 Photo by Artem SLIPACHUK, The Day
Olha, what motivates you to win? How did you manage to brace yourself for the world championship after the injury and medical treatment?
"I find motivation in my family, which is very glad to hear about my victories and, undoubtedly, in the eyes of the Ukrainians who support me. In this difficult period, we all lack the stories of success – Ukraine is very strong and is sure to win. In particular, our sportspeople are proving this. Our anthem must be heard more often, our flag must be raised higher. It is very important to me that our military in the east are also supporting me and our team. They are really keeping track of the sporting events. I don't know how they manage to do so – they think about the country, their families, and their life, but still write that they find solace in supporting us. This also motivates and moves us to tears.
"We, athletes, are also trying to bring the victory closer by means of our results, efforts, achievements, and medals – this at least arouses positive emotions in the military. We are fighting in our world, in sport. We show on the sporting ground which of us is really the strongest if we obey the rules. I assure you that our team will be trying to train more and show two or three times better results so that the military in the east might be proud of us.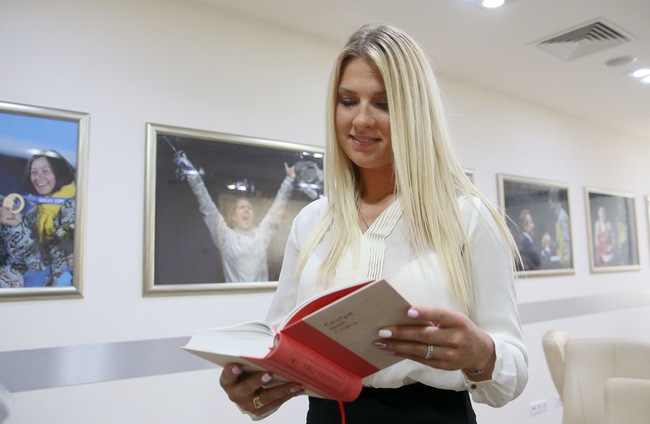 Photo by Artem SLIPACHUK, The Day
"You know, journalists sometimes ask if I dedicate my victories to someone. The answer is very simple: I dedicate all my medals to my family and my country – to the people who support me, worry together with me before every start, and, moreover, defend my country and me. But for them, I would be unable to win a medal for Ukraine and would perhaps have no place to come back to after the competitions."
Whenever you have to fight against Russian girls, supporters often focus on this in social websites. Do you feel any special tension before an encounter like this?
"The awareness of very uneasy, to put it mildly, relations between the two countries never leaves me. But the Russians and I never speak openly about politics and the war. They know that it is a painful and uneasy subject for us. I think they are very well aware of what is really going on between the neighboring countries. But some of the Russian sportspeople believe their president and media. We, Ukrainians, believe our president. We are here and can see with our own eyes what is going on before our windows. But sport is sport. And, to avoid any differences and disputes, we chose the tactic of sport competitions, i.e., to prove in our field who is the best and the strongest. I remember being harshly criticized for standing next to the Russian girls on the Olympic podium, congratulating and hugging them. I did not even think at the moment who exactly I was standing next to and how this would be interpreted later. I was standing with the world's strongest athletes who had won honestly and were congratulating me, while I was congratulating them. I was only thinking about my medal and my victory. I am convinced that everybody should contribute to their country's victory by means of their results and professional achievements. We, athletes, are trying to support the country in general and the military in particular with our medals and emotions."
REUTERS photo
I know about your special love for Crimea. You have spent a lot of time there, training and relaxing. What do you think Ukraine should do to get the peninsula back?
"It's difficult for me to say how realistic it is to get Crimea back and what should be done for this. But, surely, we must not leave things the way they are. I am a citizen of Ukraine and wish my country to be within the 1991 borders. I love Ukraine and want it to be sovereign, democratic, and independent. Crimea is really a special love of mine. Naturally, I used to spend my vacations and have training sessions there. It's an incredible place, the gem of our country. What has happened – the annexation, if we call things by their proper names – is just inadmissible. Obviously, the peninsula will only come back if the Crimeans themselves wish it and make efforts. Such regions as Kyiv and the south thwarted the attempts to destabilize the situation. People warded off a destabilization. I haven't been to Crimea since it was annexed, and I don't want to and won't go there until Ukraine regains the peninsula. It is an occupied territory and, hence, it is temporarily not my country. I like the Spartak sporting base, where I practically grew up, I liked to spend summers there. We trained for the Beijing and London Olympics in Crimea. There are so many sweet memories of the Ukrainian Crimea that I just don't want to think about this. I will say it again that, of course, we should see readiness of the Crimeans to get back home, but, no doubt, the Ukrainian leadership should also offer a more effective plan of returning the peninsula. I am sure it is quite realistic."
Olha, I know that you train very much. Do you have time to relax and, in general, how do you psych yourself up for new competitions?
"As a matter of fact, when pre-competition training is in progress, I have very little free time. I would like to brush up my English, learn something new, read a lot, including the historical books that motivate you to make new gains. But when the training season begins, there is practically no personal life, for I have to train two or three times a day. And when you come home, you only have time to read a few pages in a book. That's all, overfatigue… Before such most important competitions as the latest world championship, training sessions cost you still more efforts and nerves. Undoubtedly, you should distract yourself from sport in order not to 'burn out.' I like reading, so I am particularly grateful for Den's book. I am sure to read it and, if you like, I will tell you next time which moments struck me the most. I take interest in the historical period your book deals with. What is more, Den publishes books in Ukrainian. It is extremely important for me, a Russian-speaking Ukrainian, to read in Ukrainian and improve the command of the language. I also like… just strolling across the city."
It is a real treat to read your posts in social websites. You share your emotions, congratulate other athletes on victories, and write about the details of training and relaxation. I may be mistaken, but it seems to me that you are rather frank and sincere in Facebook. What are social networking sites for you – an additional opportunity to express yourself or, above all, an instrument of communication with your fans?
"Thank you for the compliment. As a matter of fact, each of us uses Facebook to satisfy our interest in something, and it is very good when you find people who share your likings and when what is interesting and important to you is also interesting to others. Undoubtedly, it is an opportunity to contact fans who write a lot, share the joy or victory, and comfort you in the periods of failure. In general, a social website is an incredible communicator with the people you can't meet in person. A photo in support of a volunteer or a serviceman, a compliment to our Ukrainian athlete, is an important public sign of consideration today. We, Ukrainian athletes, are friendly, we are glad about each other's successes, and we write about it sincerely. We want Ukrainian sport to develop, and we wish more and more fans would rejoice at our victories."