Viacheslav SHVED: "One of the most powerful Islamic countries – Saudi Arabia – is openly siding with us"
9 November, 2017 - 12:39
Last week Ukraine's President Petro Poroshenko visited two Middle Eastern countries – Saudi Arabia and the United Arab Emirates (UAE). These visits resulted not only in political statements, but also in signing a number of agreements.
Firstly, Saudi Arabia and Ukraine signed an agreement on cooperation in agriculture, which Poroshenko says is of great interest to Saudi investors. Besides, they agreed on cooperation in education, defense and security, as well as on the exchange of information, the Presidential Administration reports.
Secondly, both countries agreed to simplify visa treatment by reducing the visa fee, to activate human contacts and tourist travels, and to facilitate cooperation for businesspeople and entrepreneurs.
Thirdly, during his visit, President Poroshenko repeatedly called on Saudi Arabia and the Cooperation Council for the Arab States of the Gulf to increase support for the Crimean Tatar people. Incidentally, our president was accompanied by Mustafa Dzhemilev, the leader of the Crimean Tatar people.
The Ukrainian president also met King Salman bin Abdulaziz Al Saud. The negotiations lasted twice as long as planned and covered a wide range of issues.
The next stop in the president's tour was the United Arab Emirates. This visit was important to Ukraine because President Poroshenko and Sheikh Mohammed bin Rashid Al Maktoum, Prime Minister of the UAE and ruler of the Emirate of Dubai, signed a memorandum on visa-free treatment. According to the head of state, the agreement may come into force as soon as December. "And Ukrainians will be free to travel to another extremely important and attractive country, while the Ukrainian passport continues to rise in value."
In addition, agreements were signed on cooperation in space exploration and culture and on the UAE's support for Crimean Tatars.
The Day requested Viacheslav SHVED, head, department of the history of Asia and Africa, Institute of World History, to comment on the results of the president's visit to the two Middle Eastern countries and say why they are attractive to Ukraine.
"WE SHOULD GIVE A NEW IMPETUS TO THE DEVELOPMENT OF RELATIONS WITH THE TWO COUNTRIES"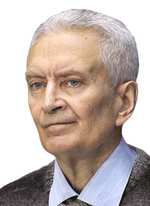 "The visit of the president to the Arabian Peninsula, to the two pivotal member states of the Cooperation Council for the Arab States of the Gulf, means that one of the most powerful Islamic countries – Saudi Arabia – is openly siding with us. It in fact sponsors the most successful and influential integration project in the Arab world – the Cooperation Council for the Arab States of the Gulf. It is very important for us to rely on their economic, investitive, intellectual, humanitarian, and spiritual potential in order to achieve our strategic goals – from far-reaching economic reforms to the question of restoring our territorial integrity and regaining the annexed Crimea and the occupied territories of the Donbas.
"As for visa liberalization between our countries, it is one of the instruments of active assistance and considerable intensification of relations between businesspeople and academics. It is one of measures that help conduct business and know each other better.
"This region, especially Saudi Arabia, is going through a very important stage in its development. They began to carry out far-reaching reforms on the initiative of Crown Prince Mohammad bin Salman, the son of the current Saudi king. They have proposed a very ambitious plan of reforms, known as Saudi Vision 2030. It was adopted in 2016 and is now being successfully implemented. Addressing the Future Investment Initiative forum in Riyadh on October 24, the prince presented a new mega-project of the futuristic Neom free economic zone in north-western Saudi Arabia. This zone will bring together Africa and Asia – Saudi Arabia with Jordan and Egypt. This pilot project will allow Saudi Arabia to try out cutting-edge technologies that will meet the highest modern standards.
"Besides, what is in fact a new industrial revolution in Saudi Arabia is accompanied by the no less important social transformations. All this is occurring against the backdrop of switching from Wahhabism – an orthodox version of Islam – to moderate Islam, which the crown prince has repeatedly been emphasizing. In other words, Saudi Arabia is opening up to the world and begins to create an open society based on the most advanced forms of contemporary life. Both Saudi Arabia and the UAE are very important economic, political, and military partners of Ukraine.
"It is very significant that President Poroshenko is accompanied by Mustafa Dzhemilev, a generally recognized leader of the Crimean Tatar people. Since 2014, when Russia had just begun its aggression, Saudi Arabia has been firmly supporting Ukraine's territorial integrity. It is very important for us to enlist Saudi Arabia's support in order to mobilize the worldwide Muslim ummah to defend the Crimean Tatar people and strive for regaining Crimea as part of Ukraine.
"Let me note that Saudi Arabia plays a key role in the Organization of Islamic Cooperation that incorporates 57 Muslim states, not to mention the Cooperation Council for the Arab States of the Gulf. For historical reasons, that country wields a great deal of clout in the Islamic world because it regards Saudi Arabia as the place where the Muslim religion was born and the Saudi king bears the tile of custodian of two shrines – Mecca and Medina. It is very important to us that they will help us cooperate with the Muslim community in Ukraine, help Ukrainian Muslims become an integral part of Ukrainian society, and help us resolve the serious political problems Ukraine in general and Ukraine's Muslims in particular are facing.
"I will remind you that in addition to Crimea, where Crimean Tatars were mainly concentrated, a considerable part of Ukrainian Muslims lived in the now occupied areas of Donetsk and Luhansk oblasts. It will be of paramount important to us if Saudi Arabia does its best to mobilize all Muslim states and international organizations to help Ukraine regain these regions."
Experts point out that our countries should establish stable relations which are so far inexistent. What do you think of this?
"I have always maintained that we should qualitatively raise our relations with Saudi Arabia to the level of strategic partnership. That country should become one of our main sympathizers in the East, a country that can seriously support Ukraine. And they also need us. I mean mutually-beneficial cooperation.
• "Firstly, Saudi Arabia is of great interest to Ukraine from the viewpoint of our huge agrarian resource. I've been to Saudi Arabia and know how important it is for them to establish a system of sustainable agrarian security and how important it is to develop Saudi-Ukrainian relations in the agrarian sector.
• "Secondly, in spite of all the latest horrible moments in our history, relative decline and ruinations, we have preserved some unique technologies, particularly in the military-technical sector. We can set up a powerful complex with the help of Saudi Arabia's investment capabilities in order to qualitatively improve our aircraft production and mechanical engineering. Our military-technical cooperation is also of paramount importance to us.
"We have not yet managed to effectively tap the investment resources of Saudi Arabia. Under the Saudi Vision 2030 plan, that country is supposed to turn into one of the world's strongest investment centers. We should know about and fit in with these plans. Besides, the very implementation of this program is supposed to involve the world's most advanced countries. Meanwhile, the Americans, Britons, Frenchmen, and Germans immediately managed to join up. I hope our president's visit will prompt our industrial, business, scientific, and intellectual circles to ensure that Ukraine will take a most active part in this grandiose project. It is great benefit to us."
Besides, the president visited the United Arab Emirates on November 2. What are the prospects for cooperation with that country?
"Out of the six countries that form the Cooperation Council for the Arab States of the Gulf, Saudi Arabia and the UAE are the nucleus of this organization. They maintain the closest relations. Crown Prince Mohammad Nahyan of the UAE, 57, is considered to be the mentor of the new leader of a young Saudi team and offers major assistance to Saudi Arabia's Crown Prince Mohammed bin Salman. They form an excellent tandem: the two leaders are bringing their countries forward, and I am sure the current crown prince of Saudi Arabia will be the next king. He commands profound respect from the Saudi youth which account for 70 percent of the total population. The same applies to Crown Prince Nahyan of the UAE.
"Incidentally, the UAE is also our important economic, military-technical, and humanitarian partner. By force of tradition, we knew more about the UAE, particularly Dubai, because a lot of our tourists vacationed there. Yet it is a very serious economic ally and partner.
"This visit will let Ukraine considerably strengthen its positions in such an extremely important region as the Middle East, especially the Gulf, which is now a center of international politics and economy. It is undergoing colossal changes whose importance it is just difficult to overestimate. We must take part in these serious processes as soon as possible and turn them to our advantage.
"Ukraine has been traditionally linked with the Arab world, including this region in the Middle East, and we must give a qualitatively new impetus to the development of mutually-beneficial relations with these two countries."