Meeting old friends: the beginning of Den's Days in Pryluky
3 April, 2018 - 11:49
The Pryluky Municipal House of Culture is hosting Den's Days for the second consecutive year. Incidentally, this time we are helping Pryluky residents not only see the panorama of this country's life, but also take a new look at the history of their town. For the second consecutive year, the hall is jam-packed as the exhibit opens.
"EVERY PICTURE IS A SEPARATE STORY"
Violinist Oleksandr Sakhnin and bandura-player Tetiana Karpenko, teachers at the Pryluky Levko Revutsky Children's Music School, are playing. We can see some old friends. Local resident Olena KANAVETS, who practices photography and even took part in our competition in 2010-11, recalled, laughing, this story: "One day I sat with a photo camera in bag on a bench in Kyiv's Khreshchatyk and suddenly saw an interesting subject: a young couple sat on the opposite side – it was a very good compositional story. And while I was taking out my camera, I heard somebody else click his camera. I turned around and saw it was Mykola Tymchenko. He took a quick snap and went. I decided not to take a picture because the couple saw they were in the center of attention."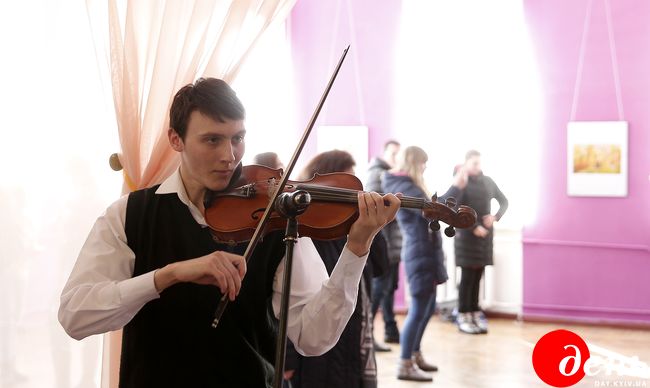 Olena shared her impressions of Den's new exhibit: "It is an important event for Pryluky because people must see the life of the country. We are often so much absorbed in our problems that we can't see what is going on around. Watching a news bulletin is one thing, but you perceive things differently on photographs. It is not just reportage photography – its photo art. Every picture is a separate story."
PRYLUKY'S NEW "FACETING"
"There is no such thing as the provinces in today's world – there are people who doom themselves to live a provincial, uninteresting, and inert life. I think Pryluky is different. You will have a chance to see that Den provides a host of opportunities for development," Den's editor-in-chief Larysa IVSHYNA said, opening the Pryluky exhibit.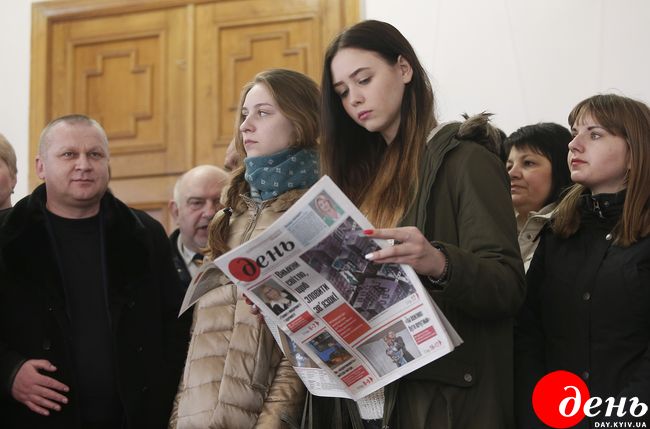 Ms. Ivshyna recalled her first meeting with Pryluky in 2004. "I had an incredible impression of Pryluky and of mingling with its residents," the editor-in-chief says. "The meeting with its residents lasted for about four hours – I was like an adult-education lecturer because we talked about everything. When the meeting was over, I promised that I would remember and love Pryluky the way I do Ostroh."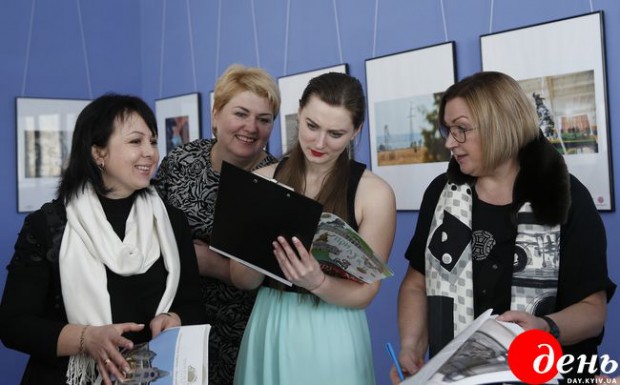 Pryluky residents were among the first to appreciate the Route No. 1 issue dedicated to their town. Ms. Ivshyna pointed out: "Sometimes, when we dedicate our magazine to a certain city, its residents say: 'Nobody has spoken about our city like this before.' Maybe, many of you know very well some stories in this glossy, but the interpretation of problems is very fresh because we have friends in Pryluky." Incidentally, the Pryluky V.I. Maslov Local History Museum helped us very much to prepare this issue because its staff are keen on and are trying to promote the history of their hometown.
"THESE PICTURES INSPIRE A HOPE THAT SPRING WILL COME"
Den's Days in Pryluky are held thanks to support from British American Tobacco Ukraine and the Pryluky City Council. "When I saw this exhibit, I was deeply impressed by its magnitude," says Yurii RYLACH, chief of British American Tobacco Ukraine's government relations department. "These not-so-simple pictures show how strong our nation is, how it aspires for freedom and self-sufficiency. Everything will be OK – it is just a question of time."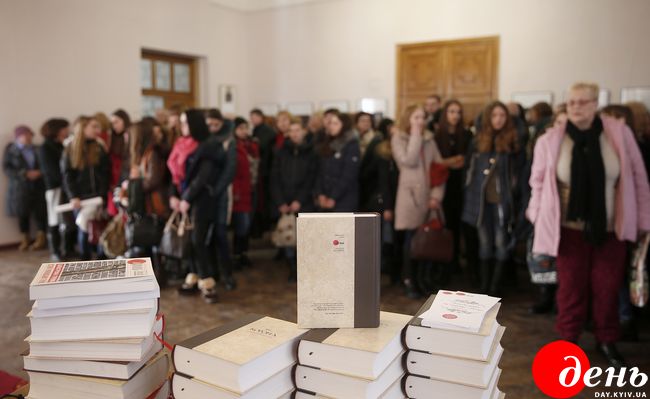 Incidentally, the company's 25th anniversary coincided with Den's Days. For this reason, there will also be a small exhibit of our newspaper on the premises of the Pryluky Tobacco Factory – a gift of sorts to its employees.
"The pictures that adorn the House of Culture now inspire a hope that spring will finally come – the spring in a natural and moral sense," says Pryluky Deputy Mayor Tetiana FESENKO. "When I was leafing through Route No. 1, I saw again what a gorgeous town I live in!"
LEARNING BY DEN'S BOOKS
Our contact with Pryluky is not confined to the exhibit and the glossy. Firstly, all the city's educational institutions have received Den's Library books: bestseller The Crown, or Heritage of the Rus' Kingdom; Extracts; My Sister Sofia...; Ukraine Incognita. TOP 25; Catastrophe and Triumph. The Stories of Ukrainian Heroes; My Universities, and publications from the "Armor-Piercing Political Writing" series. Chernihiv Oblast Councilor Oleh Averianov also participated in the campaign "A Present to My School."
The opening of the exhibit was immediately followed by Ms. Ivshyna's "National Dialog" with city residents and the presentation of our book Crown, or Heritage of the Rus' Kingdom. Incidentally, this novelty and the book My Universities were presented to Nadia SYCH, a student at the Pryluky Ivan Franko Liberal Arts and Pedagogy College, the author of the best question to Den's editor-in-chief. Her question was why the social conflict was chosen as the main theme of Den's new exhibit. "As far as I know, the theme of the previous exhibit was, above all, the war, but now it is more about social problems, orphanhood, and disability," Nadia says. "I am greatly pleased to communicate with Larysa Ivshyna and hear her opinion about the political situation in our country."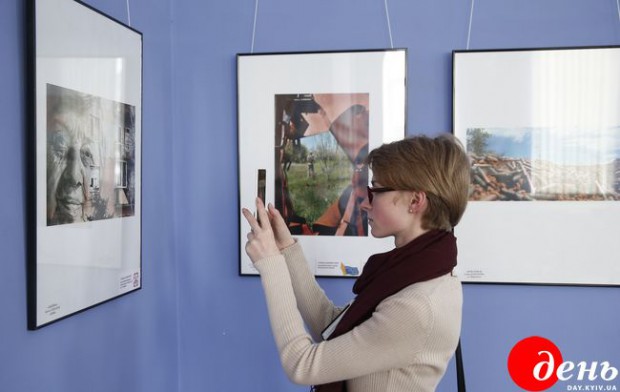 You can see on the example of the Pryluky Ivan Franko Liberal Arts and Pedagogy College how our books "work." Last year this institution also received some of our library's publications, including the Living History photo almanac. As Sych told us, the students who study publishing and editing use it for reports and term papers.
"EVERY PICTURE IS FULL EMOTIONS"
Chernihiv Oblast Councilor Olena SHYNKARENKO is at the Den exhibit for the first time. "The exhibit impressed me deeply. Every picture is special and full of emotions. It is not enough to call the exhibit 'fine.' Most of the photos are about the ATO and migrants and arouse all kinds of feelings and emotions. The exhibit is worth being seen," Shynkarenko says. "What left a particular imprint on my mind is An IDP Fairy [it will be recalled that this picture by Oleksandr Khomenko won the Golden Day Prize of Prizes last year – Ed.]. This work can be associated with many things. The child seems to be looking into the future and see – through the window, in spite of this framework and limitations – a beautiful sky and a radian future which is sure to come."
Hundreds of Pryluky residents are visiting our exhibition to draw inspiration and hope and to know better this country. Join them – see almost 200 best pictures of the 19th International Den Photo Competition at the Pryluky Municipal House of Culture (28, Koptieva St.) until April 20.