Ambassador Roman WASCHUK on the first gains after the ratification of the FTA agreement and on progress in military cooperation
8 August, 2017 - 11:42
It is common knowledge that Ukraine and Canada maintain special and friendly relations based on the presence of about a million-strong Ukrainian diaspora in the country of the maple leaf. It is therefore no accident that The Day invited Roman WASCHUK, Canada's Ambassador to Ukraine, who also has Ukrainian roots, for a second time to deliver a lecture to students of the Summer School of Journalism. The students wanted to hear from the diplomat a first-hand account of the Canadian government's sanctions policy towards Russia which illegally annexed Crimea and continues its aggression in eastern Ukraine, as well as about what kind of military aid Canada is rendering and when our country can receive Canadian weapons.
ON DIFFERENT ASPECTS OF THE ATTITUDE TO THE UKRAINIAN DIASPORA IN CANADA
Karina KHACHATARIAN, Sumy State University: "This year marks the 150th anniversary of Canada. Past year Canada marked the 125th anniversary of the settlement of Ukrainians. Many Ukrainian Canadians have carved out successful careers, but they are not much known in Ukraine. How can this be changed and do Canadians appreciate the contribution of Ukrainians to the building of Canada?"
Roman WASCHUK: "You can, as journalists, especially in a newspaper like Den, help in this matter. It is sometimes natural that the life of its diaspora is not a matter of deep concern to the parent country unless a necessity arises. This has become necessary in the past few years, so interest has grown. Obviously, there is, to some extent, a natural attitude to these people as to exotic persons. Most of them are people who left Ukraine, differ linguistically, speak archaically, or belong to a culture with a language barrier. So there are different factors here. As we have seen, every new wave of emigration considers itself as the only right one and all those who had come before it as a little wrong one. And it is almost a rule in the history of any diaspora. Undoubtedly, many people of Ukrainian origin have contributed to the development of Canada, and there are also Jews and representatives of other ethnicities among the Ukrainians who left the Ukrainian lands. Some of them research the niche sectors, some work at the social networking sites that focus on Canadian-Ukrainian hockey players and spotlight their past from 1916-17 until the present day. There must be people who wrote the history of Ukrainian settlements in Canada. There are such websites as diasporiana.org.ua. It comprises considerable information not only on Canada, but also on all kinds of publications that have ever come out in our country. So there are resources, but we need the people who could put this information across to the people of today in a lively and present-day manner."
"THE FTA AGREEMENT HAS BOOSTED INTEREST IN THE CANADIAN-UKRAINIAN TRADE AND INVESTMENT RELATIONS"
"Mr. Ambassador, what benefits do you think the two countries can derive from the ratified Free Trade Area Agreement that is to come into force on August 1?"
R.W.: "I think the signed FTA agreement has already boosted interest in the Canadian-Ukrainian trade and investment relations even before it has come into force. According to the January-May statistics, the growth was rather modest – 5.3 percent before the FTA agreement takes effect. Therefore, the rules have not yet changed, but, at the same time, we can see a wider range of Ukrainian exports. Almost a half of the Top 25 products had no equivalents past year. This means that new Canadian firms, including Gold Card ones, are entering the market.
"In the first five months of this year, Canadian export rose by 8 percent against the same period of the past year. But this occurs not only owing to the Canada's business activity. What also contributed to this were deliveries of coking coal, which accounts for about half the Canadian export to Ukraine, and this is not linked with the Donbas blockade and Ukraine's need to find a substitute supplier. For our program, we have a separate project of Ukrainian export to Canada, a few priority sectors, such as the textile and confectionary industries (without influence of any Ukrainian officials). Taking into account the import trends of the Canadian market and the Ukrainian market's equivalents, this could also include the IT sector and furniture."
Anastasia KHAZOVA, Lesia Ukrainka Eastern European National University: "Past April Ukraine and Canada signed a treaty on cooperation in the defense sector. But this treaty does not allow Ukraine to purchase weapons in Canada. What is then the use of this treaty for Ukraine and when can we expect our country to be put on the Automatic Firearms Country Control List – the list of the countries that are allowed to buy weapons in Canada?"
R.W.: "This document is in fact a precondition for putting Ukraine on this list. The administrative process is already underway, and I hope it will finish by the end of the year. So far, it is not directly applicable to the defense sector."
Maria ORYSHCHYNA, National University of Ostroh Academy, Lviv National Ivan Franko University: "Canada has the most limited business relations with Russia. Can it become the first country to supply weapons to Ukraine?"
R.W.: "Of course, Ukraine is under no weapons embargo. As for non-lethal items, we have supplied a lot of them. I really think there is a potential of intense cooperation in the military-technological field. In my view, it will be clear in the next few months how exactly it will be developing."
"WE ARE TRYING TO MEET THE NEEDS OF THE ARMED FORCES OF UKRAINE"
Khrystyna SHKRIABINA, Odesa Ilia Mechnikov National University: "Canada has been successfully training Ukrainian soldiers at the Yavoriv Proving Ground for several years in a row. This year Canada extended the UNIFIER mission until the end of March 2019. Could you say more in detail about this mission and the plans of this cooperation for the near future?"
R.W.: "Incidentally, Lt.-Gen. Paul Wynnyk, the Commander of the Canadian Army, is arriving in Ukraine tomorrow [the meeting with students took place on July 12, 2017 – Ed.]. He will be assessing the further progress of our initiative. Continuing the UNIFIER mission, we received an opportunity to work in Ukraine more flexibly without too many geographical limitations. The Canadian military are already taking part in the noncommissioned officers' exercise at the Desna proving ground near Kyiv. So we are trying to meet the needs of the Armed Forces of Ukraine. At the same time, Canada participates in the Defense Reform Advisory Board (DRAB), an advisory body that tackles the defense reform problem.
"We carry out trainings at the tactical level and have a headquarters advisor at the strategic level. For this reason, we are trying to coordinate one with the other, for if we go on training individual platoons, etc., endlessly at a tactical level, this will not fit in with a changed concept of the armed forces at a more operational level and, after all, a strategy that binds it all together, and this training will produce no lasting results. We are trying to switch from the first stage – 'one on one' training (when one Canadian teaches one Ukrainian how to run, shoot, hide, and attack) – to more complicated stages. So we will not only instruct noncommissioned officers, but will also help draw up a program that will clearly define the role of sergeants. These are our plans for the next two years."
Oleksandr SAVCHENKO, Senior Lieutenant in the Armed Forces of Ukraine: "When Canada's current Minister of Foreign Affairs, Chrystia Freeland, was in opposition, she insisted that sanctions be imposed against Putin's close friends, oligarchs Igor Sechin and Vladimir Yakunin. The two persons are still not subject to Canadian sanctions. What hinders imposing sanctions against these sponsors of the war against Ukraine?"
R.W.: "I don't know the details of this decision. I know that the Canadian Parliament's Senate has already held hearings and the House of Commons is voting on the Canadian 'Magnitsky Law.' It will allow us to impose sanctions pointedly in the case of human rights abuse. And as for these two instances, I have no information."
"WE SHOULD PONDER ON HOW TO ALTER THE RESTRAINING AND ENCOURAGING FACTORS FOR RUSSIA"
Anton SESTRITSYN, Carleton University, Ottawa, Canada: "During the latest federal elections in Canada, all major parties were toying with idea of disconnecting Russia from the SWIFT payment system. This step would considerably damage the Russian economy and perhaps force Putin to go away from Crimea and the Donbas. Is Canada still working on this question? To what extent is it realistic and do you think this would be an effective step?"
R.W.: "In general, if it is about the strategic situation of Ukraine and the processes that unfurl around it, we should ponder on how to alter the restraining and encouraging factors for various players, including Russia. We are thinking about when and how these means can be applied. This obviously depends not only on Canada, but also on other partners. Indeed, it also depends on the behavior of Russia – whether or not it will be escalating the conflict. But, undoubtedly, the question of encouraging and restraining and of which methods are the best for this is part of our dialog with partners."
Vitalii KUDYRKO, Lviv National Ivan Franko University: "Past year the Canadian Association of Crimean Tatars urged the Canadian Parliament to recognize the 1944 deportation of Crimean Tatars an act of genocide, as Ukraine did. The governmental majority voted against this bill in the second reading. Why did Canada, one of the first Western countries to recognize independent Ukraine, not want to formally accept this historical fact?"
R.W.: "The politics of historical memory is a complicated politics, you know. I think the then vision of a likely evolution of the situation played a role here – maybe, the intention was not to aggravate the question, taking into account the way the Canadian version of the 'Magnitsky Law' was being put through. These factors are playing a lesser role this year. I do not rule out that this issue will come back some time later, but it is not on the agenda at the moment."
"WE ARE ALREADY EXPLORING THE POSSIBILITY OF A VISA DIALOG"
Liubov RYBALKO, Odesa Ilia Mechnikov National University: "The European Union recently waived visa treatment for Ukraine. When will Canada do the same, taking into account that about a million ethnic Ukrainians is living there?"
R.W.: "We do not wish two or three million Ukrainians to live in Canada suddenly… I'm joking. We should watch the impact of the European visa waiver on migration processes or, in other words, on the migration aspirations of Ukrainians. Canada has a very specific domestic legislation – it is rather liberal. Some too gifted creative people may take advantage of it and settle perfectly in Canada for one, two, or even three years. Compared to the liberal domestic law, our foreign visa policy is stricter than in many other countries. Nor is there in Canada a compulsory domicile registration or any other procedures to monitor who resides where. There is migration control at entry, not at exit. Besides, we are canceling visas for your Rumanian and Bulgarian neighbors this year. And we will be watching Ukraine's migration processes.
"I would add that we also have some intermediate stages to be passed. We are already exploring, to some extent, the possibility of a visa dialog. But no one knows by what criteria and for what period of time visas will be issued. Incidentally, we have already extended the standard validity of visas almost to the validity period of the Ukrainian passport – up to 10 years.
"Together with Australia, Canada is one of the few countries, where the majority of the population supports immigration. One of the reasons of this is the people's belief that the government keeps entry to Canada under control. We can make it easier, step by step, for Ukrainians to enter Canada, but I don't think so far that visas will be waived in a big bang style in the next few years."
"WE SHOULD OPEN BILATERAL STUDENT EXCHANGE OPPORTUNITIES"
Bohdana KAPITSA, National University of Ostroh Academy: "There were a lot of student exchange programs with Canada before the Revolution of Dignity. There are no new programs of this level. What do you think caused this process? What kind of exchanges can Canada offer soon to Ukrainian students?"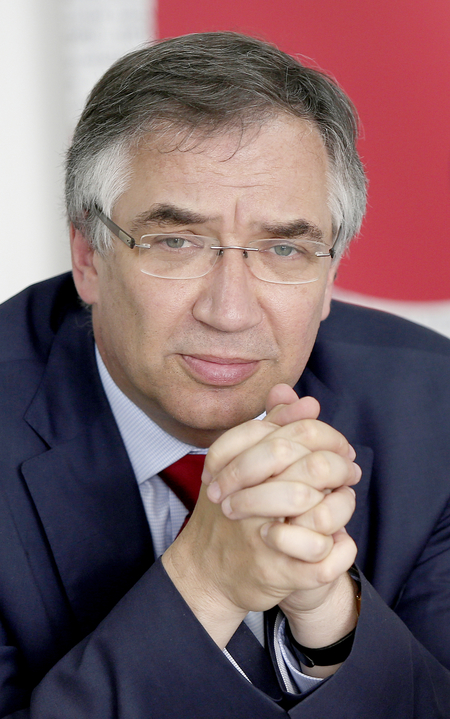 R.W.: "Let me remind you that there was recently an interstate program, International Experience Canada. Very few from this category of participants came back to Ukraine. So we had to revise approaches to these programs and try to introduce bilateral equivalence. For example, we offered a program like this, but the Ukrainians said they had no applicable law which would allow Canadians to work in Ukraine. We should open bilateral student exchange opportunities.
"As for university programs, they, in particular the one at the Ostroh Academy, were first cut short in the period of 'turbulence' and then were not restored out of fear. If Canadian universities receive an invitation to send their students to Ostroh or Kyiv, we will be glad to do so and maintain friendly relations. It is possible here to get directly in touch with universities in Canada, but if it is a question of lobbying in Canada, this is usually done on the provincial, rather than federal, level because our universities are self-sufficient and make decisions on their own. What also matters here is the educational attitude, including that of the Ukrainian Embassy in Canada. Universities should request the ambassador to turn to university presidents and encourage them to make this kind of exchanges."
"AN IMPERIAL AND STALINIST NARRATIVE PREVAILS IN RUSSIA NOW"
Mykola SIRUK, newspaper Den: "Mr. Ambassador, your country once fought for independence against the US. Many experts used to advise Ukraine to take Canada's relations with America as a model for its relations with Russia. But, as you can see, now that Russia has annexed Crimea and committed aggression in eastern Ukraine, this country has to fight against the big neighbor to restore territorial integrity. What do you think Ukraine could draw from Canadian experience?"
R.W.: "We waged an armed struggle against the US, when Canada was still a colony of the British Empire and had a counter-empire behind itself. But you belong to no empire. I don't know if you have any desire. So this option won't work.
"I am not so 'ancient,' but I still remember the years of perestroika. I stayed in Moscow in 1988-91. It was a time of moral insight. Very many things surfaced, and the then leading intellectuals were busy telling the truth about Stalinism and imperialism. But history is not linear. It does not necessarily march triumphantly to a certain goal. And the counter-reaction in this case was that this truth-telling was accompanied with the shortage of toothpaste and soap and total impoverishment.
"An imperial and Stalinist narrative prevails now in Russia to some extent, although we did not think at the time that leaders would be extolled so much again. But this occurred at least in the brains of many Russians. It is not something genetic or acquired – everything depends on the circumstances the people live under."
"NO COUNTRY SHOULD ARTIFICIALLY COPY ANY POLICIES OF ANOTHER"
M.S.: "Many have cited as an example the Canadian experience of bilingualism to prove the necessity of introducing Russian as second official language in Ukraine. What do you think of this after staying in this country for three years?"
R.W.: "No country should artificially copy any, including linguistic, policies of another. Canada has the province of Quebec, where the language law is the closest to that of Ukraine. They are trying to keep the Francophone space intact in spite of the intense pressure of another dominant language – English – from outside.
"Still, Ukraine is adopting some of our practices – for example, music quotas on television. We do it not so much on the language basis as on the basis of the country that makes the product. Forty years ago we introduced quotas of the Canadian content on the radio and television. This caused laughter at first. We were told we wouldn't make it because we would have to run off the same three Canadians all the time. But this quota-setting helped to establish later a well-ramified industry which is winning top places in the world. I think the experience of the first step in fixing music quotas in Ukraine shows that it works and produces positive results. This also applies to supporting book publication. Here, too, Ukraine has adopted some of our methods.
"I'd like to say the following in conclusion. The Canadian government's goal is to help the indigenous peoples of Canada. It is an over 1 million-strong American Indian community. Almost 3 million of our compatriots are indigenous people that comprise American Indians, Eskimos, and mestizos of mixed – aboriginal and Francophone – ancestry. It is rather difficult to help them shape their social role after they have been on the margins of society for centuries. And our successes and, more often, failures make me a little more modest in lecturing the Ukrainians that you can resolve any social problem in a year or two if only you draw up a right project, put up posters somewhere, and hold a few seminars. As far as our indigenous population is concerned, we are taking a test of conscience, thinking about how it is better for them to resolve the current and future problems. Sometimes, when you live in this milieu, it seems to you that there is nothing new here, but when you travel across Ukraine, you recall the things which Ukrainians do not know but which are like 'Our Father' to Canadians, especially when they belong to the Ukrainian community."