Eerie reality through satire to be seen at "1917-2017" cartoon exhibit
6 April, 2017 - 11:14
The Bolshevist revolt of 1917 and its interpretations through decades can be revisited at the exposition of some 90 sketches at the House of Architects (Kyiv). Importantly, the exhibit includes works by Den/The Day's author Anatolii Kazansky, who died in 1998. The topicality of his cartoons (which The Day's readers regularly see on our pages) is an evidence of his talent and the gift of foreseeing. The exhibit "1917-2017" is organized by Arkhihum, a Kyiv-based club of cartoonists, founded in 1983.
"This year will see the centennial of the Bolshevik revolt. We could not let this date go by unnoticed. It would be curious to see what cartoonists drew back then, how they responded to the revolt," shares Viktor Kudin, chairman of the club. Besides a number of age-old works, a great part of the exposition is made up of cartoons by other Arkhihum members, in particular, Yurii Kosobukin, Ihor Lukianchenko, Volodymyr Kazanevskyi, and Kudin himself. It also includes drawings by honorary member of the club, renowned Russian cartoonist Mikhail Zlatkovsky.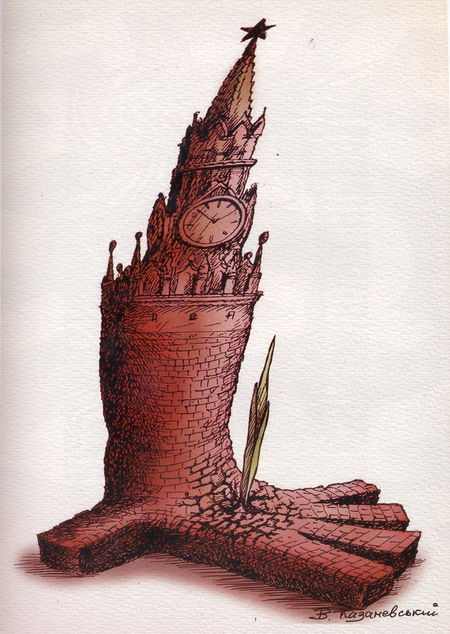 Cartoon by Volodymyr KAZANEVSKYI
The oldest works on the exposition date back to October-December 1917. "The coolest and most voluminous response to the revolt was offered by Novy Satirikon magazine," shares Kudin. "The cover of its issue No. 44 of December 1917, which was to become the last but one, carried the phrase, 'Satirikon thanks Bolsheviks for…' Each following page explained what exactly it was grateful for. For instance, 'having nipped in the bud all speculations with paper by closing down all newspapers.' Or they thanked the Bolsheviks for making art accessible to the common people, next to a drawing showing everyone selling their boot (paintings, sculptures etc.) at a market. This one is super cool: Bolsheviks Were Able to Show the Good Russian People the Way, featuring a highwayman all set to rob travelers. Since January 1918 there were no publications anymore, everything was closed down."
Zlatkovsky's work featuring Stalin in a hangman's hood, made of the USSR flag, leaves an eerie impression. "In 1917 cartoons reflected reality, portraying the ongoing events. Artists did not fully realize what Bolsheviks were up to, and offered very concrete response to the developments. Speaking of Mikhail's works, they are philosophical. Stalin in a hangman's hood is a bomb, the essence of the Soviet Union. And so is his each and every work. Also impressive is Anatolii Kazansky's drawing of fishermen who came across a hammer and sickle," Kudin says.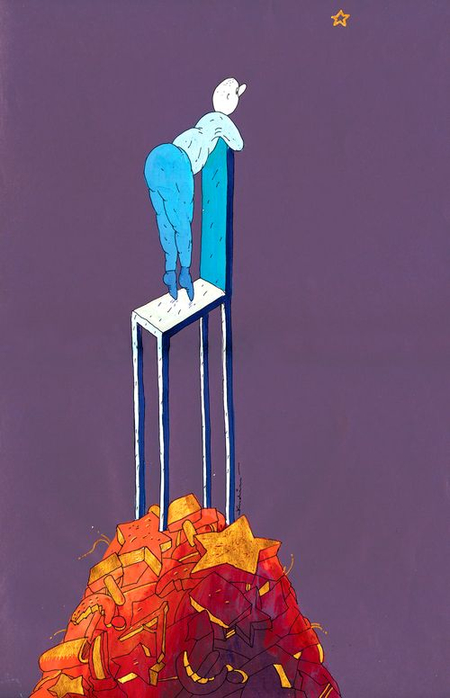 Cartoon by Viktor KUDIN
The idea of the exhibition was prompted by an artist from Portugal, who wrote in a letter that he would like to exhibit cartoons preceding and following 1917. "His aim was to show how the people's dream of a beautiful life was frustrated. I wrote back that it was something absolutely different," continues Kudin. "They think it is some sort of romance. As if some visionaries gathered to create the Soviet Union and build a beautiful future, but they failed. Now they slaughtered ten million people, then something else of the kind. Some still have those delusions. That is why I wanted to show a somewhat tough exhibit revealing Bolsheviks' true essence. The Soviet Union had no business building some bright future. There only was a hard-handed party dictatorship. That party called itself communist and socialist but was a far cry from both. The Bolshevik revolt is a counterrevolution, it was an anti-revolution. The revolution took place in February 1917, when autocracy was toppled and all citizens received equal voting rights."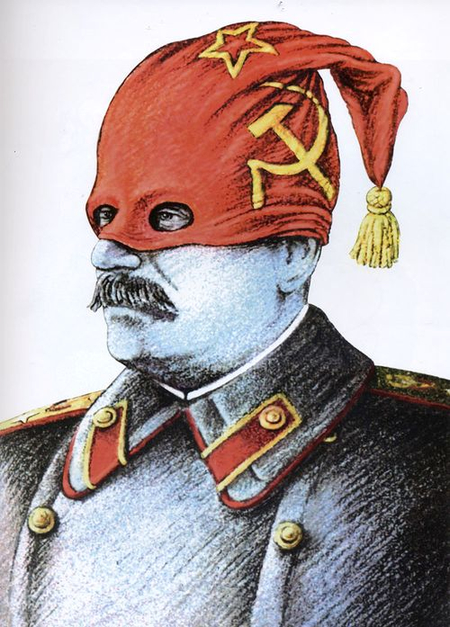 Cartoon by Mikhail ZLATKOVSKY
For the artists themselves it is also important to interpret the Soviet epoch. "When someone lives in a certain environment, he cannot see the situation objectively. And we, born in the Soviet Union where we lived a great deal of our lives, probably have not completely understand where we used to live," muses Kudin. "I would like to hold this exhibition to make people realize where they used to live."
The cartoon exhibition "1917-2017" is open at the House of Architects through April 23.