Olha KHARLAN: "We are also fighting for this country, just like our soldiers in the east, only in sports..."
22 August, 2017 - 15:20
What happened in the Olympic House on August 17 was a very special award ceremony for the best athlete of the month, because it marked the 10th such prize for the July heroine of our sport. For the 10th time, the award for the best athlete of the month was presented by president of the National Olympic Committee (NOC) Serhii Bubka to Olympic champion of Beijing-2008, bronze medalist of London-2012, two-time champion of Rio-2016 fencer Olha Kharlan. For this special occasion, the NOC commissioned a figurine of exclusive design which features nine small images of the best athlete of the month figurines with the dates of awards. According to Bubka, Kharlan earned this high distinction through achieving yet another triumph at the World Cup competition which took place in the German city of Leipzig. Despite having just recovered from an injury, she once again proved in the individual event that she was still the best in the world.
"For us, this is a unique case when a strong athlete, a Ukrainian, having achieved outstanding results in fencing, has been able to stay on the top even after an injury. Kharlan is an Olympic champion, a silver medalist of the Olympic Games, a two-time Olympic bronze medalist, five-time world champion, and seven-time European champion – she is simply a unique athlete who has just become the best athlete of the month for the 10th time," Bubka commented, "and we wish her only further victories as she sets her sights on the Tokyo Games of 2020."
In addition to the diploma, figurine, and monetary bonus from the NOC, Kharlan received an exclusive gift from Den as well – a copy of the book My Sister, Sofia... and our promotion T-shirt inscribed "Fine Girls Read Den."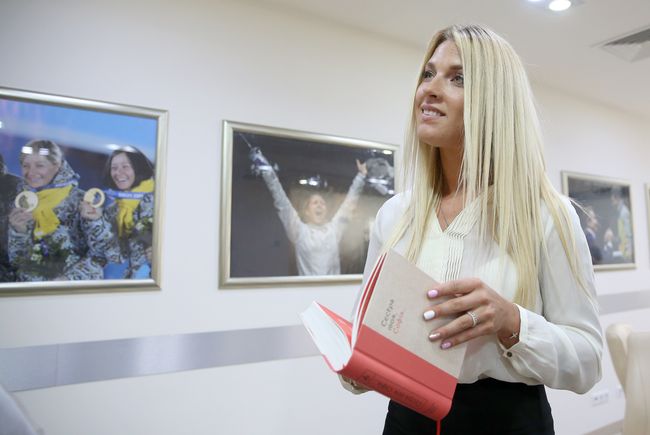 "It is an incredibly cool T-shirt! Really, it is of a very nice design. Well, this obliges me to read both Den and your books," Kharlan commented. "Knowledge of our history, understanding of what country you compete for – these things really incredibly motivate. You know, it happens that having achieved some serious results, it becomes very difficult for an athlete to find the motivation to keep fighting. There are cases when outstanding athletes go down after the first Olympic medal, as they do not see the point of it all anymore, cannot psychologically prepare for the next fight. I am not like this. I can always find a motivation in my life, in myself, because I constantly want to achieve more, for example, to become a two-time Olympic champion, and then a three-time one... I find motivation in my family, who are pleased with my victories, and certainly in the eyes of Ukrainians who support me. In the difficult time which this country is going through, we all lack success stories, but Ukraine is very strong, and it will definitely win in the end. This is proved by our athletes too. Our anthem should be heard more often, our flag should rise higher... It is very important for me that our soldiers in the east support me and our team. They do actually watch sports. I do not know how they manage to do it as they think about their country, about their families, about their lives, but they write me that they find comfort by supporting us. This, too, motivates us and brings tears to our eyes. It is very important for us. We care about them. It is clear that until one has gone to the east oneself, one will not understand the whole tragedy of the situation. Still, everyone should do one's professional work and bring the nation's victory closer through one's achievements. We athletes are trying to keep their morale up through our medals and emotions. We are also fighting for Ukraine, only in sports."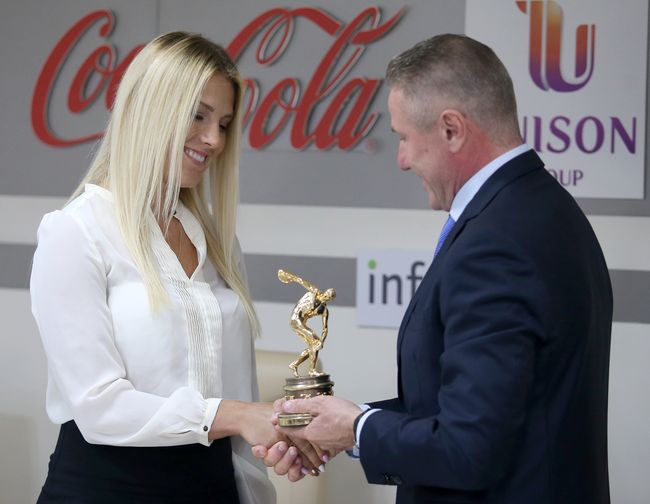 How is she preparing for the next competition and why is she constantly thinking about the Games of 2020? What motivates her to self-improve further? Why is she interested in history and taking an intensive English course? How did she experience the occupation of Crimea and what do her fans, including soldiers serving in the east, say on Facebook? All these questions will be answered in an exclusive interview with the prominent athlete Kharlan, which is forthcoming in The Day.