A 25-year-old conscript National Guardsman died in Kyiv during the protest rally against amending the Constitution, held outside the Verkhovna Rada building on August 31
1 September, 2015 - 11:11
Verkhovna Rada has agreed upon the first reading of the amendments to the Constitution in order to decentralize the power. Overall 265 deputies out of 368 present voted for, 87 – against, 5 – abstained, 11 – did not vote. The parliamentarians in the voting hall had to literally pull through the law, because the presidium had been blocked since the morning by members of Oleh Liashko's Radical Party. Later, Petro Poroshenko Bloc representatives had surrounded the tribune so that the Speaker of Parliament was able to officially open the meeting. The commotion of MPs near the presidium and the tribune had continued during the discussion over the bill, some of the deputies had been chanting "Shame!" The overall voting breakdown is as follows: Petro Poroshenko Bloc gave 115 votes for the amendments, People's Front – 69, Opposition Bloc – 38, non-aligned deputies – 13, Self Reliance – 5, Renaissance group – 11, People's Will group – 14, Radical Party – 0, and Motherland – 0.
Viktor SHYSHKIN, Associate Justice of the Constitutional Court of Ukraine (Retired):
"Today's vote posed no danger to the nation, for it was not the final vote. We will get in trouble should this bill pass the final reading with 300 votes. These amendments will become part and parcel of the Constitution then. One should parse it out in minute detail. First, I know nothing about the Minsk Accords, which allegedly oblige us to amend the Constitution of Ukraine. For me, there is only the Constitution itself. Its Article 9 reads: 'International treaties that are in force, agreed to be binding by the Verkhovna Rada of Ukraine, are part of the national legislation of Ukraine.' I ask those pointing out again and again to the Minsk-2 conditions: have they seen a law on the ratification of the Minsk-2 Accords? No? In this case, I rate the Minsk-2 Accords with toilet paper. As for the amendments they are now trying to force through the Verkhovna Rada, we forget that despite all these philological exercises maintaining that there is no danger to the nation in these amendments, I do see such danger. The transitional provision No. 18 calls for a special regime of local government. While agreeing that this text does not mention any special status, it does provide, I repeat, for a special regime of local government. No wrapper will make this past due bitter candy into something else.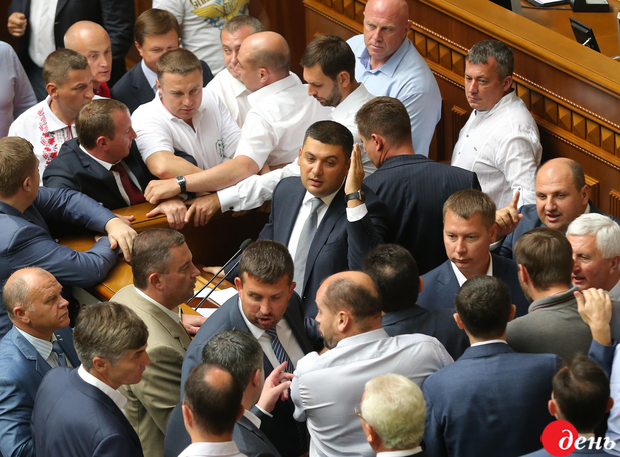 AUGUST 31, 2015. VERKHOVNA RADA / Photo by Artem SLIPACHUK, The Day
"By their legal nature, transitional provisions are temporary and momentary. That is, as soon as the need that caused it vanishes, the essence of the transitional provision in question goes away as well. Such provisions specify either expiry date or an event making a provision expire. In this case, when we discuss a special regime of local government in some districts of Donetsk and Luhansk regions, I do not know when these transitional provisions will expire. Will it occur in 10, 20, 100 or 1,000 years? On the other hand, I do not see any event specified there either. Should we pass all these amendments as a whole, we will agree with all the ultimatums put forward by the terrorists. The question will arise, then: why are our boys dying there? I will not analyze decentralization itself, but the transitional provision No. 18 is disastrous and represents a threat to the very existence of the Ukrainian state. If anyone doubts whether we are living under martial law conditions which legally prevent any amendments to the Constitution, they shall go to the House of Officers and look at portraits of our fallen soldiers."
Refat CHUBAROV, head of the Mejlis of the Crimean Tatar People:
"I voted for the bill after having read it all, and I personally do not see the proposed amendments to the Constitution as posing any danger to Ukraine's sovereignty. The text of the Constitution can be interpreted in many ways and provides a fertile ground for political games. Considering my experience and understanding of what happened in Crimea, I would never have voted for a special status for Donetsk and Luhansk. No such status is provided for by the amendments on offer."
Ihor KONONENKO, deputy leader of the Petro Poroshenko Bloc's faction in the parliament:
"Oleh Liashko promised non-interference with the Rada's proceedings. On entering the meeting room, he changed his mind. In my opinion, it is nothing more than political blackmail of the Verkhovna Rada, associated primarily with the local elections. Liashko believes that such actions will benefit his party at the polls. Neither Liashko, nor anyone else were offered anything for supporting the bill. The position of the president is clear: there will be no horse-trading on such fundamental issues as the key amendments to the Constitution. The president personally met with the MPs, stated his reasons for introducing the bill, tried to clarify his points and explain his stance. In my opinion, he did his best in order to convince the MPs to vote for the amendments to the Constitution. Some members of our faction changed their stances after such conversations. Some did not. Voters will make their assessments of the MPs' actions after seeing the vote results on the scoreboard."