President of Ukraine Petro Poroshenko and President of Turkey Recep Tayyip Erdogan met in Kyiv
10 October, 2017 - 11:51
The sixth meeting of the Ukraine-Turkey High-Level Strategic Council was held in Kyiv yesterday, presided over by Petro Poroshenko and Recep Tayyip Erdogan, who arrived with a one-day visit to this country. By the way, the third meeting of the Strategic Council was also held on October 9, but in Ankara in 2013, and in a strange coincidence, the 9th day, but in March 2016, saw the fifth meeting of the Strategic Council, which also took place in Ankara during President Poroshenko's visit to Turkey.
During the sixth meeting of the abovementioned body, the presidents discussed ways to deepen bilateral cooperation in all strategic directions, as well as issues related to safeguarding international peace and regional security. Just as expected, a number of bilateral agreements were signed following the discussions which would help deepen the partnership between the two countries.
On the eve of the Turkish leader's visit to Kyiv, Ambassador of Ukraine to Turkey Andrii Sybiha noted in an interview with the Anadolu news agency that in 2016, the political dialog between Ankara and Kyiv had reached a new level. According to him, there were visits by heads of government, parliaments and so on. In addition, Turkey officially allowed Ukrainian citizen ID card holders to enter its territory with internal IDs only and without visas.
The ambassador also noted that the economic ties between the two countries had also seen positive changes in recent years. In particular, since the beginning of the current year, the volume of trade between the two countries has increased by 16 percent to more than two billion dollars. Earlier, the Turkish president announced his intention to bring the volume of trade with Ukraine to 20 billion dollars by 2023.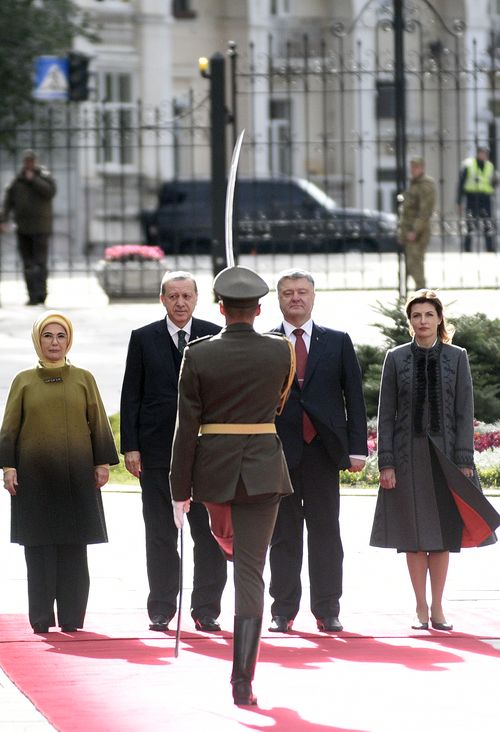 Turkey is among the Top 10 foreign investment sources for the Ukrainian economy (the accumulated investments amount to 303 million dollars). At the same time, up to 600 companies with Ukrainian capital operate in Turkey.
The ambassador of Ukraine expressed his conviction that there was an untapped potential in our economic relations with Turkey, and it was necessary to conclude a free trade agreement to realize it fully.
"IT IS IMPORTANT THAT THE MEETING OF THE STRATEGIC COUNCIL FINALLY HAPPENED..."
Maryna VOROTNIUK, an expert of the Ukrainian Prism Council of Foreign Policy, faculty member of Comenius University in Bratislava:
"The visit of the Turkish president took place within the framework of the annual meeting of the so-called High-Level Strategic Council. It is important that it finally happened because it had been delayed time and again due to political reasons in Turkey. This regularity of top-level meetings makes it possible to make steady steps towards deepening cooperation, since each meeting involves a pre-prepared agenda, and the meeting itself must have some tangible, at least symbolic, result. Therefore, this format is very important.
"Regarding the Russian factor, close cooperation between Russia and Turkey will continue, and Vladimir Putin's visit to Ankara has shown that they coordinate their activities on a lot of political and security issues now, even if Russia is in no hurry to lift the remaining trade restrictions on Turkey imposed after the latest crisis in their bilateral relations. As for Ukraine, there is a formula that I would describe as 'they agreed to disagree.' Turkey does not accept complaints that it has not demonstrated sufficient solidarity with Ukraine and the West as it has continued close cooperation with Russia after the annexation of Crimea. Such rhetoric is characterized by the Turkish government as an attempt to push Turkey into isolation, while it is being the bridge between Russia and the West that is in its interests."