On the events of September 10 as a result of past mistakes
12 September, 2017 - 11:19
It was a 15-hour-long news report which should be viewed through the prism of years which the Ukrainian political class has spent trying to emerge. Arrival in Ukraine of the third president of Georgia, former head of the Odesa Oblast State Administration Mikheil Saakashvili forced his supporters and enemies, journalists and law-enforcement officers to gallop up to several border crossings at once: from Krakovets to the railway station Mostyska II, and then to Shehyni. The return of Saakashvili, who had his Ukrainian citizenship granted and subsequently taken away by President Petro Poroshenko, turned into a soap opera which everyone was able to follow online on September 10. Obviously, new episodes of that opera are coming soon.
"They break every rule," is a harsh description oft-used in Saakashvili's rhetoric. It fits best the situation that developed on the day of his arrival as well.
All started with a column of hired thugs moving towards the tent city of the Georgian's supporters in Krakovets. It continued with the authorities ordering the management of the Intercity train not to leave Przemysl until Saakashvili leaves the train. Other seven train cars, meanwhile, were crowded with passengers who were in a hurry to get to Ukraine. Then Saakashvili moved to Shehyni by bus along with his supporters. The border crossing there was immediately shut down by the border guards, who closed the border for both entrance and exit as they cited a "bomb alarm." As a result, kilometers-long car queues and lots of other inconveniences appeared. And then, Saakashvili managed to return against all odds. His supporters broke through the security forces' cordons at the border crossing and carried the politician together with his associates onto Ukrainian soil. Thus, an unprecedented breakthrough of the western section of Ukraine's state border took place on September 10. In fact, a serious crime has been committed. Who has won in this situation? It looks like the nation itself has only lost.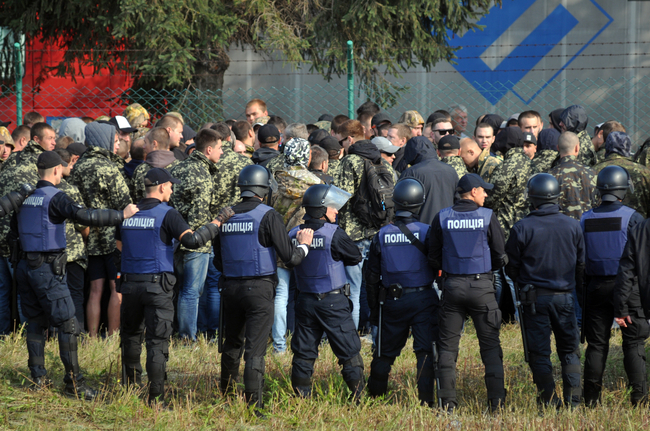 Photo by Pavlo PALAMARCHUK
However, it is impossible to analyze the events of that day without looking into their background. Otherwise, we will see it only as a political show without any meaningful context. It should be understood that rule-breaking could and should have been avoided had not the authorities started it all.
In May 2015, people were divided in their opinions regarding the invitation of the third president of Georgia to Ukraine. Some were convinced that having become head of the Odesa region, Saakashvili would demonstrate the effectiveness of reforms and put the prime ministerial portfolio within his reach. Others saw in this appointment a PR move by Poroshenko himself, who had few particularly impressive achievements during the first year of his presidency. In addition, the president willingly involved the Georgian into the internal Ukrainian political strife. Next, the latter got into misunderstandings with his 'employers' and resigned his post. Saakashvili became a political player and created his own political force, which, however, did not receive significant support at that time. The former head of the Odesa Oblast State Administration stood out only by his sharp and shattering criticism of the president.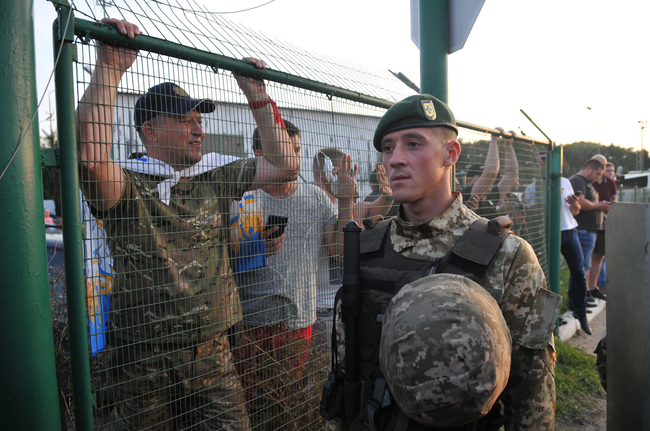 Photo by Pavlo PALAMARCHUK
Stripping Saakashvili of Ukrainian citizenship is commonly seen as one of Poroshenko's gravest mistakes. However, here it is necessary to look even deeper into the essence of the issue. It is precisely the lawlessness that outrages the public which looks on as two former friends engage into a game with no rules in front of the whole country.
"I grant citizenship when I want to, and take it away when I want to" is a false principle that discredits the state as a whole. Disrespect towards the institute of Ukrainian citizenship has been repeatedly emphasized as an issue by The Day. Troublingly, the president was able to hand out Ukrainian passports literally overnight, and then he was able to take away citizenship just as easily and also overnight.
The confrontation between Saakashvili, Poroshenko, and their supporters will continue. In Shehyni, it rose to the level of a literal hand-to-hand scuffle. In all these circumstances, it is important that we see… law and common sense becoming the only winner of this political duel. The only thing to do for the Ukrainian public is to draw conclusions which need to be rational and well-balanced.