Yurii SHCHERBAK: "It is necessary to develop a plan for international assistance to Ukraine. But for this to happen, we must help ourselves as well by creating workable conditions for it"
20 June, 2017 - 11:27
"On June 19 in Berlin, we together with Lithuanian friends and legislators will promote a support plan for Ukraine (a kind of a Marshall Plan)," chairperson of the Verkhovna Rada Committee on Foreign Affairs Hanna Hopko posted on Facebook the day before. As far back as three years ago, after the Euromaidan and the beginning of Russian aggression, this issue was already discussed in Ukraine. It was to involve a total or partial write-off of Ukraine's external debt by the West, as well as it providing substantial financial assistance. However, it was effectively absent from official communication (or at least such information was not available), and the discussion was mostly limited to the expert community.
Of course, the Marshall Plan was implemented in completely different historical circumstances. It was a program of economic assistance to Europe (about 20 countries in total) launched by the US after World War Two. In addition to economic assistance, it was aimed at countering the spread of Soviet influence and socialist ideas in Western Europe as well. "Firstly, it should be noted that the Marshall Plan was implemented after World War Two, and not during the fighting," chairman of the Committee of Economists of Ukraine Andrii Novak commented for The Day. "In addition, the Marshall Plan involved external governance, both financial and administrative. I do not think that any Ukrainian political force is ready to give up governance of the country to external partners at the moment. That is, the reality dictates that we must first end the war. It is unlikely that anyone will want to finance a country that is at war. So we need a plan of de-occupation of the Donbas and Crimea, a plan to end the war, and only then we can talk about some economic plans."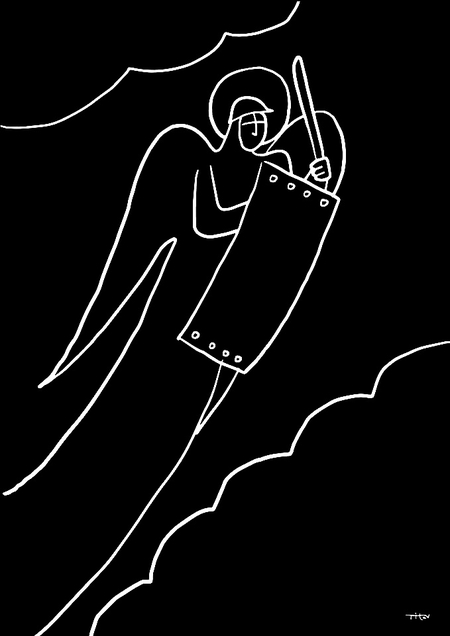 Drawing by Nikita TITOV
"Repeating the Marshall Plan is impossible," political writer and diplomat Yurii Shcherbak also stresses in his comment for The Day. "The Marshall Plan was an absolutely unique project for a Europe destroyed by Nazi Germany. The Soviet Union refused to take part in it, while Europe rebuilt its scientific and technological potential. Americans, whose country had been developing during World War Two, used the plan, in particular, to train managers from Europe."
Yes, today's reality is very different, and it is wrong to talk about replaying the Marshall Plan as it was implemented in the mid-20th century in today's Ukraine. But the idea itself, that of donating aid to a country that has stopped the Russian aggression and protects Europe from the Kremlin's western advance, is right. "It is necessary to develop a plan for international assistance to Ukraine," Shcherbak said. "But for this to happen, we must help ourselves as well by creating investment-friendly conditions, stopping robbing investors, ensuring fairness in law-enforcement agencies and courts, etc. If officials continue to extort bribes from investors, nothing will come of such plans. Western investors request normal rules. Therefore, I am convinced that Ukraine needs help, but in the right context, and especially of the technological kind. While at it, Ukraine itself should determine priority areas and avoid turning into a mere commodity exporter. In addition, we should develop new NATO standard-compliant armaments."
Ukraine is already cooperating closely with the West. Having finally achieved visa-free travel and fully operational Association Agreement with the EU, it engages in close cooperation in the military sphere with NATO, but as for financial assistance, it is provided as loans (primarily from the IMF) which Ukraine will need to repay. Of course, the West's sanctions against Russia can be seen as a kind of assistance as well (incidentally, the EU Council extended until June 23, 2018 sanctions against occupied Crimea and Sevastopol just yesterday, on June 19), but in this case it is not really about helping Ukraine, but rather about the image and the standing of the West itself. The lack of concrete steps would have increased the Kremlin's audacity and showed the US and the EU to be weak.
"Western assistance for Ukraine can come in different forms," commented Minister of Economy of Ukraine (1992), head of the State Property Fund (1997-98), MP of the 2nd, 5th, and 6th convocations of the Verkhovna Rada Volodymyr Lanovyi. "But when it comes to material resources, it is necessary to understand their destinations and usability. The Marshall Plan at the time was intended to restore the vital infrastructure facilities and systems that had been destroyed in Europe. It was about plants, roads, utilities, and so on. Even grain, coal, and ore were brought by the US to Europe on credit. How can Ukraine benefit from a similar plan? First of all, it can do so in rebuilding war-damaged facilities. All other factors related to material supplies do not require such a plan, in my opinion. We need modern, well-calculated projects for such investments. The question here is not the amount of money, but how it is to be used. I think it has not yet been realized on our side. So do not think that as soon as money comes, the recovery work will start. We need active work, not passive wait for some temporary preferences."