What Den's 19th International Photo Exhibition impressed its first visitors with?
31 October, 2017 - 11:44
Hundreds visited the opening ceremony, and thousands came there during its first three days. Despite the depressing weather dominated by rain and icy wind, people keep coming to the Lavra Gallery in Kyiv to see the 350 best photos of Den's 19th International Photo Exhibition. There, they are recharged with emotions and inspiration that help to overcome distemper and fatigue.
Let us recall that this year, the theme of the exhibition is Photo-Synthesis. We present a fresh look at this country's life, including the pain and hardship that people overcome thanks to the strength of their spirit. When you see the subjects of the photos who love, help others, play sports, just rejoice in life despite weakness, poverty and sickness, you want to get over depression and sadness and create a healthy country along with them.
According to Larysa Ivshyna, the editor-in-chief of Den/The Day, our Photo-Synthesis helps to fight the "societal avitaminosis," generates joy and energy. "Paradoxically, it is precisely at this photo exhibition that the most tragic fragments of it are perhaps the most optimistic ones as well since they show people overcoming extreme challenges and deep suffering. This is where one can find the mighty 'vitamin' to strengthen national immunity," Ivshyna stressed.
Overall, 243 participants submitted 3,500 photos. Only a tenth of them got to be displayed. Who became the winner? Traditionally, the main prizes of the competition do not go to merely professional and meaningful works, but rather to those that also call for the development of society.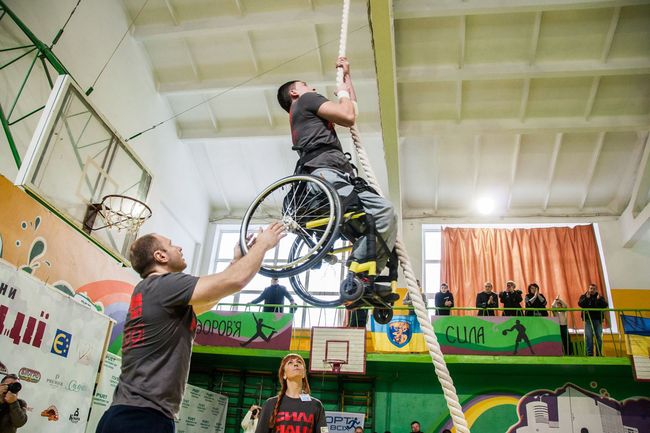 AN EXTRAORDINARY EFFORT / Photo by Anna CHAPALA
The Grand Prix went to Anna Chapala from Poltava for her work An Extraordinary Effort. The picture was taken at the Power of the Nation competition, which had disabled soldiers as its participants. Chapala's photo shows Captain Dmytro Medvid, the Ukrainian Armed Forces, climbing up the rope. "These are the extraordinary efforts made by our soldiers who show us that no matter how hard it is, we must rise and fight for independence," said chairman of the Agrarian Party of Ukraine Vitalii Skotsyk, who presented the award which amounted to 25,000 hryvnias.
"When I saw these soldiers, I had no words, only emotions. I am profoundly thankful to our defenders for enjoying at least a relative peace. One understands that Ukraine will definitely win. I want everyone to remember how high is the price being paid for our peace," Chapala emphasized herself.
So, although this year has failed to bring the war with Russia to an end, although Ukrainians face new challenges both in their everyday lives and globally, we do not despair and gradually move forward. Yes, in order to develop, extraordinary efforts must be made, but there is no other way out if we want to overcome internal and external chimeras, be independent and successful.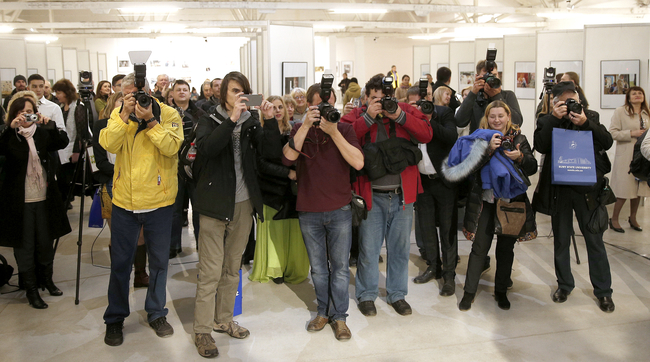 Photo by Ruslan KANIUKA, The Day
Meanwhile, the Golden Den Prize of Prizes was awarded to the dreamlike and at the same time sad photo An IDP Fairy, taken by Oleksandr Khomenko (read an interview with him on page 6). "This photo portrays an internally displaced girl from Luhansk oblast who now lives with her family in Odesa. Still, the child is dressed in a ballroom dress. And this is overcoming too, as people do not get used to hardship, destitution, poverty," Ivshyna shared her impressions.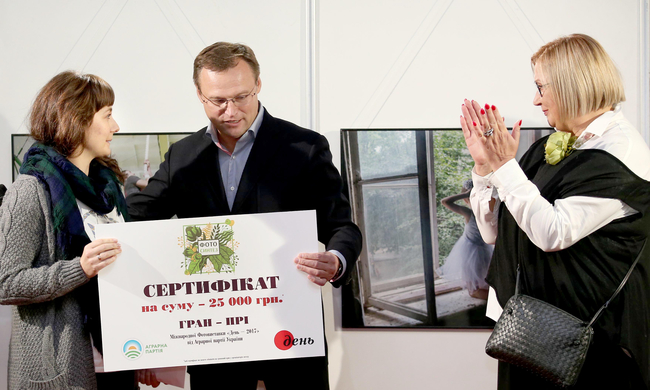 Photo by Artem SLIPACHUK, The Day
For it, Khomenko received a Paradise Branch pendant from the jewelry shop of the Kochut brothers. We also hope that after such attention was lavished on the story of Odesa IDPs, someone will come forward and support the family of the photo's subject as well as improve conditions in the house where they live at 4, Uspenska Street, because there is neither heating nor other amenities necessary for a comfortable life there.
The jury has made its choice, but each visitor of the exhibition may also vote for the most impressive photo. Fill out the form, place it in the box, and we will determine the winner of the Audience Award.
"I am convinced that everyone who sees this exhibition will have to rethink certain things," maintained Andrii Cherchenko, a photographer and participant of previous Den's exhibitions. "So, if someone is depressed – please, come here, and your depression will immediately go away!" Come to the Lavra Gallery to find out how the subjects of the displayed photos, despite the pain and hardship, build a wonderful life. And join them!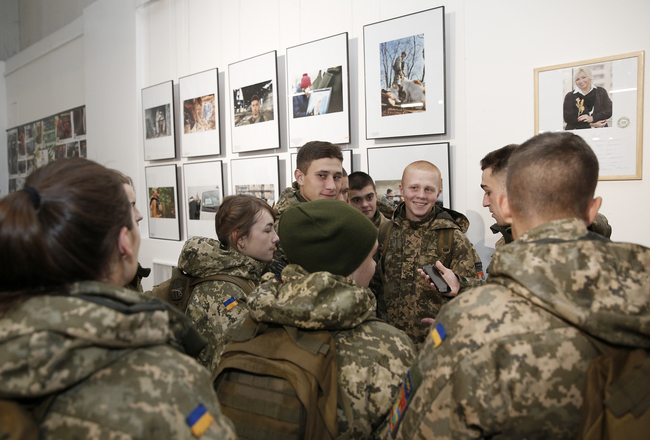 Photo by Ruslan KANIUKA, The Day
Den's Photo Exhibition will run at the capital's Lavra Gallery (1, Lavrska Street) until November 5, open from 10 a.m. to 7 p.m. Admission is free.
COMMENTARIES
Valentyn NALYVAICHENKO, former Chairman of the Security Service of Ukraine, current chairman of the Justice All-Ukrainian Political Movement:
"As usual, Den showed today a mosaic, which on the one hand demonstrates a wound, but on another, shows hope. This combination of misery and happiness, ruins, and hope for the better objectively exists in our society. People, who are injured, have lost their limbs still go on with their lives, see it as an incentive, a motivation. They do so under extremely difficult conditions, which include not only their personal tragedies, but also the tragedy that has affected the whole country. These are emotions, but they are thoughtful. The daylight is shining, although it feels at the same time that our country, too, uses crutches and is wheelchair-bound. That is why I have taken a clear and active public stance. Not everyone woke up when the day came. Not everyone has read Return to Tsarhorod, although it offers many answers to the key questions for the country. It is wake up time. And only knowledge, ability to learn, reach the depths of our history can help us. Meanings that are produced by Den point to the fairway of our future. Are all of us ready to go there? Moreover, has everyone seen it, although it seems obvious when you read Den and look at the photos of yet another photo exhibition? Seeing this fairway is the antidepressant, the stimulus that should light up the Ukrainian citizen with hope."
Serhii YERMYLOV, former Minister of Energy of Ukraine:
"Den's International Photo Exhibitions are, as always, top-quality events. They give us a real picture of the life of this country and its people, and highly artistic at that. Keep it up! And the impression is exactly the same as from our life: there is sorrow and various other unpleasant moments, and there is not that much joy. One of these joyful moments is that Ivshyna and the whole Den's team continue to create a photo-chronicle of this country, tracing all the most important and colorful moments, and do not allow the exhibition's visitors, who grow in number by the year, to relax, but motivate us to keep up the persistent work for the benefit of Ukraine."