UN: Number of internally displaced persons in Ukraine has reached 34,000. What issues should the government resolve to prevent a humanitarian disaster?
19 June, 2014 - 11:13
According to Deputy UN Secretary General for Humanitarian Affairs Valerie Amos's statement, the UN Agency for Refugees has data on 19,000 internally displaced persons (IDPs) in Ukraine, while local authorities say that another 15,000 people fled their homes in areas where the UN has no monitoring capability. The UN published data in May showing that about 10,000 people had lost their permanent homes since the beginning of the crisis in Ukraine, but then they were mostly the Crimean Tatars. Since then, the epicenter of events shifted to Donetsk and Luhansk regions. It is there that thousands are fleeing bullets and criminal actions of militants now. They have to restart their lives from scratch elsewhere: find housing, jobs, and at first even food. Numerous volunteer initiatives, foundations and the government are all involved with the IDPs' problems. The Day tried to learn how they share work, and what should be the volunteers and the government's priorities.
GETTING IDP STATUS IS THE FIRST PRIORITY
"We receive more than 40 calls an hour from people who want to leave. Should the situation fail to stabilize in the coming days, the number of applicants will increase. If the first wave of out-migrants included vulnerable sections of the population, for example, orphans, and the second wave contained those who did not want to take any risks, this wave will take people who had no such desire before," Ivan Volchok, head of the Donetsk IDP Contact Center, told us. "The main problems now are extraction of people, coordinating and gathering groups for departure. The second question is finding a place for them. While Cherkasy regional authorities are ready to take 20,000 people, and they have prepared places for them, Kyiv City says that they have almost no places for IDPs. People's desires are different, for they do not want to go to Cherkasy region but choose the capital."
Volchok said that volunteers were greatly helping these people, but the first priority for the government should be to grant an appropriate legal status to the IDPs, still absent despite being needed since the time of the Crimean crisis.
"People who leave the Donbas now are not protected by any law. No clause entitles them to any subsidies. Had they had this status, and had our territory been determined to be, for example, an area of military operations, and a humanitarian corridor put into operation, organizing people's departures would be easier. We are just beginning to organize this effort as well as establish the register of IDPs now. We have been sending to the Ministry of Emergency Situations reports on the number of calls and what issues people are having since June 16," Volchok told us.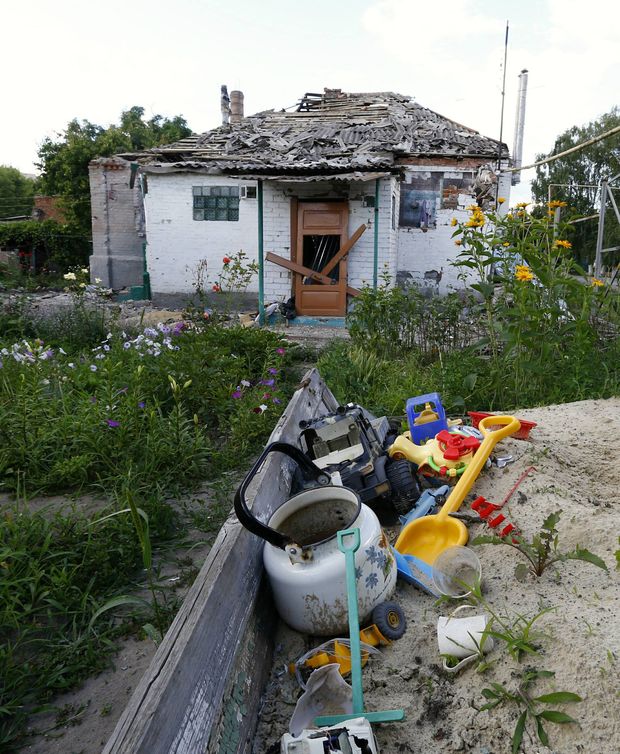 SLOVIANSK. JUNE 16, 2014 / REUTERS photo
"Another problem is the resettlement of IDPs, as the state must guarantee them housing and clearly say for how long it is provided – a month, six months, etc.," he continued. "The third point is providing IDPs with jobs. For example, authorities in Kirovohrad found housing and jobs for a group of IDPs at once, it is mostly funded by municipal budgets. However, each region has its own register of vacancies and the process of forming a database of labor openings across Ukraine has begun only recently. This should be combined with a database of people wanting to leave, so that on running the system the person was at once offered a place at a hostel and a job in a factory, for example."
In general, the IDPs tell that volunteers and caring people provide them with all necessities of life. Problems occur mainly on the bureaucratic level. For example, to be registered in employment centers one must have a passport, work record and education certificate. Most people just grabbed a passport when fleeing the hot spot... These problems can be solved only by passing the Law of Ukraine "On IDPs" in which all these details are spelled out.
WILL WE HAVE THE LAW ON IDPS ADOPTED BEFORE JUNE 23?
"First of all, it is necessary to adopt the IDP bill, that is, to put assistance on the legal footing," head of the Ukrainian Helsinki Human Rights Union, director of the Kharkiv Human Rights Group Yevhen Zakharov explained. "Our organization [the Kharkiv Human Rights Group. – Ed.] prepared the bill, we sent it to MPs, it was discussed in the office of the Verkhovna Rada Commissioner for Human Rights and the United Nations High Commissioner for Refugees, where it was well-remarked. MP Serhii Soboliev and his assistants redesigned this draft, and it has turned out pretty good."
According to Zakharov, "the Ukrainians again showed an amazing capacity for self-organization, and our volunteers virtually took over the whole burden of extracting and resettling people from the Donbas, and before that from Crimea."
"All of them work in coordination with local authorities, people are mainly placed at resorts, motels, hostels and more. It is a constant hard work of hundreds of people. Actually, it is what has been preventing a humanitarian disaster so far... The government and the volunteers here have to do everything together. The government itself would simply not cope, it is where the public should lend a hand. The former, though, has to put it all on the legal footing: to define IDPs, say what authorities are to be responsible for helping these people and so on, because it would be hard to sustain such a flow of IDPs by the volunteer effort only," Zakharov maintained.
"The clear signals of a humanitarian disaster are still absent, because IDPs are sustained via civic initiatives. However, long-term help for them cannot be provided by enthusiasts only. We are facing problems with transferring of social benefits and bank accounts. If the situation is not settled before September, there will be problems with education as well. These issues call for large-scale solutions," Taras Doroniuk, an expert on migration and institutional discrimination at the Center for Studies of Society, said. "On the steps to be taken by the state, fortunately, the Cabinet has realized the need for a long-term program to help the IDPs. The situation of displaced persons cannot be solved in a month or two. Even after the anti-terrorist operation ends, these people will need government assistance. Infrastructure in Donetsk, for example, is partially destroyed, some buildings are not suitable for habitation. These people cannot just go back and continue to live as they lived."
The bill "On Displaced Persons" will be considered at a meeting of the Verkhovna Rada Committee on Human Rights, Ethnic Minorities and Interethnic Relations. Experts do not rule out that Ukraine will finally get the law passed before June 23.