Chernihiv, Kyiv, and Lviv welcomed Donbas border guards
14 August, 2014 - 10:42
On the night of August 11, the train from Henichesk to Chernivtsi had an hour-long stop, like many other trains that pass Kyiv. However, people were waiting namely for this train. And 20 minutes before its arrival many people gathered on the platform with flowers, Ukrainian flags, national symbols of the State Frontier Service, and posters. The posters read: "Thank you, you are our heroes," "We are proud of you," and other phrases of gratitude and support. Frontier guards were going back on this train after spending several weeks encircled by terrorists in the so-called "Izvarino pocket." They broke two lines of the terrorists on the night from August 6 to 7, and joined the ATO forces.
The activists announced "positive mobilization" for meeting the frontier guards: as a result, the entire platform was crowded with people willing to greet the heroes and thank them. Besides, the servicemen received Champaign and 22 kilograms of pizza, as well as candies and children's drawings.
Anastasia Rozlutska from the initiative Euromaidan SOS said, "We prepared Ukrainian symbols: the migrants from the Donbas sewed flags and sold them to us at a discount price. I would meet every frontier guard, if I knew when they arrive. We should thank them for defending of our country."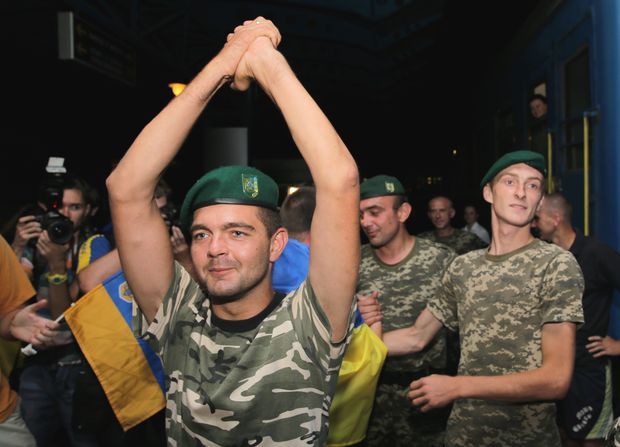 The servicemen did not expect such a warm reception. When the train was stopping, one of them, as he peeped out of the carriage, shouted loudly, "Glory to Ukraine!" and heard a many-voice reply, "Glory to the heroes!" And then "Thank you," which was repeated many times. "I am lost for words, I am lost for words," repeated one of the frontier guards, who was holding sunflowers presented by girls.
The men were easy-going, but unwilling to recall the battles. But on the whole they told what they had come through. Frontier guard Kostiantyn admitted, "We were used to protecting the border, now we had to defend it. We acted like we were told to. Now I am planning to have a rest, I think I will have a 10-day leave. We did not expect to be met in such a way in Kyiv, it's very pleasant. In the east of Ukraine we faced different attitude of the locals, but on the whole it was positive."
"I don't want to go back to the Donbas, but we will go if there is such a need," says Lvivite Volodymyr. "On the border, when we were fired at from Grads, we were very terrified. Over two hours I said about 300 times the prayers 'Pater Noster' and 'Rejoice, Most Holy Mother of God.' I was saved by God. We are not heroes. The heroes today are those who are cleaning Donetsk and Luhansk. We were simply standing, completing our time, although it was hard."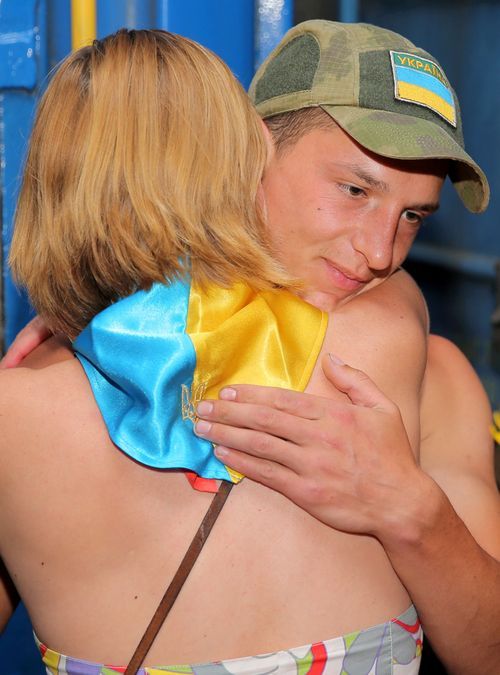 Andrii from Lviv is proud: none of his unit was killed or wounded. "We had enough of everything: food, ammunition. The columns with help could reach us. We tried to talk to our relatives on cell phones. Sometimes, the connection was jammed, I think, by Russians. Sometimes we could not reach our home for three or four days. We did not tell our relatives much, so that they didn't worry. At the moment we are okay, but somewhat exhausted," Andrii said.
Another frontier guard says smiling that his family does not know that he was at the frontline; everyone thinks he is not in the ATO area. But now they of course will find out.
People on the platform presented the frontier guards with flags and amulets, had their photo made as a souvenir. Kyivite Kateryna Melnyk shares her impressions, "It's cool that they are going home alive. But there are those who haven't returned or changed a lot. Someone shares their impressions, while others silently smoke with their brothers-in-arms. We should trace the needs of these people, because not all of them have a family and a person to talk to – and the soldiers need this. It is important for the status of these men not to fade."
Later all the people in the platform sang the Anthem of Ukraine; some of the men were crying with hand put on heart. They rejoiced at the flags they received as a present and said that theirs were dirty and cut with fragments, but they are keeping them like the ones they received in Kyiv from those who are proud of them and thankful.
The hour went like a minute. The train with frontier guard servicemen moved further. The men hung flags from the windows and sang the Anthem of Ukraine. Sisters Liudmyla and Olena are waving their hands to the soldiers. "We bow low before them. They should take care of themselves. They are very courageous, although they say they are usual. No, they are heroes for us," the girls say.