These terrorists shouldn't be heard but punished under the law
29 April, 2014 - 11:34
Denys KAZANSKY, blogging as Frankensstein:
"Of course, patriotism does exist in the Donbas. People who support a united Ukraine try to show it by holding rallies and regular prayer marathon meetings as well as pasting blue-and-yellow stickers throughout Donetsk. In this region, Ukrainian patriots are effectively held hostage to the situation because the police do not function, and separatists are in control of some cities. People are hurt by what is happening, but they understand that they are a minority. Why it is so is a separate topic. The Donbas has always had very 'Soviet' population, and the central government never did anything to rectify the situation. Eastern Ukrainians have been taught to like Saint George's ribbon, while displays of Ukrainian patriotism have been treated as cases of 'Banderism,' 'Petliurism' and so on.
"Pro-Ukrainian activists are decent, peaceful people. Their opponents are foreign soldiers and individuals with criminal records, who do not blink at killing people. The odds are against us. The only hope of the patriots is Ukrainian military, while civilians should stay off the street. If people are not prepared to defend themselves with weapons, they will be targeted by militants should they come out and protest. It is difficult to judge how it all will go, especially given the current industrial crisis. Either there will be an armed conflict with numerous casualties on both sides, or a kind of Ukrainian Transnistria will be established. Many of my pro-Ukrainian friends have left the Donbas, the ones who wanted to achieve something – journalists, programmers, managers, etc. I have not decided yet whether to stay in Donetsk region, it will depend on the situation. I am doing my job now, and should it become impossible, I will have no reason to stay here."
Anatolii AKIMOCHKIN, first deputy chairman of the Independent Trade Union of Miners of Ukraine:
"Miners are often used in political campaigns. Miners came to the street in 1993 when their strikes forced early parliamentary and presidential elections, but it did nothing to improve our lot. Marches and road blockades of 1996-98 only confirmed the trend. It is the same now, as they are trying to involve miners in some political game, but any participation of miners in certain events, their absence in the workplace can lead to irreparable consequences. Ukrainian mines are among the toughest in Europe for mining and geological conditions, it is necessary to work at great depths, and absence of people from the job would lead to closures.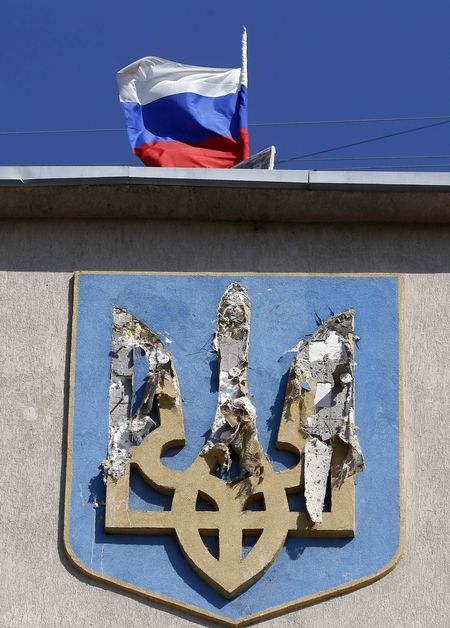 LUHANSK, APRIL 24, 2014. REGIONAL OFFICE OF THE STATE SECURITY SERVICE OF UKRAINE / REUTERS photo
"Today, miners must work quietly saving their jobs, because nobody will help miners should the worst come to the worst. For the time being, miners listen to the voice of reason and avoid being involved in the conflict. In general, members of our union hold various political opinions. If miners come to protest sites in their free time, they are free to express their opinions as they see fit. As for mass rallies or work stoppages, we have not seen any such events yet, and may God make so that miners would keep understanding that there is no need for such actions and avoid joining any of them.
"From an economic point of view, miners need their region to stay as part of a united Ukraine. State-owned mines receive more than 90 percent of their wages as government support coming from Kyiv. Should it stop, miners would no longer receive the money, and then they would definitely stop working and go on strike. All payments come on schedule now, so miners have no economic reasons to stage some radical protest actions."
Mykola VOLYNKO, chairman of the Independent Trade Union of Miners of Donbas:
"We try to support Ukraine's nationhood. Above all, we need the authorities not to be sell-outs, which they often are, especially at lower levels. Most miners' stance is 'work quietly and keep wages coming.' To do this, we need a united Ukraine. It is simple: there were mines in Rostov region of Russia similar to those in the Donbas, and now they are all closed. Tula region is the same story. Where our 200,000 miners will work if our region joins Russia? Will it be the Kuzbass or Vorkuta? It is better to work in our own country and build our own future. People who could not care less about a united Ukraine sow trouble, and to our great joy, they have been unable so far to involve miners in this tumult.
"Recently, Vladimir Putin called us miners 'drunkards.' We held a meeting of the Permanent Commission on Health and Safety in the Coal Industry lately, with trade union leaders and top managers of enterprises present. At that meeting, I suggested informing Putin that we would not tolerate any further humiliation and abuse, and if he invades Ukraine, we would 'show him how a coalface falls in' – this is a mining slang expression, meaning that he would be roughed up mightily. Everyone supported me.
"I emphasize in my speeches that armed terrorists roam free without needing permits, while law-abiding citizens who want to protect their state are refused weapons. Those who want to surrender the Donbas are severely mistaken. The Donbas is not another Crimea, there will be resistance, and any invader will learn how strong it will be as soon as they invade. I know the mood of the people of the Donbas, and they support a united Ukraine. There will be no buffer puppet republics here. We must build our own nation, a new Ukraine. Everyone is tired of corruption and bribery. People want to live honestly. They want to live, not to exist."
---
* Tryzub is Ukraine's national trident emblem.